UM-Flint Chancellor Susan E. Borrego presents State of the University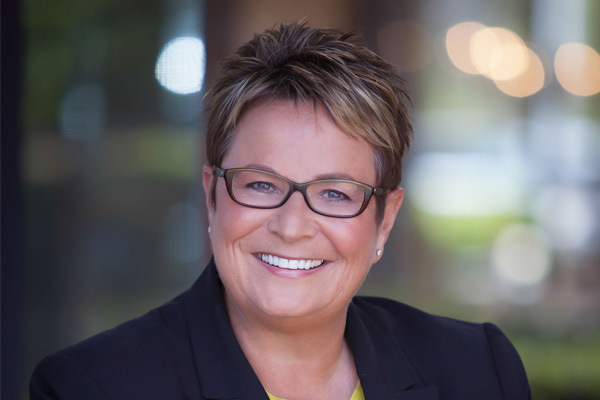 In front of a crowd of more than 200 University of Michigan-Flint stakeholders in the Northbank Center Ballroom, Chancellor Susan E. Borrego presented the annual State of the University speech Wednesday, September 26. Chancellor Borrego shared proud moments from the previous year, broke news about exciting new campus developments, and gave inspiring words for what lies ahead for the campus' future.
"In the state of Michigan, and across our country, we know that not enough people are earning or completing their college degree," said Borrego in the opening moments of her address, explaining the role and impact of an institution like UM-Flint in the state. "UM-Flint is a place where more students can find those opportunities. It is regional comprehensive universities like ours that are poised to help the state and country develop the talent for a strong future."
Borrego then enthusiastically reflected on the previous year's achievements for UM-Flint, including the development of innovative degree programs in emerging fields of study.
"This year we introduced a new academic program and three new online degree programs," said Borrego. "That's at least 16 new areas of study since 2014, and that doesn't include those that were modified and updated."
One of those new programs that began this fall is UM-Flint's bachelor of science in Green Chemistry, one of only a handful of green chemistry degree programs in the United States.
Borrego also lauded UM-Flint's Crisis Intervention and Disaster Response minor in the School of Education and Human Services for first responders, nurses, teachers, public health officials, and others. It is now available completely online for anyone who meets the requirements.
"In the wake of our own public health crisis and natural disasters, training in these areas can save lives," said Borrego. "Making this more convenient is how we innovate and make a difference."
Chancellor Borrego also touted the UM-Flint Radiation Therapy program's new Virtual Environment Radiotherapy Trainer—one of only 23 programs in the United States to offer this tool. The tool is the closest thing a student can get to an actual treatment machine without the risk of radiation."
"This is hands-on learning at its finest—real diagnoses scenarios set up in the same way professionals in the field encounter them every single day," said Borrego. "Our faculty, students, and employers know how valuable these types of programs are and we're going to continue building these opportunities across campus."
Borrego broke news of another recent milestone for the university when she congratulated UM-Flint's Department of Public Safety for being the first university public safety department in the state to gain accreditation by the Michigan Law Enforcement Accreditation Commission. The Commission is the foremost authority on law enforcement in the state for all municipal law enforcement agencies and this designation marks the highest professional standard in policing.
Chancellor Borrego also gave the campus an inspiring look ahead to many exciting things on the horizon for the campus, most notably the forthcoming expansion of its Murchie Science Building, which breaks ground in October.
The $39 million project will provide an additional 65,000 square feet of space to UM-Flint's campus and will consist of new faculty spaces, labs and lab support, classrooms, and student spaces. The past decade has marked significant growth to UM-Flint STEM programming and studies, and the expansion will provide the necessary resources to accommodate that growth.
"This space is key for us, and represents the future of STEM and STEAM for this campus," Borrego said. "It also adds significantly to the revitalization and economic momentum currently underway in Flint."
Borrego ended her address by reflecting on the unity of UM-Flint's campus community and their shared focus on and commitment to education.
"This is important, critical, life-changing work that we have the privilege of doing," said Borrego. "We are all committed to students, to doing work that matters, and perhaps we can work this year at viewing our challenges with an open-mind and realizing we all share a common goal and commitment to our students."
Contact University Communications & Marketing with comments, questions, or story ideas.