Biology professor Heather Dawson inspires future environmental problem solvers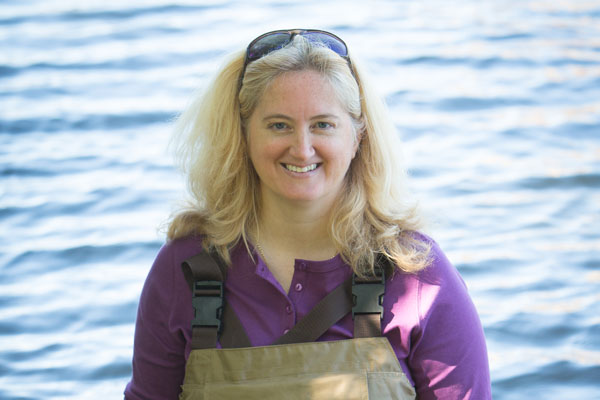 Danielle Potts teaches biology to about 180 students every week at UM-Flint. The lecturer encourages her students to get involved in research and learn first-hand what it takes to become an environmental problem solver. She helps students leverage their interests with field work opportunities, which in turn, can influence their professional path.
Potts, a faculty member at the university for six years, said her approach with students was forged by her years as a graduate student at UM-Flint, and the research work she conducted with her current colleague, Heather Dawson.
"She influenced how I teach," Potts said. "She makes everything fun. You didn't even realize you were learning. At the same time, you had to work for it. You had to pay attention and keep up."
Dawson is an associate professor of biology at UM-Flint who started her tenth year at the university this fall. She was a fishery biologist with the U.S. Fish and Wildlife Services before joining the university. Because of her background in and passion for wildlife biology, Dawson was the UM-Flint faculty member selected to introduce legendary conservationist Dr. Jane Goodall at this year's Frances Willson Thompson Critical Issues Forum.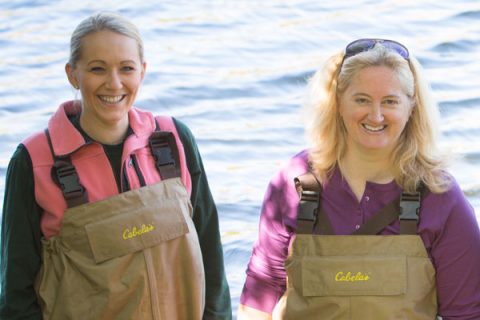 During her career at UM-Flint, she has collaborated on field research with about two dozen undergraduate students and a dozen graduate students.
"I have never done research without students," said Dawson, who has also taught hundreds more within her classes.
Working with them has allowed her to investigate a wider range of issues, she said, while providing the students a chance to hone professional skills.
Much of Dawson's field research has focused on Great Lakes sea lamprey. The creatures are parasitic fish that siphon the blood and body fluids of large fish. The non-native fish have caused havoc to native fish populations on the Great Lakes.
Dawson and her students have tackled the problem from a wide range of angles, such as how sea lamprey larvae move in rivers, how they respond to traps baited with synthesized sea lamprey pheromones, and ways to improve what researchers know about how sea lamprey grow.
Dawson, along with assistant professor of computer science Mark Allison, and assistant professor of mechanical engineering Mihai Burzo, students, and other collaborators are currently analyzing how autonomous underwater vehicles could be used to assess sea lamprey in the Great Lakes.
Research work in general is often tedious and mundane, and doesn't go as expected. Dawson often talks to students about what motivates her as one way to help paint a larger picture of why field work matters.
"I talk about how I am motivated to make a small contribution to the greater whole," Dawson said. "I try to get them to see that before we start a project. That will keep them motivated on tough days and make them realize they are not doing just busy work."
Potts said Dawson excels at adapting during research.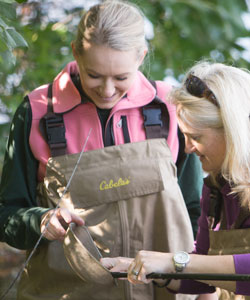 "She taught me that in field research you hope for the best, but be prepared for things to happen because there is so much that you cannot control when out in nature," Potts said.
"While trying to collect large larval sea lamprey for tagging during my second field season, we were not having much luck after several weekend trips. We were really only finding ones that were too small. Heather had recently heard of a location in the Upper Peninsula with large lamprey larvae. So we packed up and drove the five hours from where we were to find them. No hotel reservations. No plans. And it worked out great. We had the best trip and came back with all that we needed."
Courtney Higgins, who graduated this past spring from UM-Flint with her master's degree in biology, said Dawson helped her learn the specifics of the research process. Higgins plans on pursuing her PhD in biology.
"She can be detail-orientated but she can also be 'big picture'," Higgins said.
Stories like the impromptu Upper Peninsula trip and the lasting impact described by Higgins are common, Potts said, when it comes to Dawson's influence on current and former students.
"She puts her students first."
Contact University Communications & Marketing with comments, questions, or story ideas.