Q&A with the director of UM-Flint's new Physician Assistant program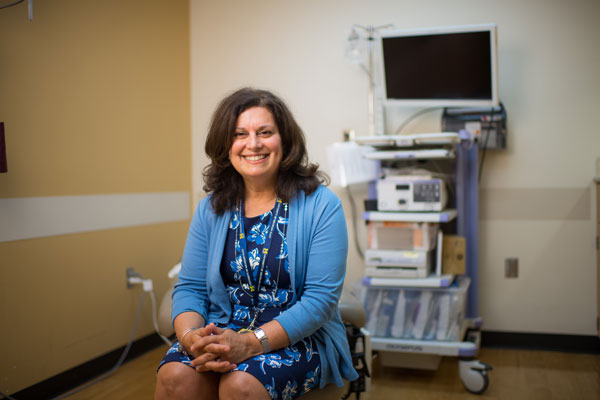 Stephanie Gilkey (MS, PA-C, DFAAPA) is the founding director of the Physician Assistant (PA) program at the University of Michigan-Flint.
She shared her thoughts about joining the university, details about the new PA program, and more with UM-Flint Communications & Marketing.
What intrigued you about this position and the new Physician Assistant program at University of Michigan-Flint?
The possibility of a University of Michigan-Flint Physician Assistant program had been on my radar for some time, and intrigued and excited me for many reasons. As a long-time PA educator and administrator, I had been thinking about the program I would create if I had the opportunity to develop and lead another PA program, utilizing my experience and the many lessons learned over the years. The resources and standing of the University of Michigan made that thought all the more interesting! I was struck by the potential to grow not just an exemplary PA program, but to expand PA educational reach into business, public health, and post-graduate training—all to educate and train PAs to best serve our patients and healthcare systems. The highly admirable standing of current health science programs, resources, and the positive culture in UM-Flint's College of Health Sciences make it the perfect placement for the Master of Science, Physician Assistant (MSPA) program within the university. I am very honored to join the leadership team and collaborate with outstanding faculty in the development of the MSPA program.
What have been your impressions of UM-Flint?
I have been so impressed by UM-Flint, as it offers incredible resources to students and faculty in a small-town atmosphere. The accessibility and willing collaboration of faculty and staff, with expectations of excellence in teaching and service, make it a wonderful place to grow and thrive.
What would you like to share with the university community about your professional background?
My education and training in nursing helped pave the way for learning the practicing medicine as a PA. Over the years, I worked clinically as a PA in the areas of internal medicine, endocrinology, and neurology—headache and stroke. In addition to practicing clinically, I was part of a team that developed and implemented a successful PA program (it served as my master's project). PA education has been my focus for the past 25 years, and I have served in many PA program roles. I am a life-long learner and am currently a doctoral student in the area of Education Evaluation and Research at Wayne State University. I currently serve as an Accreditation Review Commission on Education of the Physician Assistant site visitor, and on the Physician Assistant Education Association Education Program Steering Committee. One of the most fulfilling aspects of PA education has been the opportunity to collaborate with other health professions in community-based, inter-professional student learning and research.
What should aspiring physician assistants know about Physician Assistant program at UM-Flint? What makes it unique?
Aspiring PAs should choose their PA education program carefully to ensure a good fit of goals and values. The mission of UM-Flint's 27-month PA program is to prepare students to become exemplary physician assistant practitioners, leaders, and advocates through best practices in teaching, learning, and service to our diverse local community and beyond. The UM-Flint MSPA program is composed of two phases. The didactic phase is 15 months in length, located and delivered in classroom and online formats. The final 12 months of the program are supervised clinical rotation experiences, which will take place at Michigan Medicine sites and other major healthcare institutions in Michigan.
The unique placement of the MSPA Program within and resources of the University of Michigan system, inherent affiliation with Michigan Medicine, and location in the city of Flint make achieving the program's mission possible. The UM-Flint MSPA program is aimed at educating and training students who will be top PA practitioners, and serve as positive leaders and change agents. Students in the UM-Flint MSPA program will have the opportunity to earn a Masters in Business Administration or Masters in Public Health degree, in addition to their core PA studies to expand their knowledge and reach into the community.
Contact University Communications & Marketing with comments, questions, or story ideas.