Flint joins Ann Arbor and Dearborn for Mcubed 3.0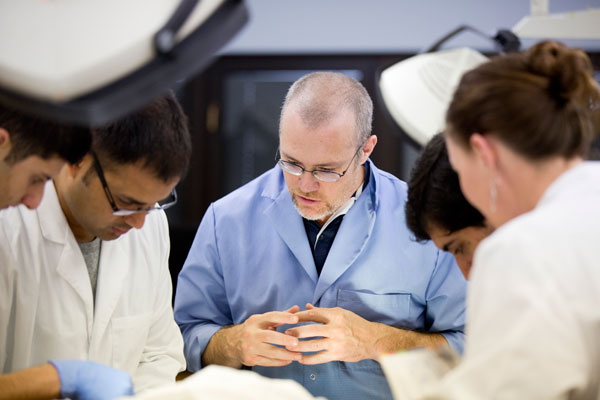 Millions of dollars in seed grants for bold, boundary-crossing work is available to faculty members as U-M launches the third round of Mcubed, a revolutionary funding program that has more than tripled its investment since it launched in 2012.
In this cycle, for the first time, faculty at the UM-Flint can partner with their colleagues at the Ann Arbor and Dearborn campuses.
"Mcubed has helped transform the way that University of Michigan sparks innovative research, and I am very excited that faculty from all three campuses can now collaborate as part of this one-of-a-kind program," said Mark Burns, executive director of Mcubed and Research Innovation. Burns is also the T. C. Chang Professor of Engineering in the Department of Chemical Engineering and Biomedical Engineering.
Mcubed distributes seed funding to trios of faculty from at least two different campus units and faculty request either $15,000 or $60,000 to advance their idea right away. Mcubed relies on a core innovation—a departure from conventional peer review, which can result in long delays before faculty can proceed with novel research and scholarship. It substitutes a "pure" form of peer review by distributing one virtual token to every faculty user in the Mcubed website, requiring faculty to post project concepts for all 7,000 peers in the system to see. Accordingly, a faculty member must make strategic decisions about which project is worthy of investing his/her one token during the three-year funding cycle.
Through the program, a six-year, $27 million investment from U-M and its faculty members has yielded more than $120 million in external funding, over 320 publications, roughly 50 artistic and scholarly products and 20 invention disclosure reports or patents.
"I saw the enthusiasm and the energy that emerged from Dearborn joining Mcubed 2.0 and I am pleased as punch that Flint is completing the trifecta in Mcubed 3.0," said Susan Alcock, interim provost and vice chancellor for academic affairs at UM-Flint. "I can't wait to see what transformative new partnerships develop on campus."
Mcubed encourages innovative and sometimes unlikely collaborations. Two engineers and an environmental scientist used Mcubed funding to explore 3-D concrete printing technology and its impact on building construction. This team has since filed a patent application and published its findings.
Professors in public health, psychology, and education have sought to reduce economic, educational, and health disparities in higher education by researching food insecurity and the role of food pantries on college campuses. Through Mcubed, this team has achieved publications, delivered presentations, and secured an internal grant to continue its work.
An infectious disease doctor, a data science engineer, and an immunologist teamed up to study the gut microbiome to change treatment protocols for millions of patients. By using the Mcubed system to secure early results, they were awarded $9.12M from NIH to expand their work.
Beginning October 10, faculty from the Flint, Ann Arbor, and Dearborn campuses can visit mcubed.umich.edu to post project ideas, reach out to potential collaborators and form multi-unit teams of three. The project creator can then ask for a cube, which triggers a request for seed funding.
The deadline for these initial funding requests is Wednesday, November 14.
Fully Funded Cubes Available in Health Sciences
Mcubed offers another platform for funding faculty projects. The Mcubed Diamond Program provides an unprecedented opportunity for donors and companies to invest in research projects that align exactly with their interests. Deans can also use this mechanism to advance research in priority areas for their schools and colleges.
"Our hope with the innovative Mcubed Diamond Program was that deans and other funders on campus would also use the mechanism to help shape the research that is conducted in their units. The health science deans are leading the way and doing just that," said Burns.
"The Health Science Council (HSC) members embrace Mcubed's dedication to rich idea development among interdisciplinary investigators," said Lynn Videka, dean of the U-M School of Social Work and current chair of the HSC. "We're delighted to partner with Mcubed in implementing the second round of IP-X research stimulus pilot grants."
Interprofessional education has become vital in the health fields as the increasing complexities of health care delivery require a team approach, rather than siloed individual experts. Accordingly, a year ago the first IP-X research stimulus grants were awarded with funding from the HSC, a consortium of seven health schools in Ann Arbor—dentistry, kinesiology, medicine, nursing, pharmacy, public health and social work—and the U-M Ann Arbor Provost.
Among the teams that received funding were researchers from medicine, pharmacy, social work, and nursing who joined forces to improve care for underserved patients; and a team from social work, nursing, and medicine that explored computer-assisted behavioral therapy for depressed dialysis patients.
Up to eight cubes will be funded this year focusing on interprofessional health practice and health educational outcomes. The three token holders in these cubes must come from:
Ann Arbor – HSC schools
Ann Arbor – College of Engineering
Dearborn – College of Education, Health, & Human Services
Flint – College of Health Sciences; School of Nursing
All other faculty in the Mcubed system are eligible and encouraged to participate in these projects as additional collaborators.
To ensure faculty are prepared to capitalize on this unique funding opportunity, all faculty and staff are welcome to attend Mcubed Information Sessions and Mixers, hosted throughout the fall.
Mcubed Info Session (Ann Arbor)
Oct 10, 10:00-11:30 a.m., Forum Hall, Palmer Commons
Mcubed Info Session (Flint)
Oct 19, 11:30-1:00 p.m., 134 Thompson Library, Center for Learning & Teaching, Seminar Rm
Mcubed Info Session (Ann Arbor)
Oct 22, 2:00-3:30 p.m., Pierpont Commons, Boulevard Rm.
Mcubed Info Session (Ann Arbor)
Oct 24, 1:30-3:00 p.m., Palmer Commons, Great Lakes South
IP-X Research Stimulus Faculty Mixer
Nov 1, 1:30-4:00 p.m., Palmer Commons, Great Lakes South
Fast Forward Medical Innovation Biomedical Brainstorming
Nov 1, 9:00-10:30 a.m., NCRC Building 10, Research Auditorium
Fast Forward Medical Innovation Biomedical Brainstorming
Nov 8, 3:00-4:30 p.m., BSRB, Kahn Auditorium
Mcubed is part of the Third Century Initiative, launched by the offices of the president and provost, and is located in the Office of Research.
For more information, visit mcubed.umich.edu.
Contact University Communications & Marketing with comments, questions, or story ideas.