UM-Flint breaks ground on $39 million Murchie Science Building expansion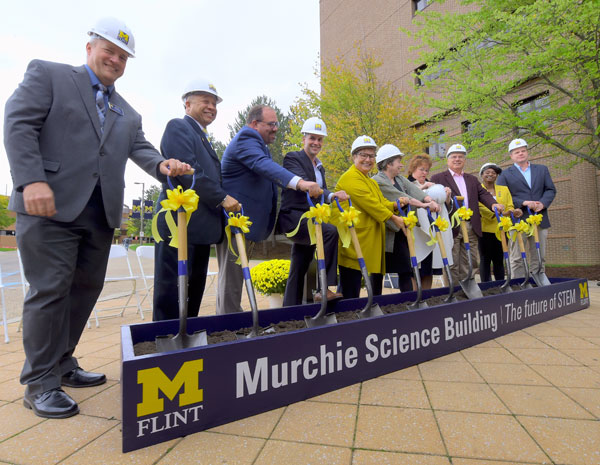 In October 1986, a crowd gathered at the University of Michigan-Flint between what was the University Center courtyard and the Classroom Office Building (known then as "the CROB," now French Hall) to participate in a milestone event for the campus.
The event was a groundbreaking for the $24 million Classroom/Laboratory Building, which would later be renamed the William R. Murchie Science Building. A delegation—led by Chancellor Clinton B. Jones, University of Michigan President Harold Shapiro, Flint Mayor James Sharp, State Representative Robert Emerson, and State Senator Joe Conroy—took shovels in hand and celebrated a "banner day for the university as we come one step closer to having all of our operations located downtown."
Thirty-two years later, over 100 guests again gathered to break new ground, this time on a $39 million expansion to the science building built three decades earlier.
"This building shows our commitment to making STEM teaching, learning, and research integral to our campus," said UM-Flint Chancellor Susan E. Borrego in her remarks at the ceremony. "It's here that we'll train the next generation of leaders in science, technology, engineering, and math."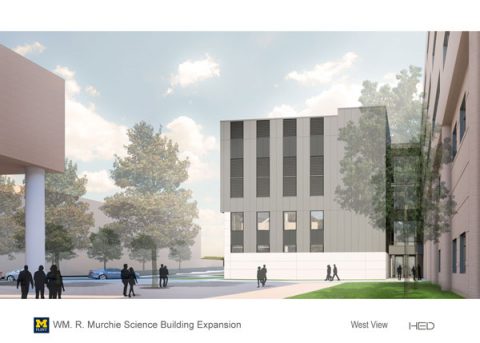 UM-Flint's commitment to STEM has received widespread support. The State of Michigan provided a $29.25 million capital outlay appropriation for the expansion project, and the Charles Stewart Mott Foundation awarded the university an $11 million grant to support the campus' continued growth of STEM studies.
"This project has been deeply rooted in collaboration," said Susan Gano-Phillips, dean of UM-Flint's College of Arts and Sciences (CAS). "And for all involved in the planning, students were and will continue to be at the forefront of our thinking."
Students will benefit from many innovative design features showcased in new space. The Murchie Science Building expansion will provide an additional 65,000 square feet of space to campus in the way of labs and lab support, classrooms, and faculty and student areas.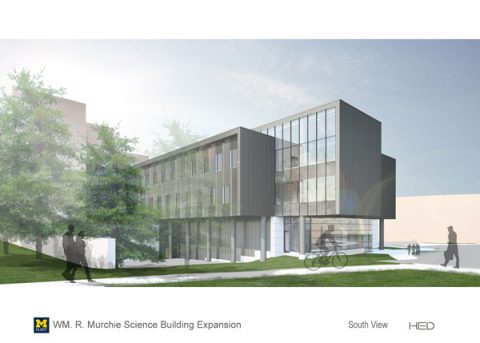 Examples of exciting new spaces featured in the design include:
four new interactive classrooms with flexible seating;
engineering labs that will include a large bay door to the outside allowing a vehicle to be brought in for hands-on learning possibilities;
a robotics lab that will study modern systems;
multiple areas for faculty to do research and to engage students in research;
a dedicated lab for Genesee Early College students to spur an early interest in science;
and multiple spaces to facilitate student/faculty interaction.
"This building will provide unmatched opportunities for student learning and faculty scholarship," remarked Chris Pearson, associate dean of the College of Arts and Sciences. "For years to come, students will be working alongside faculty, solving problems, creating innovative solutions, and learning."
Construction on the project is expected to be completed in July 2021.
---
Featured photo: (L to R) Chris Pearson, CAS Associate Dean; Sheldon Neeley, State Representative; Jim Ananich, State Senator; Ridgway White, President, Mott Foundation; Susan E. Borrego, Chancellor; Susan E. Alcock, Interim Provost; Susan Gano-Phillips, CAS Dean; David G. Zick, Alumnus; Eucharia Ganda, Student Government President; Charlie Jacobs, Associate Principal, Harley Ellis Devereaux Architects
Contact University Communications & Marketing with comments, questions, or story ideas.