Tug-of-War tradition returns at UM-Flint Family Day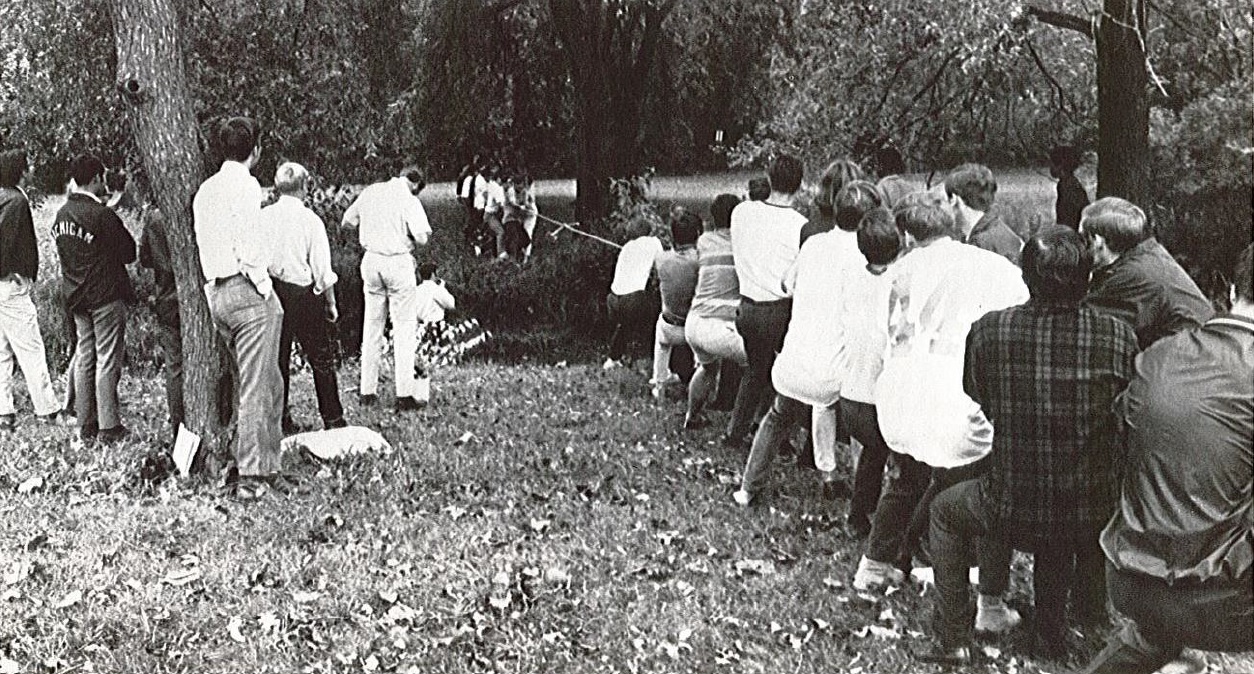 UM-Flint has seen its fair share of traditions that have come and gone over its 62-year history. One of those traditions was a tug-of-war that took place in the late 1960s and early 1970s. Unfortunately, that tradition was lost when the university moved from its original location on what is now the Mott Community College campus. On October 20, at the UM-Flint Family Day event, several members of the campus community intend to bring the tradition back.
"Our Alumni Relations staff has been working to identify historic traditions and bring them back to campus," said Brent Nickola, Alumni Relations Manager at UM-Flint. "When the committee running Family Day asked me about ideas for activities to add, I immediately thought of the tug-of-war. The group loved the idea of it and of bringing a tradition back to campus. We might not be doing it across the creek anymore, but I'm sure it will be a lot of fun."
Historically the game took place over Gilkey Creek, a small tributary to the Flint River, which is located adjacent to the Mott Memorial Building, the original location of UM-Flint. Holding the tug-o-war over the creek added drama to the event as the losing team fell into the water. In addition to avoiding the mud and water, the winning team received a trophy that consisted of a hand-painted jug with the U-M logo on it.
Associate Director of Recreational Services and alumnus Gary Parr ('71), who is helping to coordinate the reestablishment of the tradition, remembers the first tug-o-war and participating in the event as a student in the fall of 1968.
"I was spending time with some friends on campus and heard them talking about getting together for a tug-of-war game. We decided to make it interesting and play over Gilkey Creek. Multiple rounds were played. Between participants and spectators, it drew a crowd of about a hundred people. The game was such a success that we held another competition in the winter semester of 1969. That semester, there was an even larger crowd of about two hundred people. The tradition was growing," said Parr.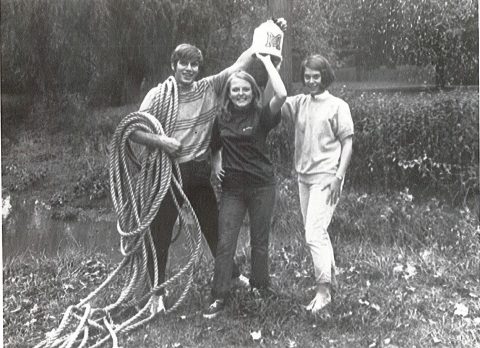 Alumnus David Zick ('73), freshman class president in 1969-1970, remembers his freshman team winning the tournament against the sophomore class in the fall of 1969.
"I think it's a great way to bring people together. It was a fun, special event. After 1969, I didn't hear about it happening again. It's nice to see the tradition coming back to the campus at Family Day."
The tug-of-war continued for several years but eventually fell by the wayside as the university grew and moved to its current location and away from the creek.
Parr also believes bringing the tradition to campus is a good move.
"I think it's a great idea. This is the second year we're hosting Family Day, so it's exciting to start a new tradition and bring back an old one. I really hope everyone has fun with it."
Family Day at UM-Flint will take place on Saturday, October 20 from 1:00 p.m. to 5:00 p.m. at the University Center and Recreation Center. Activities include a game watch party, games, crafts, glow golf, dance club workshops, stuff a plush, and so much more! All activities are free, family friendly, and open to students, alumni, and their families. The tug-of-war will take place following the Michigan vs. Michigan State football game at approximately 3:30 p.m.
Contact University Communications & Marketing with comments, questions, or story ideas.