UM-Flint's Department of Public Safety first to receive state accreditation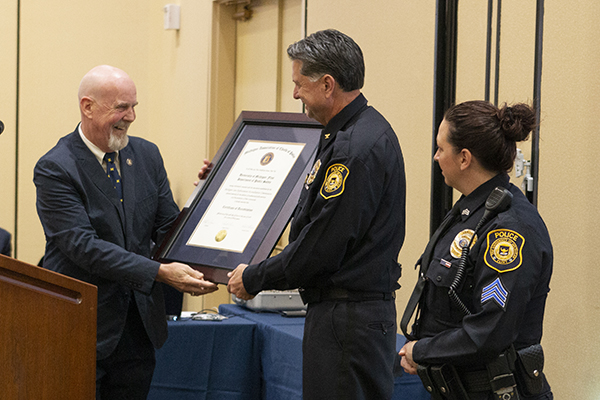 Every field has an apex of standards and criteria that exemplifies the best performance a person or group of people can achieve. Some are required for compliance, while some others are simply considered a bar to aim for in pursuit of excellence.
The University of Michigan-Flint's Department of Public Safety (DPS) chose to not only go above and beyond in its commitment to safety for its campus and surrounding community, but also in its voluntary pursuit of the state's highest law enforcement standards when it comes to the delivery of that commitment.
At the Thursday, October 18 University of Michigan Board of Regents meeting in Flint, their pursuit was officially recognized by Michigan's foremost authority on law enforcement, the Michigan Association of Chiefs of Police (MACP), who declared UM-Flint's DPS as the first university public safety department to become state accredited by the Michigan Law Enforcement Accreditation Commission (MLEAC).
"This achievement further solidifies the Department of Public Safety's commitment to excellence, transparency, and building positive relationships with not just our campus, but all community members," said UM-Flint Chancellor Susan E. Borrego.
"It was a huge amount of work for our team and I am proud to know that they have been recognized for all the work they do."
Modeled after similar programs across the nation, the MACP developed the voluntary statewide MLEAC Accreditation Program for Michigan. Primarily used to guide municipal law enforcement agencies, the program requires organizations seeking accreditation to adhere to more than 100 standards of practice that address what they should be doing to assure the best public safety service to its respective constituents and community members.
DPS completed a thorough multi-month assessment of its department practices and was found to be compliant with these MLEAC standards.
"The Department of Public Safety's pursuit of accreditation was aimed at improving the delivery of public safety services and aligning those services with program standards of excellence," said UM-Flint DPS Chief Ray Hall.
"It was the daily commitment and focus of every member of our team that led to our department achieving accreditation."
"The accreditation process is evidence that our department's commitment to quality public safety services and engagement in the community is not only effective in reducing crime and the fear of crime, but it is also delivered consistent with the highest professional standards," Hall added.
Contact University Communications & Marketing with comments, questions, or story ideas.