Enterprising students: UM-Flint's Entrepreneur Society wins national award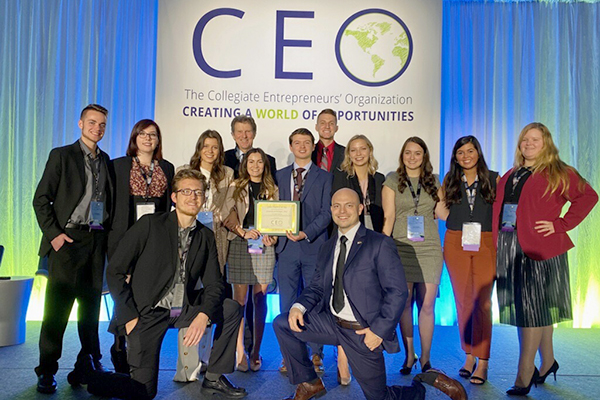 The Entrepreneur Society at the University of Michigan-Flint is one of the best of its kind in the nation.
The student organization won the 2019 Global Chapter of the Year award from the Collegiate Entrepreneur's Organization. The chapter was ranked top five in Chapter Advisory and Chapter Leader at last year's CEO awards.
"We're proud to be the first group at UM-Flint to win the coveted title of Global Chapter of the Year, and share this accomplishment with the city. We feel lucky to belong to a community that's as resilient and determined as Flint. This award is a culmination of high-achieving students working together to develop themselves, classmates, and the community in which we live," said Todd Fridline, president of UM-Flint's Entrepreneurs Society.
The College Entrepreneur's Organization is a network of more than 250 colleges and universities and 8,000 students. The Global Chapter of the Year award is given to a club that has demonstrated excellence in developing its organization and leaders and offering a comprehensive and meaningful entrepreneurship experience.
The UM-Flint Entrepreneur Society also earned the 2018-2019 Most Outstanding Organization award at the UM-Flint Department of Student Involvement and Leadership's Celebrating Wolverine Excellence awards.
The society hosts networking events and business seminars and offers team projects. Events include seminars on personal finances and investing with guest speakers from the University of Michigan Credit Union and Merrill Lynch Wealth Management.
Students in the Entrepreneur Society also collaborate with academic departments and student organizations such as Engineering and Chemistry Club, as well as alumni. Students wrote a business plan for UM-Flint alumni to help market a product.
"This is real-world stuff," Fridline said.
The Entrepreneur Society is also working on a sports management program with the National Football League.
Students have the opportunity to work on projects that will teach them skills they'll use in their careers. One student serves as the project manager and others can join as team members. The society has three to five projects each semester.
One project, Flint Green, involved building wind and solar devices for individual homes to reduce power use. The project is in its second phase after a feasibility study; the students are crowdfunding to build a prototype of the device, which would cost about $6,000 compared to a typical price of $20,000 to $60,000.
"We're here to help you," Fridline said.
The Entrepreneur Society also helps students build connections and skills they'll take into their careers.
"Before I joined, I wasn't sure how to do pitches and give presentations. These are all skills I've developed since being in the Entrepreneur Society," he said.
Lindsay Knake
Lindsay Knake is the Communications Coordinator for the UM-Flint Division of Student Affairs. Contact her with any questions, comments, or ideas about the DSA newsletter, social media, events, and communications.