UM-Flint student's new mission: serve other veterans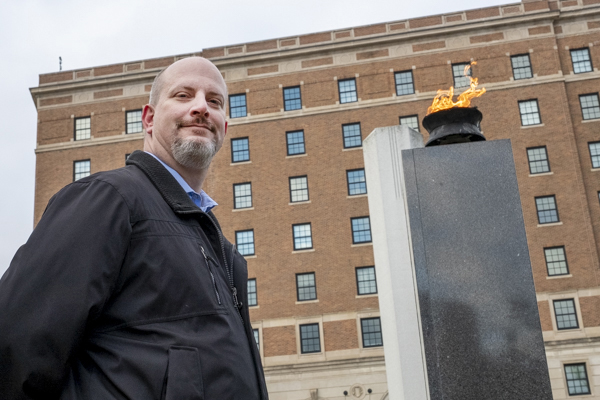 After serving for more than two decades in the United States Air Force, Samuel Pickering wants to give back.
He's pursuing a psychology degree at the University of Michigan-Flint with the aim of becoming a counselor for his fellow veterans. Pickering saw a need when someone he'd served with died by suicide.
Pickering joined the Air Force in 1996. He was stationed in five countries and served in many more, most often maintaining helicopters for combat search and rescue. He started in New Mexico, and then went overseas to serve in Iceland; the Azores Islands of Portugal; Okinawa, Japan; Afghanistan; Iraq; the Philippines; Sri Lanka; and England.
With search and rescue, he worked on the only aircraft designed to save lives rather than kill.
"I had to make sure it's ready to fly because people's lives depend on it," he said.
While he worked on the craft that would perform search and rescue operations for the U.S. Air Force in combat operations, he also aided in the rescue operations in natural disasters, like the 2005 tsunami in Sri Lanka and mudslides in the Philippines.
Pickering served in various roles before he retired, including production superintendent at a Royal Air Force base in England to manage aircraft and people. From there, he deployed to Iraq just before he retired.
In April 2017, he retired and moved to Michigan with his family. His wife, Samantha Pickering, is a native of Michigan. She suggested he apply to UM-Flint after Pickering found he needed structure in his life and could use G.I. benefits to get an education.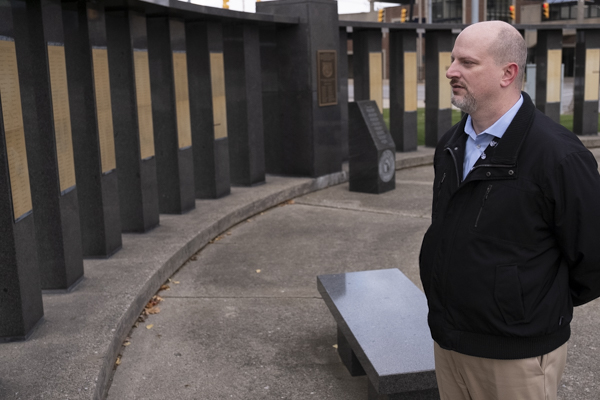 Pickering spoke to Helen Budd, the UM-Flint Student Veterans Resource Center program manager, who sold it to him. Originally, Pickering chose to study engineering, which was a natural fit after his years of working on helicopters. That changed last winter when Pickering saw a notification that a friend had died by suicide, and he wasn't the only one. On Facebook groups for veterans that Pickering is a member of, he saw there were many people struggling after their service and were often told to "man up."
"That's not the way people were going to get help," Pickering said.
Pickering is studying psychology part-time after getting a job at the U.S. Social Security Administration in Flint. As a customer service representative, he said his work there is giving him broader people skills as he's helping those in stressful situations.
"It's giving me an avenue to learn how to work and talk with people in dire circumstances," he said. "It's helping me build on my experience to work with veterans."
In addition to his job and studies, Pickering has also volunteered with the Buddy-to-Buddy Program, a former organization that was part of the University of Michigan Depression Center's Military Support Programs and Networks. The Buddy-to-Buddy Program offered resources and peer-to-peer support to veterans.
"I know that if I were having a crisis, I would rather talk to a vet than someone who wasn't. People who aren't veterans can still do a great job, but a veteran can relate on a different level. 'This guy knows what I did, we went through a similar experience,'" he said. "There's a reason why they are your brothers and sisters. You're a huge family. Some things kind of follow you afterward. And you need help with that."

Lindsay Knake
Lindsay Knake is the Communications Coordinator for the UM-Flint Division of Student Affairs. Contact her with any questions, comments, or ideas about the DSA newsletter, social media, events, and communications.