Students honored with campus leadership awards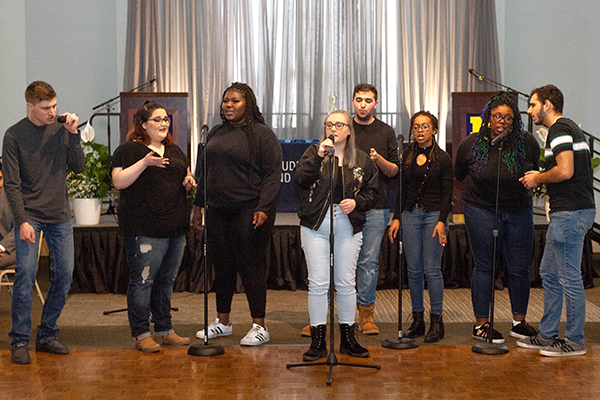 UM-Flint has honored this year's recipients of the Celebrating Wolverine Excellence awards. The awards recognize those "individuals and groups who exhibit exemplary leadership skills, engage with the campus and/or Flint community, problem-solve and develop new ideas or initiatives, while working toward a community that is inclusive of various identities and perspectives," according to the Department of Student Involvement and Leadership, which organizes the program and hands out most of the honors. Housing and Residential Life also announced awards at the recent ceremony.
Congratulations to those who received awards, as well as those nominated!
Emerging Leader:
Neil Kagerer
Student Leader Community Contribution:
Yousra Mohamed
Student Organization Community Contribution:
Entrepreneurs Society
Club Sports MVP:
Ryan VanSlyke
Club Sports Officer Leadership:
Anna Rosario
Housing and Residential Life Desk Assistant of the Year:
Amber Howard
Housing and Residential Life Resident Advisor of the Year:
Hannah Clark
Gold level for Standards & Excellence:
Sigma Sigma Sigma Sorority
National Pan-Hellenic Council Sorority Woman of the Year:
Brooklyn Golden
College Pan-Hellenic Association Sorority Woman of the Year:
Bridget Farmer
National Pan-Hellenic Council Fraternity Man of the Year:
D'Angelo Gillispie
Interfraternity Council Fraternity Man of the Year:
Scott Huang
Outstanding Advisor:
Dr. Michael Witt, School of Management
Inclusive Community:
LUNA – Latinos United for Advancement
Outstanding Student Organization:
Entrepreneurs Society and Cinema's Finest
Dedicated Service Award:
Haley Dennis and Faith Bodie
Outstanding Student Leader:
Lucine Jarrah and Todd Fridline 
Contact University Communications & Marketing with comments, questions, or story ideas.