UM-Flint Spring Commencement ceremonies celebrate newest graduates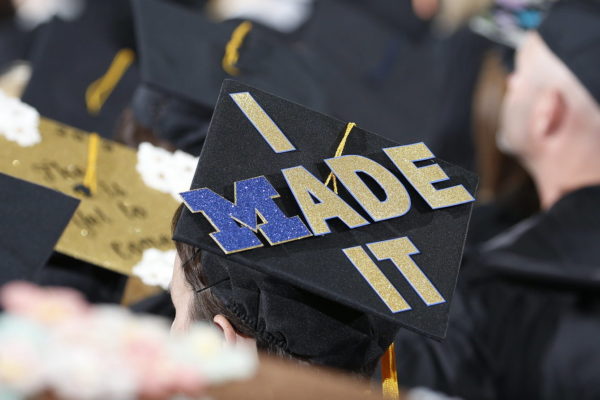 Keynote speaker Dr. Sumun L. Pendakur honored University of Michigan-Flint graduates as "path makers" with the ability to combine imagination and action to make positive changes in the world.
"You are laying the groundwork for not just yourselves, but all those who come after you to follow your path of risk, exploration, discovery, growth, and reward. So don't live in fear of mistakes – take risks and make that path ever wider for more to walk alongside you," said Pendakur at both April 28 commencement ceremonies held at Dort Federal Credit Union Event Center.
Pendakur is a scholar-practitioner whose work focuses on social justice and racial equity. She plays a key role at the University of Southern California Race and Equity Center. Pendakur told the graduates that everyone can create a more just and compassionate society.
"Never let anyone tell you to stop imagining something bigger and better, more humane, more loving, and more just. Know that you are resilient and take those risks," Pendakur said. "Let your limitless compassion, bold imagination, and purposeful action, in your sphere of influence and far beyond, fuel your journey ahead as you emerge from this chapter of your life. And don't be afraid to let the child within guide you on your path of making the world a better place."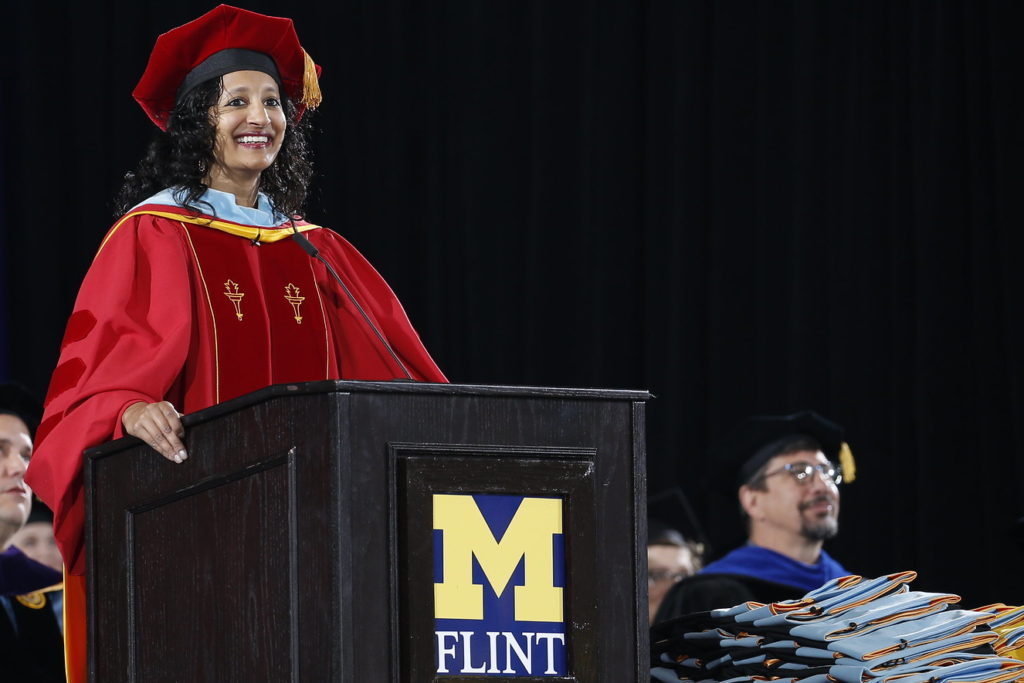 Chancellor Susan E. Borrego said that hope is universal and helps make positive change possible. She celebrated the graduates and encouraged them to live life with hope.
"Our hope to make the world a better place and our will to do so matters every single day," Borrego said.
Morning student speaker Christopher Sanjurjo Montalvo, graduating with his bachelor's degree in social work, grew up in poverty in the Bronx. After serving in the U.S. Army, he found new ways to grow at UM-Flint. He hopes to leverage what he has learned at the university to help improve the Bronx as a politician.
"I've met diverse people from all backgrounds who share the same ideologies of social justice, passion for helping others, and personal development. The University of Michigan-Flint inspired me to reach for more."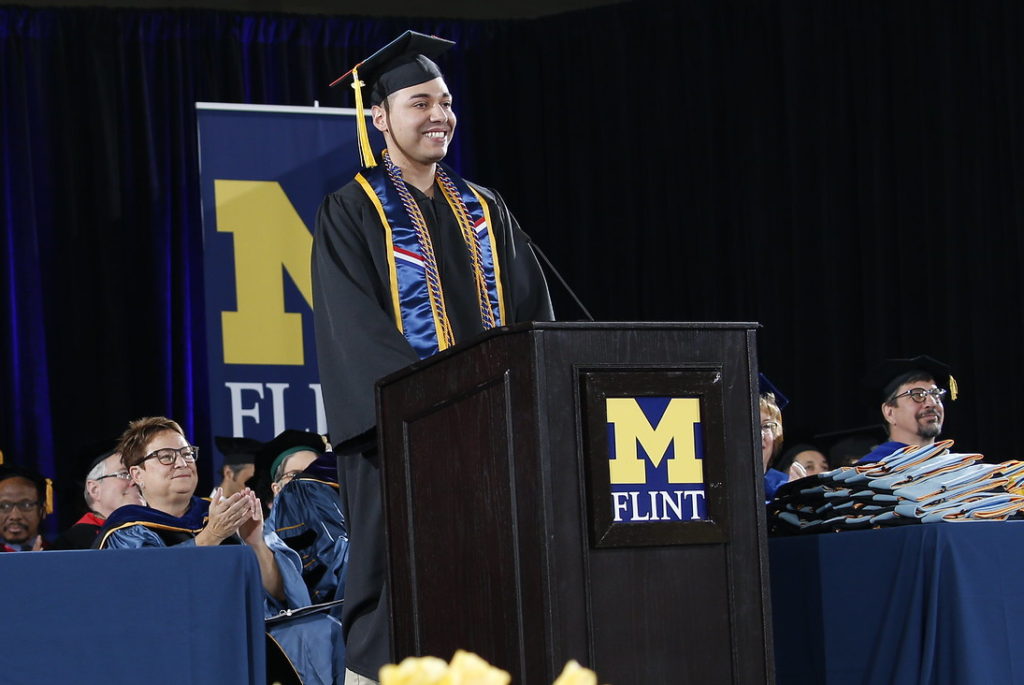 He urged his fellow graduates to leverage what they learned at the university to help society overall.
"I honor each and every one of you but remember, we are connected by a universal bond of humanity towards others," Sanjurjo Montalvo said. "I now challenge you, the proud graduating class of 2019, to use your privilege as college graduates to lead society into a just future for all – starting with our community."
Afternoon student speaker Andrea Draheim, graduating with her bachelor's degree in nursing, told her peers that to embrace those moments of struggle, as those experiences are how one grows. The sometimes overwhelming experience of nursing simulations as a student prepared her for when she cared for patients in a local emergency department last summer.
"Throughout my education I have had professors and clinical instructors challenge me to think more critically, try things I have not done before in the clinical setting, and to always seek out learning experiences."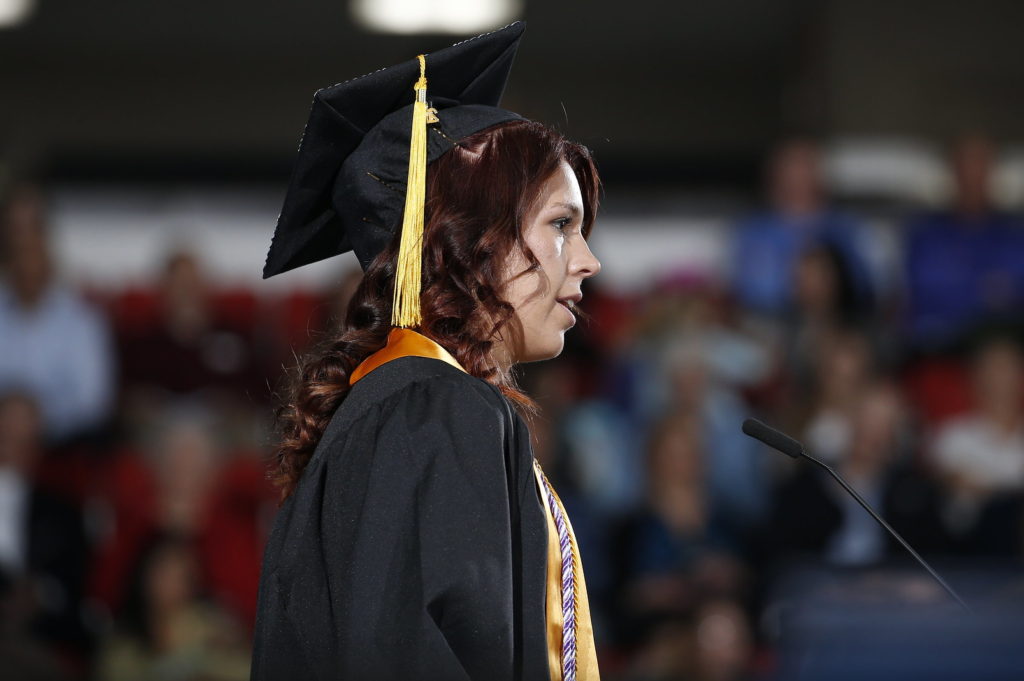 She encouraged her peers to celebrate and learn from both their successes and failures.
"As you know, the journey to be here has been full of many successes, but only after some struggle and a handful of failures," Draheim said. "And those failures are okay, because they taught us to persevere and to overcome any and all challenges that we may encounter."
The day was filled with great energy and enthusiasm. Katelyn Keene, who graduated with her bachelor's degree in chemistry, summed up the day after participating in the morning ceremony.
"It was wonderful. It is very exciting," she said.
Contact University Communications & Marketing with comments, questions, or story ideas.