Campus News Digest | May 6 – 19, 2019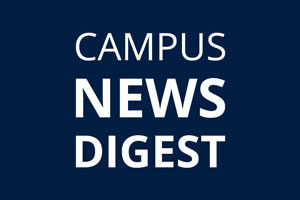 The Campus News Digest (CND) features announcements, news, and event updates relevant to the UM-Flint campus. The CND is distributed every two weeks in the UM-Flint NOW newsletter coordinated by University Communications & Marketing (UCOM).
Vote for Staff Council members by May 7
Staff members are asked to take about 5-10 minutes to vote for new Staff Council members by close of business on May 7. Each staff member may only submit the voting tool once, and vote for up to 5 candidates. Anyone having trouble accessing the voting tool should contact Tonja Lucas at trlucas@umich.edu or 237-6527.
Meeting of Minds conference at UM-Flint on May 10
The twenty-seventh annual Meeting of Minds (MOM) conference will be hosted by the University of Michigan-Flint on Fri., May 10. A schedule of events and presenters times and locations can be found on Research and Sponsored Programs web page.
MOM has provided a forum for the presentation and publication of undergraduate research and creative activities since 1993. As a collaborative effort between UM-Flint, UM-Dearborn, and Oakland University, MOM showcases the results of student-faculty collaboration in research and creative activities from across all academic disciplines.
'The Porch Project' Presented in Lansing
Dr. Rebecca Tonietto (Assistant Professor of Biology), Megan Heyza (The Porch Project), and Kris Johns (Office of Research) presented at the 21st annual "Building Michigan Communities" conference in Lansing on Apr. 30. The trio presented "The Porch Project: Supporting Resident-Led Initiatives on Flint's Eastside Through Partnerships" to a group of interested academics, industry professionals, and residents.
The Porch Project is a community-led partnership between the Eastside Improvement Association (EIA) of Flint and University of Michigan-Flint combining porch repairs and planting flower beds to promote "neighborliness" in Flint's eastside. What started as a resident-led beautification effort has expanded to include research projects with UM-Flint faculty such as Tonietto and Dr. Julie Ma (Assistant Professor of Social Work).
Higher Learning Commission Open Forum May 15
There will be a Higher Learning Commission Open Forum on Wed., May 15 from 9-10:30 a.m. in the Happenings Room (UCEN). Anyone interested in an update on the Higher Learning Commission process and a review of the Assurance Argument is welcome to attend.
UM-Flint's Higher Learning Commission accreditation process is a self-evaluation that encompasses every aspect of the institution including educational activities, governance and administration, financial stability, admissions and student personnel services, resources, student academic achievement, organizational effectiveness, and relationships with outside constituencies. It is an opportunity to identify areas where the institution needs improvement and to implement change.
UM-Flint's last HLC comprehensive reaccreditation occurred in 2009, the next HLC site visit is Nov. 4 and 5.
Contact University Communications & Marketing with comments, questions, or story ideas.