UM-Flint professor teams up with block association for The Porch Project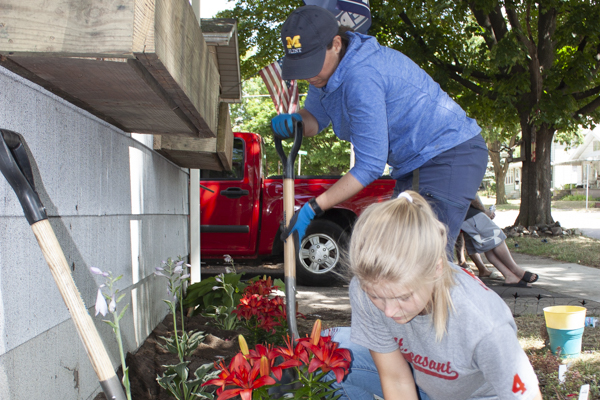 On a clear sky afternoon, a group of volunteers played out a scene that is becoming familiar this summer in a section of Flint's east side.
The cheery volunteers, working with the homeowners, tilled the soil in the front yard of a Belle Avenue house. They cleared out stones and sticks and planted a vibrant collection of red lilies. They added a range of other plants too, including rosebushes and hostas. Along with preserving the home's existing flowers, they added mulch to the newly defined gardens.
"It's awesome," said homeowner Jordan MacDonald. "It's definitely an improvement. They are doing a great job."
The efforts are part of a collaboration between a local neighborhood block association, and UM-Flint assistant professor of biology Dr. Rebecca Tonietto.
The initiative, called The Porch Project, has spruced up the lawns and gardens of about 15 homes as of early August. The neighborhood group, known as the Eastside Improvement Association, is also doing repairs and renovations on area porches.
The project has several benefits, Tonietto said, beyond the improved aesthetics to the neighborhoods. Tonietto is researching whether the gardens are increasing wild bee diversity in the area. Bees are key pollinators, which allow fruits and vegetables to grow. The plants provide foraging and nesting areas for bees.
"Cities can be a great refuge for wild bee diversity and abundance," Tonietto said. An increase in bee diversity will improve the health of the areas community gardens and urban farms, she added.
The organizers have divided the project into homes that receive native plants and those that receive non-native plants.  Tonietto and student research assistant Megan Cate visit the homes about once a month to catalogue bee types and how many bees are coming to the new gardens.
Depending on their findings, they will recommend the best plants to attract native bees. This will help future community garden projects, and will help diversity in the area.
"We have purposely picked plants that are different shapes and blooming in different periods so there are always something available for pollinators to visit and to get something to eat."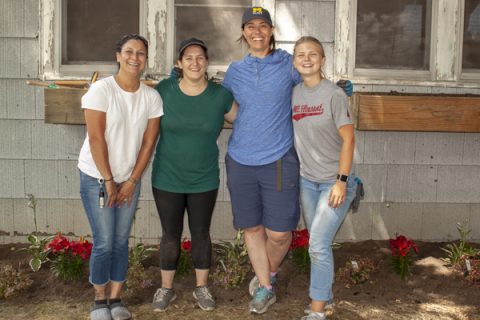 Area resident Megan Heyza, the volunteer head of the Eastside Improvement Association, developed The Porch Project idea late last year after renovating her own lawn and porch. Her neighbors were supportive and enthusiastic about what she did, so she decided to develop it further.
"For me, on the community level, we wanted to be grassroots," she said.
At the Belle Avenue house, Samantha Garcia said the work the volunteers did mirrored the mindset she and her partner MacDonald have about being active and supportive in the neighborhood.
"I love it. I love coming together like this," she said.
Heyza connected with Tonietto through Kristopher Johns, a program manager within the Office of Research at UM-Flint.
Johns, who focuses on connecting community projects with UM-Flint faculty, said Tonietto and Heyza's goals align well.
"A really great partnership has blossomed between them," Johns said. "The two together have been able to amplify each other's work."
Tonietto has received financial support through UM-Flint's Research and Creativity Fund. The group hopes to have gardens finished at twenty homes by the end of August.
Heyza lauded Tonietto for her ability to quickly connect with residents.
"She is awesome with residents," Heyza said. "The first time she engaged them, I was impressed."
Cate, a molecular biology student at UM-Flint, has been involved in the project since January. The work has helped her learn more about Flint, and hone her biology, research, and communication skills.
"I am learning a ton, and getting hands-on experience," she said.
Tonietto, who joined UM-Flint last fall, said the project has been invigorating for her and is the first step in her goals of doing long-term community work and research in Flint.
She said contributing to an existing grassroots effort was important for her, because the project is based on what the neighborhood wants. Each homeowner decides what flowers and layout interest them. Often, homeowners that have received garden support have then helped out with similar work at their neighbors' houses.
"This is something that was brought up through the community. It's something the neighborhood wanted to do and I was able to help out," Tonietto said. "It's been really amazing to see how much of their time people are interested in giving to the project."
Contact University Communications & Marketing with comments, questions, or story ideas.