Campus News Digest | April 22 – May 5, 2019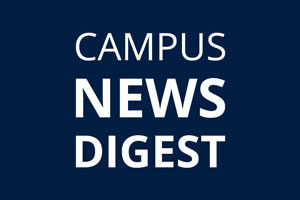 The Campus News Digest (CND) features announcements, news, and event updates relevant to the UM-Flint campus. The CND is distributed every two weeks in the UM-Flint NOW newsletter coordinated by University Communications & Marketing (UCOM).
Commencement on Apr. 28
The University of Michigan-Flint will hold its commencement ceremonies on Sun., Apr. 28., at 10 a.m. (CAS, SEHS, Rackham School) and 3 p.m. (SOM, CHS, Nursing) in the Dort Federal Event Center. Each ceremony will feature commencement speaker Sumun Pendakur and is expected to last two hours.
Women's Commission launches Spring discussion series on Apr. 26
The University of Michigan-Flint Women's Commission will hold the first session of it Spring discussion series, "Good and Mad: the Revolutionary Power of Women's Anger," on Fri., Apr. 26, from 12-1 p.m. on the 1st floor of the Thompson Library. The session will be facilitated by Michelle Silva from Communication Studies. Attendees should feel free to bring lunch, dessert will be provided.
The Women's Commission is also seeking nominations for open positions that include five three-year terms and one replacement term that is two years in length. Commissioner terms will begin on Sept. 1. Interested individuals should be available to meet in-person on the third Tues. of each month, 9-11 a.m., Sept.-May.
Chancellor pens article for AAC&U's Diversity & Democracy
Chancellor Susan Borrego's article, "Honoring the Voices, Experiences, and Assets of Students from Low-Income Backgrounds," is featured in the newest issue of the Association of American Colleges and Universities' magazine.
Contributors to the newly-released issue of Diversity & Democracy, published quarterly by the AAC&U, "honor and support students from low-income backgrounds as they learn to value and hone their own strengths."
Staff Council announces date for Recognition Breakfast
The 26th Annual Staff Recognition Breakfast & Awards Program will take place on Wed. May 22 from 9-10:30 a.m. in the Northbank Center Ballroom. The first 250 staff members to arrive will receive a special gift from Staff Council.
Liberal Learning and Entrepreneurialism community forum Apr. 25
Visit the Mott-Warsh Gallery (815 S. Saginaw St.) on Thurs., Apr. 25, at 5:15 p.m. for a panel discussion on place-based education, which emphasizes learning in the context of a student's community. A partnership between the Gallery and Southwestern Classical Academy will be explored. The conversation will be moderated by Jordan Barnett, a graduating Secondary Art Education senior.

Your RSVP is kindly requested. Free and open to the public, and refreshments will be served. The Liberal Learning and Entrepreneurialism community forums are presented by the College of Arts and Sciences, 100k Ideas, and the EDA University Center for Community and Economic Development.
Respiratory Therapy program receives provisional accreditation
The Bachelor of Science in Respiratory Therapy program at UM-Flint recently became one of the only programs in the country to receive provisional accreditation from the Commission on Accreditation for Respiratory Care (CoARC). Congratulations to Dean Fry, program director Nicholas Prush, and the rest of the team in CHS.
Spring Preview for high school and transfers on May 4
High school students and potential transfers will be on campus on May 4 for UM-Flint's Spring Preview. Perspective students and their families will experience first-hand the wide variety of degrees offered on UM-Flint, take a tour of campus, learn about scholarships and financial aid, enjoy lunch, and much more.
Student Government hosts Books and Breakfast Apr. 22 & 23
Student Government will host Books and Breakfast on Apr. 22 & 23 at 9 p.m. in Picasso. Get ready for finals with a late night breakfast.

Contact University Communications & Marketing with comments, questions, or story ideas.