December commencement ceremony celebrates UM-Flint's newest graduates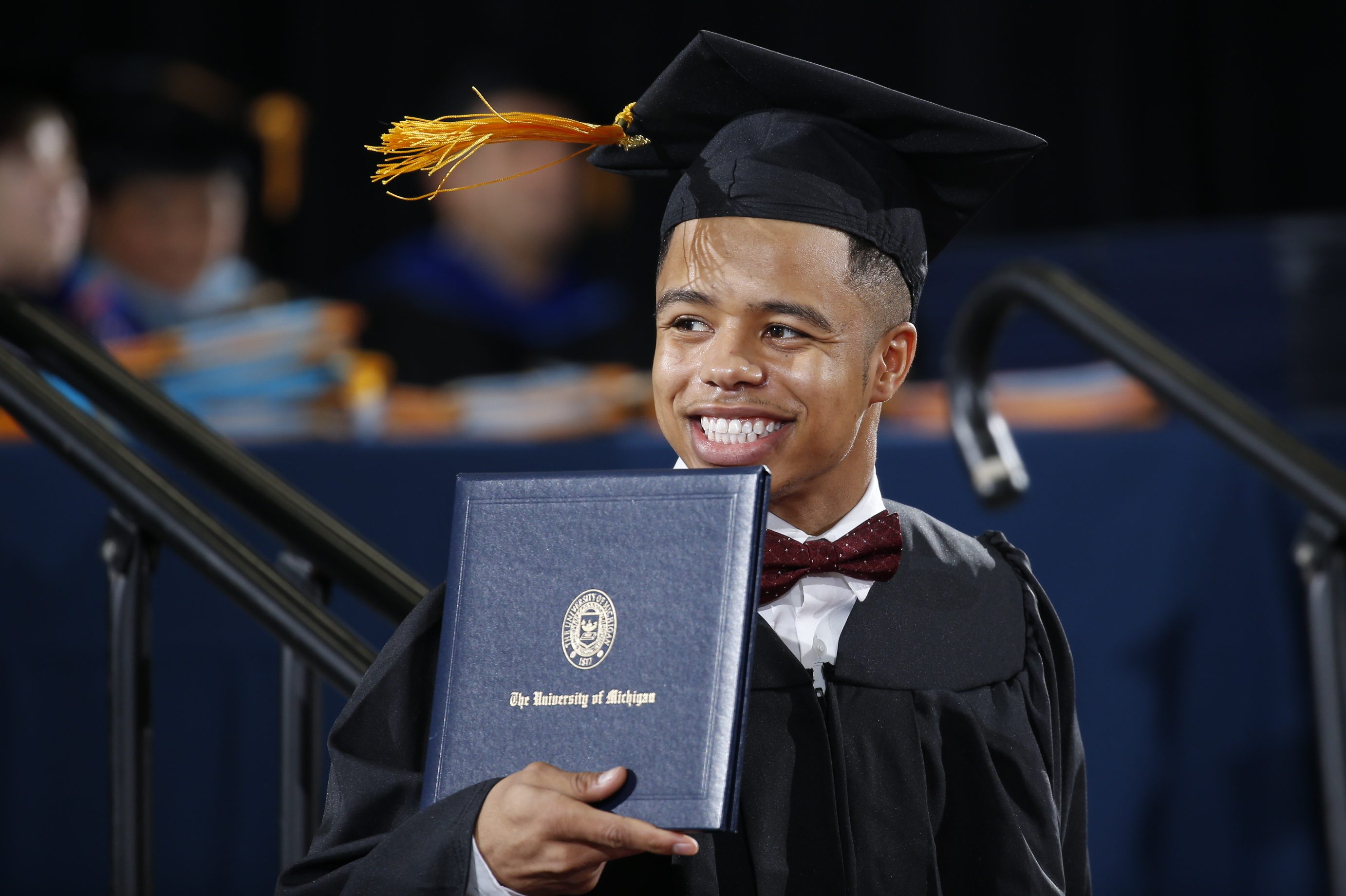 Keynote speaker Bobby Mukkamala, MD celebrated University of Michigan-Flint graduates as "leaders with life experience."
"Draw on the entirety of your experience when you tell your story to the people interviewing you for your future jobs," said the Flint doctor and philanthropist at the December 16 commencement ceremony at Dort Federal Credit Union Event Center.
"Tell them about your academic interests and success sure, but also tell them of what you learned about life along the way, how you enjoyed the good times so far but also how you made it through the rougher patches. Tell them about your resiliency. It is this maturity that will open doors all over the place for you."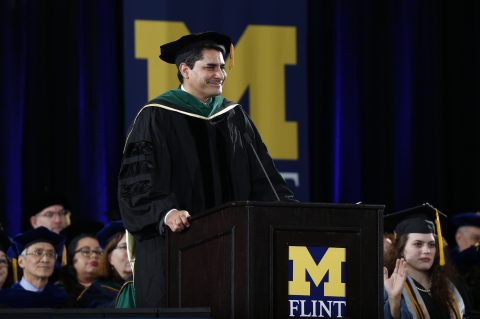 More than 900 students have graduated since this summer. The December commencement ceremony is UM-Flint's annual winter tradition celebrating their accomplishments.
Dr. Mukkamala, a head and neck surgeon with a private practice in Flint, lauded the graduates for their ability to often balance work, family, and school. He encouraged them to remember everyone who helped them reach this milestone, including their family and all of the teachers throughout their life.
"Be proud of your accomplishments, but be grateful," he said.
UM-Flint Chancellor Susan E. Borrego reminded the graduates that their accomplishment came with a special opportunity to use their degree. They have opportunities to be positive agents of societal change.
"I want to encourage you all to consider how you can use your degree as an opportunity to do good in the world," she said.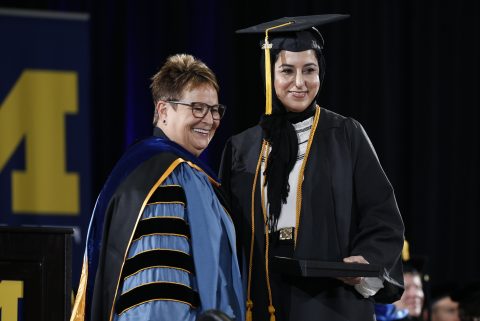 In the hours before Sunday's ceremony, the soon-to-be graduates moved with energy and anticipation as they gathered within the arena.
Andrew Ravi Kamalraj admitted to a case of the nerves shortly before the ceremony. A native of India, Ravi Kamalraj was living in Kenya when he decided to join the UM-Flint community. He was drawn by the strong mechanical engineering program, and the rich engineering history within the state of Michigan. During his college career, he said  faculty and fellow students helped sharpen his mechanical engineering skills. And Sunday, it was culminating with commencement.
"It's exciting. It feels like this chapter has closed, but it's exciting."
During the ceremony, student speaker Hannah Karczewski encouraged her peers to give back to the area with the talents honed on campus and within the community.
"Flint has invested in us, and we into it. Don't let those opportunities go to waste," she said.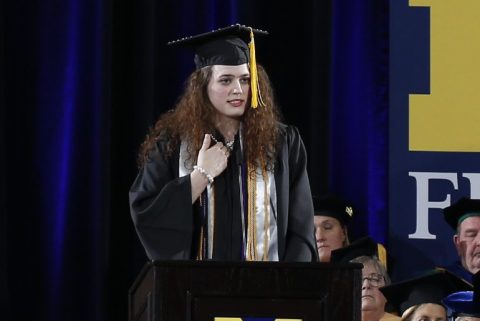 Karczewski graduated with a bachelor of science in health sciences, with plans on earning her doctor of physical therapy. Her professional plans are to be a practicing physical therapist and an advocate for individuals with physical disabilities. At the age of 12, suffering from scoliosis, she underwent surgery at the University of Michigan C.S. Mott Children's Hospital to straighten and support her spine. Years of therapy followed and she knew she wanted to serve in the role of therapist one day.
She volunteered as a health educator at PT Heart, the university's free student-led physical therapy clinic, and learned about the everyday challenges of residents in Flint. This was just one of many volunteer experiences that shaped her professionally and personally at the university.
"The University of Michigan's Mott Children's Hospital may have straightened me out and reinforced my spine, but it was the University of Michigan-Flint that truly gave me the backbone to face what lies before me. Let us be the backbone of Flint."
Contact University Communications & Marketing with comments, questions, or story ideas.