UM-Flint announces December 2018 student commencement speaker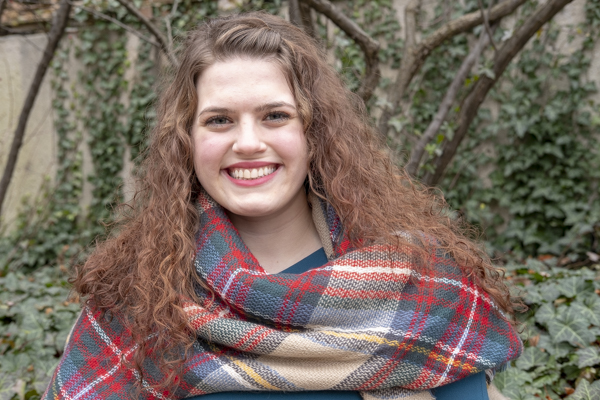 Hannah Karczewski started at UM-Flint focused on how the university would prepare her for an eventual career in physical therapy.
But the Fenton native found worlds she never knew existed, and said, in the end, that only enhanced her ability to thrive personally and professionally. In her mind, she experienced a "metamorphosis."
"The opportunities I have had through the University of Michigan-Flint are ones I will never forget because of the friendships made, the work done, the lessons learned, and the perspectives changed."
Karczewski has been chosen as the student speaker for the 2018 December commencement ceremony. She is a recipient of the Maize and Blue Distinguished Scholar Award, the highest academic award bestowed upon UM-Flint graduates.
She graduated with a Bachelor of Science in Health Sciences, with plans on earning her Doctor of Physical Therapy. Her professional plans are to be a practicing physical therapist and an advocate for individuals with physical disabilities.
She is currently a physical and occupational therapy technician, and a functional neurology chiropractic technician at the Insight Physical Therapy and Neuro-Rehab Center.
Karczewski entered the university knowing she wanted to become a physical therapist. At the age of 12, suffering from scoliosis, she underwent surgery at the University of Michigan C.S. Mott Children's Hospital to straighten and support her spine. Years of therapy followed. She job shadowed a physical therapist at 16 years old and knew this was the career for her.
When she joined the university, she quickly learned new ways of what it took to be a good practitioner. She met students from other countries, and learned about different mindsets and cultures. She volunteered as a health educator at PT Heart, the university's free student-led physical therapy clinic, and learned about the everyday challenges of residents in Flint.
"All of those experiences changed my perspective. I learned I needed to understand different cultures and know that people are not always the same as me. When I talk to people and I try to increase their quality of life, I need to understand their backgrounds first."
This understanding helped Karczewski flourish. She was home-schooled for much of her high school career, and the university campus provided her a new type of opportunity.
"I saw there was a world outside of mine, and something beyond what I already knew. I started loving the world around me, one that I had never seen before."
UM-Flint also introduced Karczewski to students from a variety of countries. She has learned conversational Ukrainian, Arabic, and Polish.
"I love the international students here. They bring the world to the university. They are so true to themselves and they bring it into UM-Flint and incorporate it."
Karczewski was an active volunteer during her UM-Flint career, including through University Outreach and the Intervarsity Christian Fellowship. She traveled to Baltimore this summer for the university's Alternative Summer Break. As a site leader at the Maryland Center for Veterans' Education and Training, she and the student crew fed 120 veterans, organized its clothing department, and more.
The Department of Public Health and Health Sciences awarded her an Outstanding Student in Health Sciences award in Fall 2017.
"Hannah is an individual of high ethical values and standards," said Dr. Shan Parker, the director of Public Health & Health Sciences. "She is well regarded by her instructors and fellow students. She is a scholar who strives to make a positive impact on the lives of others. She is an exceptional student who has shown great integrity and determination and embodies the spirit of the Maize and Blue award."
Contact University Communications & Marketing with comments, questions, or story ideas.