UM-Flint occupational therapy alum working to make sailing more accessible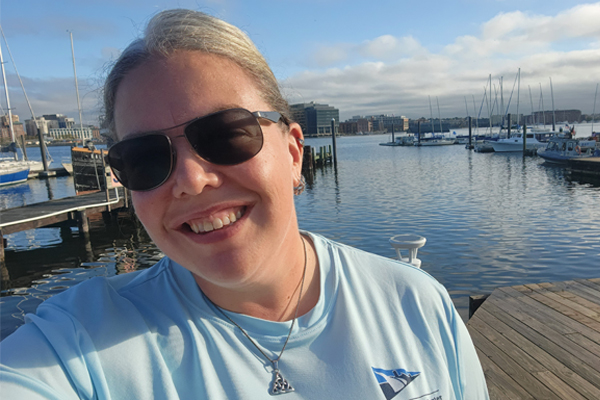 Shanna Haver is incredibly passionate about two things in particular: giving back to others and spending time on the water. A 2023 graduate of the University of Michigan-Flint's occupational therapy doctoral program, she is using her chosen career field to combine her passions in a rather unique way.
When it came time for the Ypsilanti resident to choose her capstone project, she followed her interests, conducting research at the Baltimore, Maryland-based Downtown Sailing Center, an organization that promotes self-esteem through sailing and offers adaptive boating opportunities for people with disabilities.
Like Haver, all students in the program conclude their journey with a capstone project of their choice, completing a needs assessment and spending 14 weeks in a community, conducting research and implementing their findings. The capstone gives students leadership and research skills.
The experience was transformative for Haver. After she met a Paralympian sailor who needed the assistance of several people to board an adapted sailboat, she worked to develop a dock that would provide a barrier-free experience for individuals who use wheelchairs and want to participate in adaptive sailing. She also developed a handbook to help volunteers learn how to work with people with disabilities.
She is currently working with manufacturers and has applied for a provisional patent for her invention, named the SeAccess Autonomy Concept Dock. The concept recently won first place and a $1,000 prize in the UM-Flint Office of Economic Development's "UMake the Change Student Innovation Competition."
"Giving people access to leisure can really improve someone's quality of life," Haver said. "There is a difference between existing and living. People need their social and mental needs met and to be a part of a community."
While at the DSC, Haver conducted a pilot study to investigate an adaptive sailing program's impact on a participant's perceived quality of life. She found that at first, many participants didn't feel comfortable being outdoors or with other people, but that their level of safety and comfort increased after sailing.
"Sailing has many physical and emotional benefits," she said. "You get the feeling of the water, the wind and the waves, and it helps all these tiny muscles in your body come alive."
Haver is also working as a grant coordinator for the DSC while she prepares for her occupational therapy board exam. She is forming a research team comprised of medical directors, doctors, physical therapists, and occupational therapists to study the impact of a pilot installation of the dock at the sailing center in summer 2024.
Occupational therapists help people participate in activities that give their lives meaning. While that includes helping patients with an injury or illness with activities of daily living such as household management and self-care, it also includes leisure activities that provide connection.
Many students in Haver's cohort focused their capstone project on alternative forms of occupational therapy, including adaptive surfing and handicapped-accessible playground equipment.
"Shanna did incredible work on her capstone experience," said Marra Robert, clinical assistant professor of occupational therapy. "Her project is a great example of combining her passion and love for sailing with her OT skills. I am proud of how our students passionately advocate for the role of occupational therapy in emerging practice areas and demonstrate how OTs can impact those in need."
To learn more about UM-Flint's occupational therapy doctoral program, visit its webpage.
Martha Pennington
Martha Pennington is the communications specialist for the College of Health Sciences. She can be reached at mkpennin@umich.edu.