UM-Flint history professor honored with U-M Regents' Award for Public Service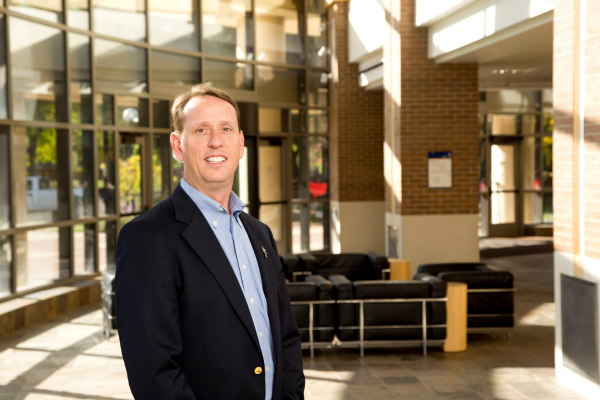 One might think that studying history is only about learning about the past, but for Thomas Henthorn, the Dorothea E. Wyatt Professor of United States History at the University of Michigan-Flint, it's also a gateway to the present and future.
Case in point, Henthorn empowers his students to influence Flint's contemporary community meaningfully by engaging in historical preservation and community-focused public service. As recognition for his efforts, he has been honored with the University of Michigan Regents' Award for Public Service.
The award was created in 1990 to honor university faculty engaged in public service activities that are closely related to teaching and research while also reflecting professional and academic expertise. Anyone from U-M's three campuses can be nominated for the award.
Henthorn's ongoing cemetery preservation projects at Glenwood and Old Calvary Catholic cemeteries in Flint, serving as a board member at the Whaley Historic House Museum and his membership in the UM-Flint Arts & Culture Research Cluster all demonstrate his commitment to preserving Flint's rich history while fostering a vibrant cultural environment.
"Recognition of public scholarship reminds us that there is a personal and professional value to making people feel seen and known," said Henthorn.
He also said that public service projects provide students with opportunities to grow and develop important life skills such as leadership, communication, teamwork, problem-solving and time management. Engaging in public service also provides students with a glimpse of what their futures could look like after college.
"If you like making an impact, you can do that as a historian," said Henthorn. "There are several ways to engage people about the past and the process of change. Some of us do that in the classroom, but it can really happen anywhere."
He added that he enjoys building and strengthening relationships between the university and the community as well. "It's a good reminder that our university is a citizen of Flint and we're incumbent to be active members of that community," he said.
Henthorn said that history is at the root of helping people learn how to navigate a complex world, and that is especially true when it comes to public service projects like the ones he's spearheaded. The projects also come with other benefits, including being a driving force for creating positive change within the community.
"Any community faces unique challenges, and engaging in public service allows individuals and organizations to play a role in developing solutions with equity in mind," Henthorn said.
Henthorn's UM-Flint colleagues believe that his award is well deserved. "His teaching, research and service all connect the university to the greater Flint and Michigan communities," said Chris Douglas, chair of social sciences and humanities. "I am glad the regents recognized his outstanding work."
Chris Molnar, associate professor of history and director of the history program, added that Henthorn has consistently worked to connect his research and teaching to the local Flint community, which is a benefit for the college.
"Dr. Henthorn is an embodiment of UM-Flint's identity as a publicly engaged university," Molnar said. "The history faculty is proud of his work and this important recognition. We know he will continue this work to benefit the history program, our students, and local and wider communities."
More information about Henthorn's cemetery preservation work and other projects is available on the UM-Flint website.
Madeline Campbell
Madeline Campbell is the communications specialist for the College of Arts & Sciences. She can be reached at mciak@umich.edu.