Preservationists breathing life back into Flint cemeteries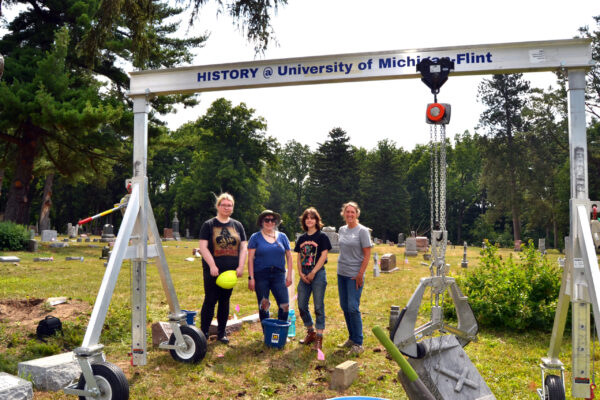 Chances are you've heard of gravediggers, grave circumstances and even grave robbers. But have you ever heard of grave cleaners?
Well, that's exactly what Thomas Henthorn, a University of Michigan-Flint associate professor of history, and a team of students and community volunteers are doing as the group works to breathe life back into Flint-area cemeteries.
The project, which involves a lot of scrubbing, sunscreen, digging and heavy lifting, is part of the UM-Flint History program's Cemetery Preservation Project, and is funded by the Wyatt Endowment and other donations. Each summer for the past seven years, Henthorn and a group of interns have worked in the community to readjust, repair and rinse layers of dirt off historic headstones in Flint cemeteries.
This summer, Henthorn teamed with history majors Izzy Guertin, a senior from Fenton, Wendy Kimberly, a senior from Fort Gratiot and Lisa Horn, a senior from Novi and volunteer Mary Ann Kost, a UM-Flint academic success specialist from Linden to administer the project and bond over their passion for local history.
"I wanted to participate in the internship because I've always had an interest in cemeteries," said Guertin. "I want to pursue cemetery preservation after college, and this program allows me to gain experience in the field as quickly as possible."
The preservation crew had their work cut out for them. They began their most recent efforts at Old Calvary Catholic Cemetery, the oldest cemetery in the city of Flint that is still in use today. Established in 1847, it was the first Catholic cemetery in Genesee County and boasts such. notable burials as hospital benefactor James Hurley, Napoleonic War veteran George George and Flint Community Schools originator Frank Manley.
The team has also made a notable discovery of a double-sided headstone that had previously been encased by some tree roots. After Henthorn freed it from the roots, Guertin discovered one side of the headstone appeared to be hand carved, while the other side looked as though it had been professionally carved. "It looks like someone commandeered it for themselves," said Henthorn.
Since the stone was split in two, the team will carefully repair it.
Carrying out repairs and repositioning headstones can be challenging as Henthorn and his team are up against a variety of factors including extreme heat and humidity, do-it-yourself cemetery preservation work from others and aging headstones made out of porous materials like granite and marble, which are susceptible to cracks and crumbling.
The team takes every precaution in its work, including cleaning the headstones with a gentle sulfate and phosphate-free detergent that Henthorn describes as "cow soap."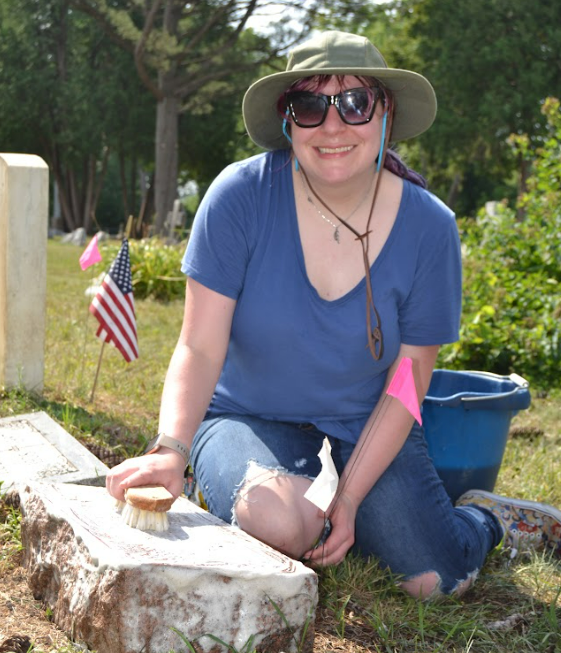 They also used a portable aluminum-framed tool called a Gantry crane, which the team referred to as "the swing set." The crane is used to lift and move headstones back into the upright position or if a headstone base needs to be replaced.
"Working to repair headstones is important because it helps families preserve the memory of their loved ones and is why I decided to get involved with this hands-on internship," said Kimberly. "It's important to honor people who lived in this area before we did."
Horn, who has visited cemeteries in Bahrain, Austria and Germany, wanted to see how working in a local cemetery would compare to those experiences. "This is one of the coolest internships I've ever done," she said.
Students who are interested in joining Henthorn for summer 2023 can contact him at henthorn@umich.edu
Madeline Campbell
Madeline Campbell is the communications specialist for the College of Arts & Sciences. She can be reached at mciak@umich.edu.