'Victors in Grad School' podcast offers expert advice, personal perspectives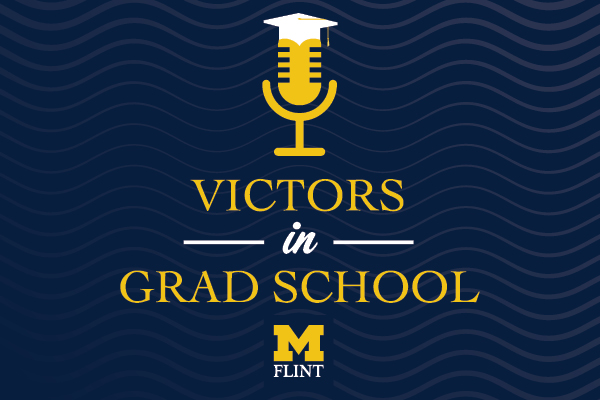 When you think of podcasts, what's the first thing that comes to mind? If you're like most, it's probably talking heads and true crime. But what if you're someone who is giving consideration to furthering their education? Wouldn't it be nice to hear a good success story and know you're not alone?
If you answered yes to those questions, the "Victors in Grad School" podcast is worth a listen. Hosted by Christopher Lewis, director of graduate programs at the University of Michigan-Flint, "Victors in Grad School" shares the inside story of studying at the master's and doctoral levels.
But make no mistake, this isn't a show about admissions requirements and deadlines. Lewis combines 23 years of higher education experience with in-depth interviews to provide a detailed view of life in graduate school, from gaining entry to your dream program to finding that dream job. Some episodes offer a broad focus, such as exploring the differences between bachelor's and master's degrees; others delve into the realities of a specific program as told by students and alumni.
Producing this podcast is just another way UM-Flint Graduate Programs can support students and share crucial information, according to Lewis.
"This is a show about helping students make the transition to graduate school, whether they are current undergraduates at UM-Flint or students at a university halfway around the world," Lewis said. "Graduate study can seem intimidating and unfamiliar – especially to first-generation college students – but we can overcome that anxiety through conversation. My goal is for listeners to finish each episode having gained another tool in their toolbox."
In celebration of the show's launch, three episodes of "Victors in Grad School" are now available.
Chandramukhi Thakkar. A 2020 UM-Flint graduate with a Master of Public Health, Thakkar shares her insights as an international student earning an advanced degree in the U.S. While initially being caught off guard by graduate school, Thakkar explains how she found her stride thanks to a solid support network and the university.
How to Choose a Graduate School. Despite there being "no secret formula" to choosing a graduate school, Lewis provides tips to narrow the pool of potential programs and how to effectively research those options.
Amy Yorke. Perhaps no one has a more complete perspective on UM-Flint's nationally ranked physical therapy programs than Yorke, a 1993 graduate of the then-master's program (UM-Flint now offers doctoral preparation in physical therapy). Yorke would go on to earn a PhD and work as a clinician before returning to UM-Flint as an associate professor. The alumni and faculty member shares her path as a first-generation college student and tips on how to study effectively in graduate school.
Lewis believes there are "universal truths" to be found in each episode regardless of program emphasis.
"If you're interested in business, you might not think listening to a wildlife biologist is worthwhile," Lewis said. "But everyone experiences things like imposter syndrome, test anxiety and wondering about the next step after graduation. The guests on this show have been there and done that and now they're sharing that knowledge with everyone."
"Victors in Grad School" will feature new episodes weekly on Libsyn and the Graduate Programs blog. If you have a question about graduate school you'd like to hear covered in a future episode, email FlintGradOffice@umich.edu. 
Logan McGrady
Logan McGrady is the marketing & digital communication manager for the Office of Marketing and Communication.