Student Research Spotlight: Taylor Culinski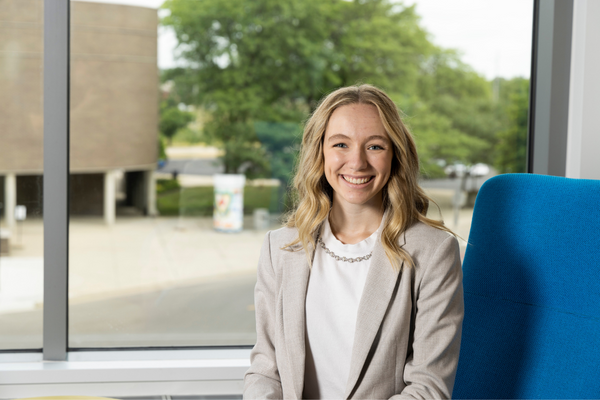 Most students use their first year in college to take care of the basics, like exploring student clubs or learning how to find their way around campus. For Taylor Culinski, a junior psychology major from Swartz Creek, her first year was the perfect time to begin conducting research alongside her professors. And it was that early venture into student/faculty partnerships that have played a major role in Culinski's college career. She is now a mentor in the Undergraduate Research Opportunities Program (UROP) and is diving deeper into her research as a Summer Undergraduate Research Experience fellow.
Culinski found her first opportunity to conduct research at the University of Michigan-Flint with Gergana Kodjebacheva, associate professor of public health, interviewing primary caregivers in the community on telehealth use during the COVID-19 pandemic for their perceptions of its impact on their access to pediatric health care.
"I stumbled upon this research with Dr. Kodjebacheva my freshman year and it was totally not what I was expecting, but it turned out to be such a great learning experience," Culinski said. "I've learned so many tools and fundamentals on how to do research."
Throughout this project, Culinski found that many parents struggled with utilizing telehealth for their children and many providers didn't offer a full array of telehealth services. She also observed that there are a variety of resources available for parents on telehealth, but not always the necessary guidance on how to use them.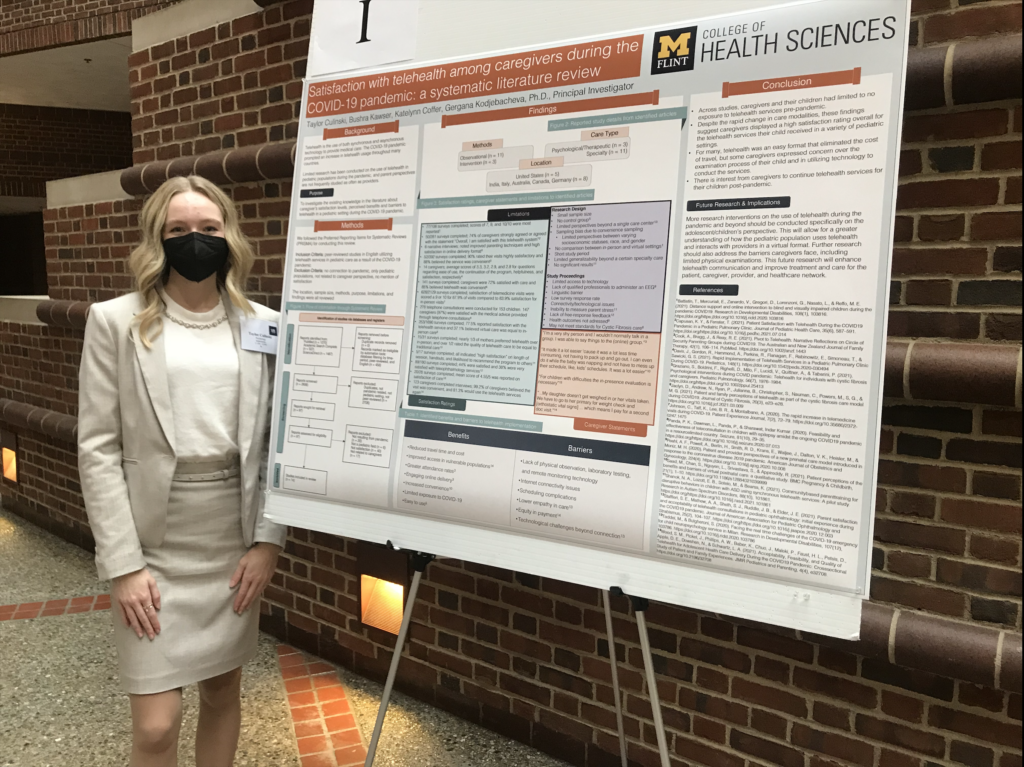 Culinski is co-authoring two studies with Kodjebacheva. The first looks at parent perceptions and barriers to telehealth access and the second builds upon previous research indicating telehealth has the potential to improve access to health care in vulnerable populations. They learned that the COVID-19 pandemic introduced telehealth to many parents for the first time. "A lot of what we've seen looking into satisfaction is that there are many socioeconomic disparities in terms of access to technology and Wi-Fi and all of those technological resources," Culinski explained "I think doing an [educational] intervention is only going to help improve that."
Intervention research allows investigators to learn what strategies are most effective at improving outcomes for a given population. As part of her SURE fellowship, Culinski is developing educational resources to create that intervention for parents, specifically an online Canvas-based training module on telehealth use. In order to study the effectiveness of this intervention, a control group will not receive the intervention materials right away, but will gain access to the content a few weeks after the rest of the participants.
She is also assisting Kodjebacheva and Jillian Woodworth, clinical assistant professor of occupational therapy, in a project conducting focus groups with UM-Flint occupational therapy students about telehealth, helping them to consider the use, benefits and drawbacks in their profession.
In addition to fantastic faculty support, Culinski remembers countless ways she and her classmates supported one another, something she is continuing as a UROP mentor and project lead. On the telehealth project, she is working alongside graduate studies research assistants and dual-enrolled high school students. "We all work really well as a team and it's been such a great experience," she said.
That mutual support extends to Culinski's role as president of the Psychology Club, where she instituted a psychology careers section of their meetings to explore the many impactful ways to use a psychology degree. The group regularly talks about research in different areas of the field and incorporates community service. Last year, for example, the group packaged 11,000 pounds of food at the Food Bank of Eastern Michigan.
For Culinski, these roles and activities are all part of her desire to make a difference. She is constantly working toward her goals and learning how to build a world that gives children the hope that they need to thrive. "Some people think that research is this big scary thing," she said, "but you can accomplish little things at a time and keep building those skills. The more you build together, the more it's going to improve your ability to conduct the research that you really want to in the end."
Rob McCullough
Rob McCullough is a communications intern with the Office of Research and Economic Development. He can be reached at romccull@umich.edu.