UM-Flint physician assistant student awarded national health policy fellowship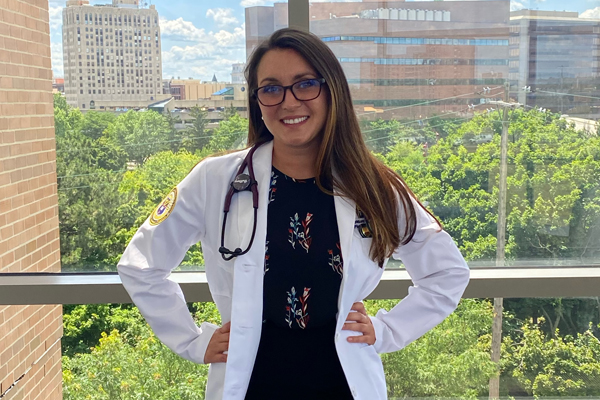 When Brittany Douglas launched her career as a surgical technologist, she found herself lending a hand to a variety of health care professionals, including surgeons and physician assistants. And as she made the decision to enroll in the University of Michigan-Flint's PA program, thereby following in the footsteps of her colleagues, she discovered a natural ability for taking the lead.
As student president of the university's 2024 physician assistant class, the Flint native became interested in legislative efforts to advance the profession, making it her mission to get involved in political advocacy while encouraging her classmates to do the same.
She has accomplished that goal in many ways, including bringing senators to campus to meet with PA students and motivating her fellow classmates to engage in the legislative process.
Douglas will now have new opportunities to advance her mission this year, thanks to two different national opportunities and recognitions.
First, she was selected for a Student Health Policy Fellowship through the Physician Assistant Education Association, a national organization that works to advance PA education and the profession. She was one of 20 students chosen nationwide following a competitive review process.
As part of the fellowship, she will participate in a September workshop featuring policy and advocacy leaders and learn the skills needed to conduct effective congressional meetings. She will then develop a community advocacy project. 
Douglas is also one of three PA students in Michigan who received a scholarship from the Michigan Academy of the Physician Assistants to attend a Leadership and Advocacy Summit in Washington later this month hosted by the American Academy of Physician Assistants. Yasmine Affes, a UM-Flint PA student in the Class of 2025, will attend with her.
"I really made it my goal as class president to help my classmates become more politically aware about health policies that impact our future patients," Douglas said. "If we start involving students early, we can empower them to make real changes."
Douglas explained that there are legislative issues that impact PAs both within the state and across the country. For example, several bills are being reviewed in Michigan that would change the scope of how physician assistants are able to provide care related to mental health.
Douglas and two of her classmates, Hannah Richards and Vanessa Krstevski, will also present on the topic of political activism at the MAPA Conference, becoming the first students to present at the statewide forum.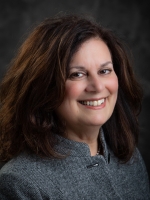 "Brittany serves as a true PA student leader, " said Stephanie Gilkey, physician assistant director at UM-Flint. "She has advocated tirelessly for her fellow students and for the PA community.  Her drive to understand complex issues and advocate for quality patient care, particularly in the area of mental health, is inspiring to us all."
Douglas, who still works as a surgical technologist, is currently completing her clinical training in the PA program. She hopes to work as a surgical PA after graduation next year. 
"As providers, advocacy is such a big part of who we are," she said. "Lifting others up is part of my character. I want to empower other students in the program to get outside of their comfort zone. PA students are smart, intelligent and disciplined. I am here to empower them."
Martha Pennington
Martha Pennington is the communications specialist for the College of Health Sciences. She can be reached at mkpennin@umich.edu.