Two UM-Flint physical therapy students awarded national scholarship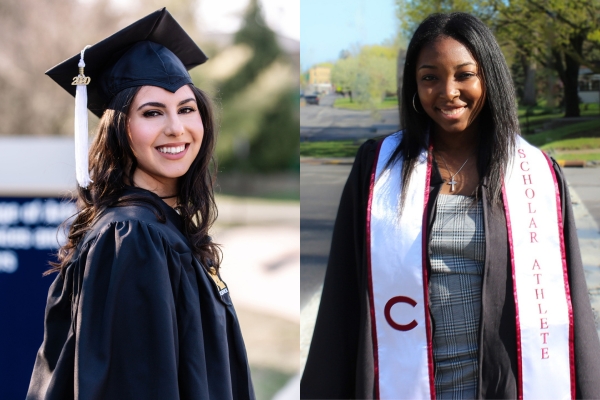 University of Michigan-Flint physical therapy students Natalie El-Zayat and Nia Ahart both chose their field of study after seeing firsthand the impact a physical therapist can have on a patient's quality of life.
Now they have another thing in common. They are recipients of the prestigious Crest Scholarship, a national honor awarded by Rizing Tide, a foundation dedicated to creating a racially diverse and inclusive workforce in physical therapy.
The pair are among 20 recipients selected from more than 400 applicants. El-Zayat, a second-year student from Dearborn, was one of 10 recipients of a full scholarship. Ahart, a first-year student from Detroit, was one of 10 winners of a partial scholarship in the Rizing Stars category.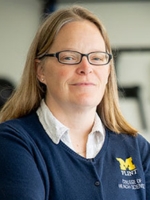 "This recognition is a testament to their dedication," said Jennifer Blackwood, physical therapy director at UM-Flint. "I know that they will continue to shine while in our program."
Both students are dedicated to increasing diversity in health care to improve patient care.
El-Zayat, who has a bachelor's degree in psychology from UM-Dearborn, chose physical therapy after seeing the care that her uncle received after suffering a stroke. She previously worked at a dental clinic in Dearborn and said she met many people with language barriers who couldn't advocate for themselves.
"It is so important to have a diverse workforce," she said."You are dealing with a diverse clientele. Being able to mirror that in the workforce and address cultural considerations and language barriers is incredibly important."
She volunteers at HEART, the pro bono clinic run by UM-Flint's College of Health Sciences, and is a member of the Arab American Health Initiative Initiative in Dearborn where she works with the women's health research branch to study misconceptions around infertility. She hopes to work as a pelvic floor physical therapist after graduation, helping women regain physical strength after pregnancy.
Ahart played basketball at Colgate University, where she studied biology with a minor in African American studies. As a college athlete, she sustained several injuries that required a physical therapist to help her get back on the court.
This summer she led a basketball camp for at-risk youth in Dearborn Heights. She also works as a PT tech in a metro Detroit hospital. She aspires to one day work with athletes and provide the same care that physical therapists did for her. She also dreams of opening a community center in Detroit, where she grew up.
In the meantime, she is proud to be working toward her goals in her first year of the physical therapy doctorate program.
"Seeing diverse faces in health care inspires the community to take care of their health," she said. "If you don't see people that look like you, you may not believe they are taking your problems seriously."
Martha Pennington
Martha Pennington is the communications specialist for the College of Health Sciences. She can be reached at mkpennin@umich.edu.