UM-Flint associate professors named 2023 Global Health Commercialization Competition winners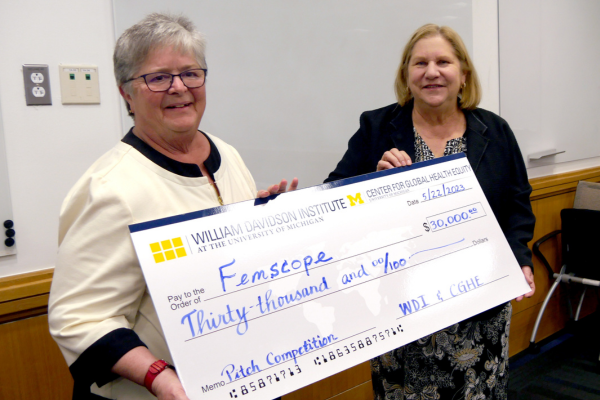 Editor's note: This article is reprinted partly courtesy of the William Davidson Institute at the University of Michigan-Ann Arbor.
More than 70% of women worldwide have not been screened for cervical cancer, and part of the reason is access to, and comfort with, the current medical tools required for those screenings. Currently, the exam for cervical cancer screening requires a vaginal speculum, an exam table with stirrups, and a patient who is physically and emotionally able to handle the exam. For many around the globe, those requirements cannot be met.
To reach those women, a pair of associate professors from the University of Michigan-Flint, Marilyn Filter and Lyn Behnke, have designed a new, more patient-friendly device, the Femscope Calm Collect system.
The device and its creators recently won a $30,000 prize via the Global Health Commercialization Competition sponsored by the William Davidson Institute and the Center for Global Health Equity at the University of Michigan-Ann Arbor. In addition to the cash prize, Filter and Behnke will have the opportunity to work with MBA students at the U-M Ross School of Business to refine their plans.
The competition invited faculty innovators from all three U-M campuses to share their work on technical solutions to health care problems in emerging markets. Four finalists were selected from those that submitted, each presenting their pitches to judges, May 22.
In addition to their roles in higher education, Filter is a certified nurse midwife, while Behnke is a board-certified family nurse practitioner.
Their Femscope device is a slim cell-collection tool with a scope that would replace the speculum and swab that are typically used. Providers can learn to use the device – which connects to a smartphone or computer – in less than one hour, and patients can receive an exam without using an exam table.
"We have made it our mission in life to improve patient outcomes," said Filter. Their accessible tool is less expensive, easier to use, and more comfortable for many patients — attributes prioritized to improve screening rates for people around the world.
Filter and Behnke plan to use their winnings to purchase a 3D printer and fund the device's pilot test — the first essential steps to take the life-changing product to market. Once there, "it will certainly save lives," said Filter.
The pilot test will ensure biopsy results are of the same caliber as a traditional exam, then the product will move to a full clinical trial and eventually be introduced around the globe, Filter said.
Robb King
Robb King is the director of marketing and communications at UM-Flint. He can be reached at rwking@umich.edu.