UM-Flint student studying trauma-informed programming on campus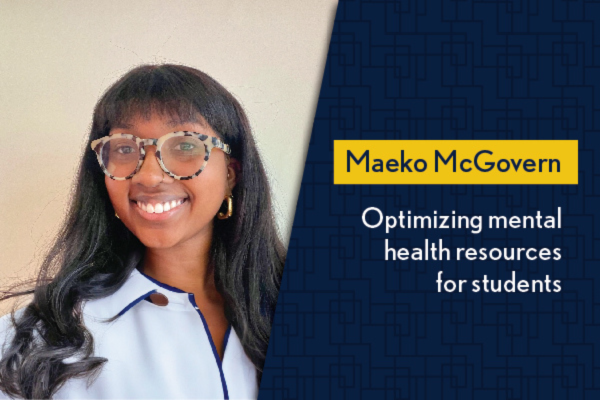 A University of Michigan-Flint student is conducting research that could have an impact on how students receive support services on campus.
Maeko McGovern, a senior public health major and political science minor from Flint, has been working on a study titled "Trauma-Informed Programming to Support and Retain Academically and Economically Disadvantaged Students" along with John Girdwood, sociology lecturer and Promise Scholars Program manager, since last October. Their study will evaluate mental health resources at UM-Flint and identify areas for improvement. The team received a $1,000 stipend from the Undergraduate Research Opportunities Program to conduct the study.
McGovern said that she was motivated to conduct the study following her personal experiences as, being both a person of color and queer.
"While I had a great support system off campus, when I sought support services on campus in 2021, I felt that there was room for improvement," said McGovern.
Her observations suggest the need for shifting to in-person programming with an emphasis on trauma-informed services in order to ensure equity for all students on campus.
McGovern said that getting involved on campus played a big part in helping her find spaces to connect. For example, she participated with the Black Student Union and the Center for Gender and Sexuality as an undergraduate student and felt it was reassuring to make and sustain those connections and contacts.
"My hope is that this study will combine research and data analysis with community engagement to help different departments on campus better support students with mental health issues," said McGovern. 
"I love research, it's everything to me. The thing that excites me the most about conducting this study is raising awareness about mental health resources on campus and advocating for other students that relate to me."
McGovern is also using skills gained while previously working at the city of Flint as a public health navigator to help shape the study as well as interview questions that are posed to participants.
McGovern recently received Institutional Review Board approval for the study, meaning that it has been officially approved as a U-M research project at a graduate student or faculty level.
"Undergraduate students rarely get to that level," said Girdwood. "This speaks to the fact that this is more than just a class project."
McGovern said that Girdwood and Kim Saks, assistant professor of political science and Master of Public Administration program director, have been extremely helpful throughout the process of designing the study.
"They have put me in the best position to do the work I want to do," said McGovern.
McGovern is hopeful of becoming a graduate student research assistant and plans to continue working with Saks and Girdwood if she does so.
Girdwood and McGovern also have plans to submit the study to the National Conference on Race & Ethnicity in Higher Education and hope to present in 2024.
In addition to CGS, a number of other resources are available to UM-Flint students who are in need of support, including:
Madeline Campbell
Madeline Campbell is the communications specialist for the College of Arts & Sciences. She can be reached at mciak@umich.edu.