UM-Flint's College of Innovation & Technology Offering Creative Summer Camp Options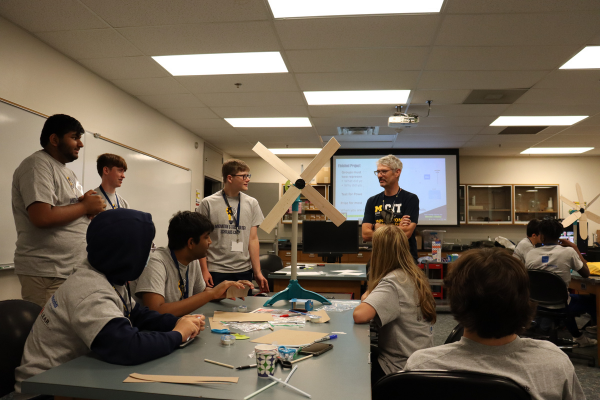 Building on the success of its inaugural summer camp offering from one year ago, the University of Michigan-Flint's College of Innovation & Technology will host unique and expanded learning opportunities for middle and high school students next month.
Last year's single camp, which featured projects in physics, sustainability, engineering, and others, brought students from more than 25 high schools around the state to the UM-Flint campus and attracted industry partner participation through various field trips and activities.
"The Innovation & Technology Scholars Program provides exciting opportunities for high school students to experience hands-on activities in our labs," said Chris Pearson, dean of the CIT. "Additionally, field trips to our industry partners allow participants to view applications in their industry settings. This year we are expanding our offerings with a summer camp for middle school students. Data indicates that exposing students, especially females, to technology during middle school is a critical factor in their decision to choose a technology career."
This year, the CIT summer camp experience will feature laboratory activities, interactive presentations with faculty, and field trips to industry partner locations.
Each camp is limited to just 50 students, so early registration is encouraged.
Innovation & Technology Scholars Camp
This camp is geared toward students in grades 9-12. The camp features three themed days with activities focused around each area, including:
Computing, June 20
Engineering, June 21
Sustainability, June 22
The camps will operate from 8 a.m. to 3:30 p.m. and cost $60 per person. Registration is available here.
CIT Summer Camp
This camp, focused on students in grades 6-8, is a two-day event, June 27-28, and consists of lab activities, field trips, lunch, and giveaways. The cost is $40 per person. Registration is available here.
"We look forward to having our labs and classrooms fill up next month with students interested in exploring the world of technology through these interactive camps," said Pearson. "We know that participants will walk away with valuable lessons and experiences."
For additional information about the upcoming camps, contact the College of Innovation & Technology at flint.cit@umich.edu.
Dayne Hopkins
Dayne Hopkins is the communications specialist for the College of Innovation & Technology. Contact him at dayneh@umich.edu.