UM-Flint CIT students build 'Techtopia' to teach kids urban safety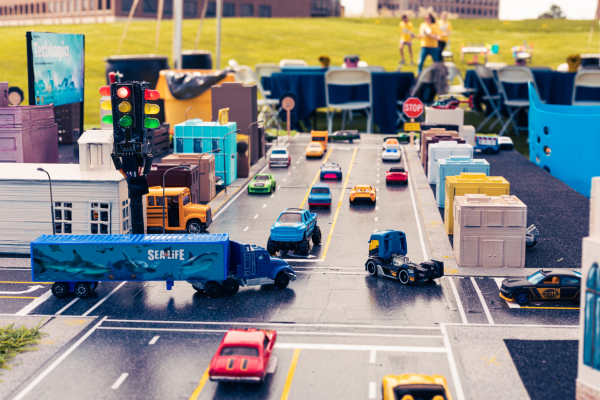 Melissa Sreckovic, associate professor of education at the University of Michigan-Flint's School of Education and Human Services, reached out to the College of Innovation & Technology with an opportunity to make a difference in the lives of area youth. Sreckovic connected with faculty and students from CIT's Innovators & Makers Club to help build what would ultimately become known as Techtopia. The project, displayed at UM-Flint's May 6 Officer Friendly Day, is geared toward building awareness between autistic people and the police.
Techtopia is a "safety village" that was created to help kids learn about safely navigating a city environment through the use of visuals and interactive play. The project included railroad crossings that go up and down with flashing lights, working traffic signals and street lights and a variety of buildings that were 3D-printed to model a busy downtown area. Toy cars were used to simulate traffic patterns.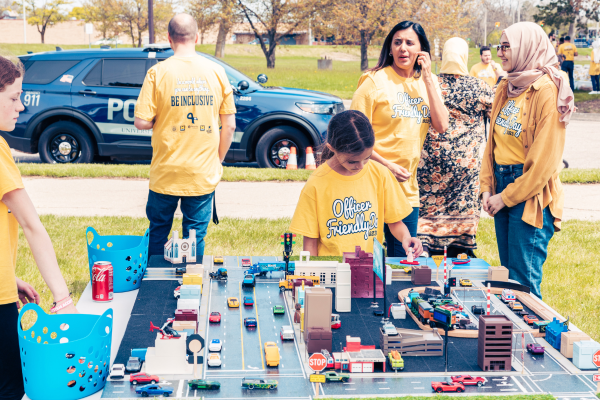 The Innovators & Makers Club utilized Arduino devices to trigger lights and operate sensors around the city.
"The best part of doing projects like this is seeing students from different majors coming together with their strengths and being able to build something so amazing, and seeing the excited faces of the kids who got to play with it at the event," said Haneen Ataya, a senior computer science major from Flushing.
Students that worked on Techtopia said that the most challenging aspect of the project was creating something that would remain intact while being subjected to heavy play due to the delicate electronic parts and materials used in the construction. "It took quite a few meetings before we came to an agreement on the final design," said Ataya.
Thiago Ferreira, CIT assistant professor of information technology and informatics, helped drive the initiative as the faculty leader for the Innovators and Makers Club.
"The smiles of people interacting with the city made all the effort truly worthwhile, and left us with a deep sense of fulfillment," said Ferreira.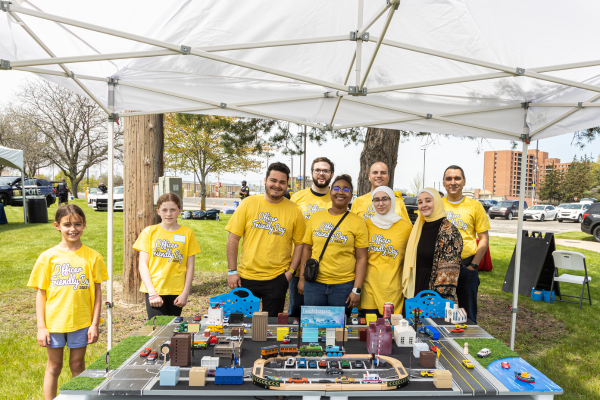 According to the club, future plans for Techtopia include improving on the current build, branching out to distribute the model to autism support centers, and possibly utilizing it to help school districts teach students about safe driving. "It's important to raise awareness about the different communities around us and be able to create something that can help teach the importance of safety, while also having us as students engage and learn about the people we meet along the way," Ataya said.
For more information about the College of Innovation & Technology, visit its webpage.
Dayne Hopkins
Dayne Hopkins is the communications specialist for the College of Innovation & Technology. Contact him at dayneh@umich.edu.