UM-Flint moms and children learning together
One small group of students within the University of Michigan-Flint's College of Arts & Sciences share a special characteristic in common: they are attending college along with their adult children. Some have taken the same courses together, scheduled study sessions together, and some even share a major. But more importantly, they've supported and encouraged one another every step of the way.
Like mother, like daughter
Morgan Findley and her mom, Jennifer Sherman, both from Flushing, are part of that group. They are both juniors working toward degrees in psychology. Both received associate degrees from Mott Community College, and when Findley received a scholarship to UM-Flint, it helped her mom decide to continue her education.
Findley and Sherman have taken four psychology classes together, and Findley said it's funny to respond to her mom's posts on class discussion boards.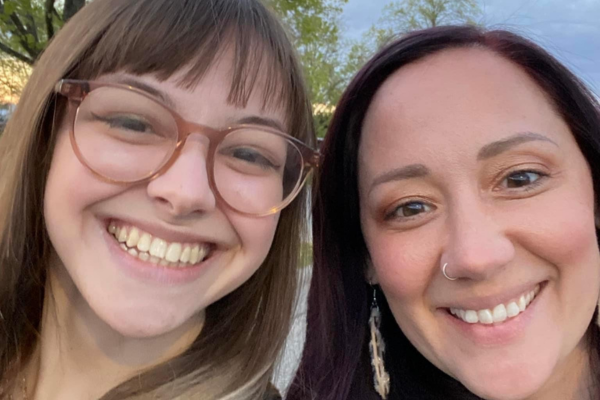 "Our relationship isn't always obvious to other people because we have different last names," said Findley. "I always laugh when I write 'Hi Jennifer!' Recently, we had to introduce ourselves in our statistics class and I mentioned my crazy little brothers. My mom replied, 'It sounds like you have your hands full with three wild brothers!' Again, I had to laugh because those are her kids."
Findley added that she enjoys attending college with her mom because it has made her a better student.
"She works so hard on every assignment, making sure she gets an A," she said. "It made me look at my own effort and made me realize I could be doing more."
Findley added that they also help keep each other on track and have in-depth conversations about their classes.
"We even edit each other's essays and eagerly await our grades so we can compare."
Findley looks up to her mom and is inspired by her determination to finish school.
"She's really proof that I can do anything," Findley said. "She was a stay-at-home mom for most of my life, raising me and my brothers. However, now that we are older, she's taking her life back, and I'm so happy for her."
Findley and Sherman are both projected to graduate in 2024 and have plans to attend graduate school.
"Who knows, maybe we'll even attend the same school together again," said Findley.
SHARED COURSES
Like Findley and Sherman, Diane Tupper and her son Dominick, both from Grand Blanc, are another parent-child duo attending classes together.
Diane is a junior English major and Dominick is a junior majoring in wildlife biology. While it doesn't seem like those majors would have much in common, both require students to take English 112. While Diane and Dominick were placed in different cohorts, that didn't stop them from enjoying the experience of sharing the same course.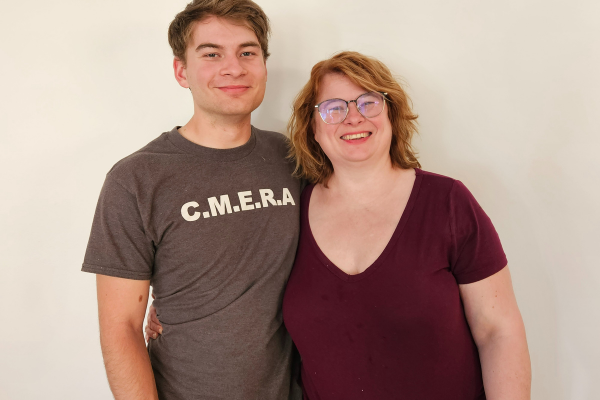 "I am admittedly a little competitive and was pleased to know I could keep up with Dominick," said Dian Tupper. "I also enjoyed being able to talk about our shared assignments. It was interesting to note how we came about them from different angles."
Diane said that she also learned some important lessons from her son along the way too.
"He's taught me that I have to give myself some grace," she said. "I don't have to be perfect to succeed. He's also been encouraging me to enjoy the process I've waited so long to be a part of."
In turn, Dominick says that seeing his mom attending classes has taught him it's never too late to pursue something that you love.
"It's great to see her working towards something she truly enjoys," he said.
Diane added that learning how to balance school with home life was challenging at first, but she's gained insight from attending college as a mom and an older student.
"I have a better understanding of what my kids are doing or heading into and it's helped me be able to relate to them better," she said.
CAMPUS RIVALRY
Mom Serena Giles and daughter Sahnya McKinley-Stigler's story is a bit different. Giles, a senior psychology major from Saginaw, attends classes on the UM-Flint campus. However, McKinley-Stigler, a first-year social work major from Lansing, attends Michigan State University.
While they may not be on the same campus, they do spend plenty of time studying together.
"It's great having similar majors because I've taken most of the classes she still needs to take," said Giles. "I'm able to be a tutor and explain things to her in a way that she can understand."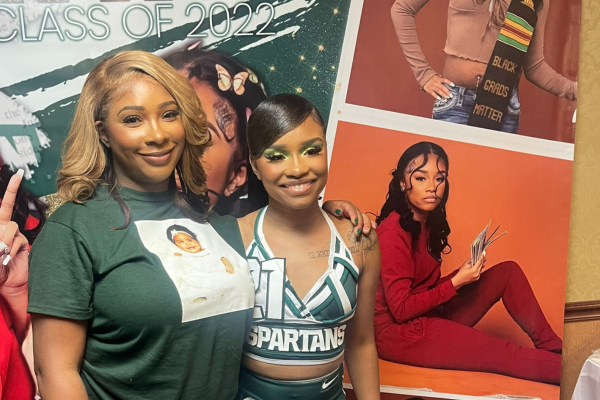 Giles said that taking similar classes has allowed her to grow closer to her daughter and strengthened their relationship.
"Sahnya is my only daughter, and I've been able to use my insight to help her figure out her upcoming course schedule. It feels good to still be needed," said Giles.
When asked about attending rival schools, Giles responded, "Let's just say you shouldn't come to our house on game day!"
Giles is projected to graduate in December 2023 while McKinley-Stigler is projected to graduate in 2026.
Madeline Campbell
Madeline Campbell is the communications specialist for the College of Arts & Sciences. She can be reached at mciak@umich.edu.