UM-Flint graduates its first group of Accelerated Online Degree Completion students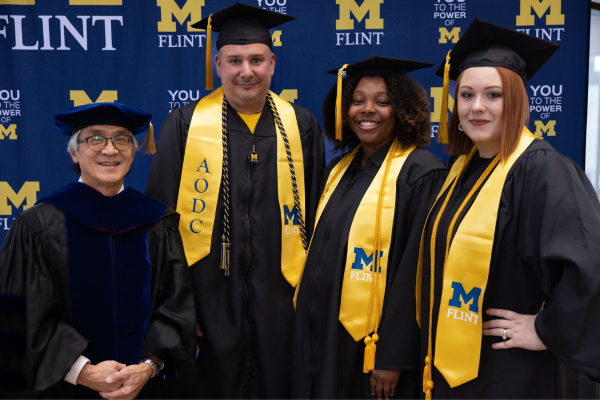 While the Spring 2023 Commencement at the University of Michigan-Flint marked the end of the typical college student experience, it also highlighted a major milestone for three nontraditional students: overcoming obstacles and obtaining their bachelor's degrees.
All three students were enrolled in the Accelerated Online Degree Completion program, which was launched last fall with the goal of helping transfer students and working adults earn a degree in a timely fashion. It also features seven-week courses that are offered completely online and asynchronously to help expedite the learning process. 
Those features were especially attractive to Alizia Hamilton from Midland. Hamilton, a mother of two, previously attended Delta College as a part-time student working toward a degree in management. Hamilton said that she had become a first-time mom while at Delta College and simultaneously had been working as an accounting assistant for a property management company.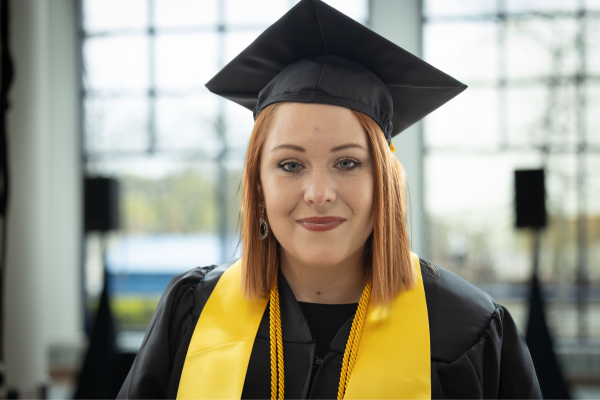 "By that time, I wasn't certain if I wanted to continue any further schooling simply due to the long nights and how much time it took away from being with my family," she said.
However, as time went by, Hamilton found that her goals of furthering her education and career while providing for her family hadn't dissipated.
"I knew that if I wanted to have upward mobility for myself and my family, I would need to get my bachelor's degree," said Hamilton. "As a mom, I knew that meant sacrifice in terms of time spent with my kids and my attention. It was a hard decision to make."
Hamilton said she learned about UM-Flint's AODC program through one of her professors at Delta College.
"It just seemed like the perfect match for me," said Hamilton. "I decided that I was going to go full time, full speed ahead, and show myself and my children what the definition of perseverance is."
Hamilton said that building a support group that consisted of Roy Barnes, AODC program director, Stephanie Martiny, AODC advisor, and her classmates, was incredibly helpful, especially when she was feeling overwhelmed.
"The AODC program is fast-paced, and I like to think of it as a relay race," she said. "You just have to sprint to the finish line."
Hamilton earned a Bachelor of Interdisciplinary Studies degree with certificates in data analytics and interpretation and digital communications and currently works as a grants analyst for Kelly Services on assignment at Dow Chemical Company.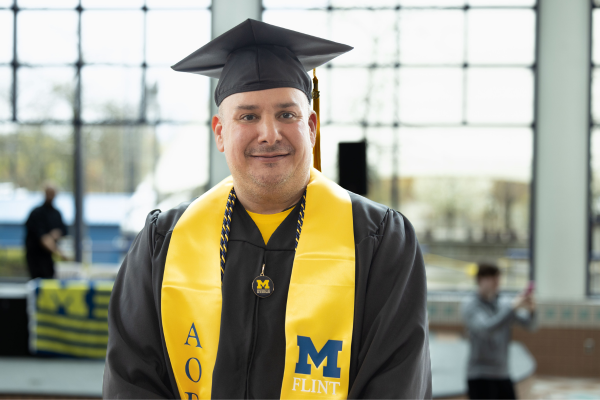 The accelerated format is also what attracted Michael Bernal from Waterford to join the program. Bernal previously attended Oakland Community College and earned associate degrees in criminal justice and business management but wanted to complete a bachelor's degree in a short amount of time.
"Working towards a bachelor's degree with the support of Roy and Stephanie was nothing short of incredible," said Bernal. "These are world-class people that have assembled an outstanding academic program. They genuinely care about the students and their experience."
Bernal earned a BIS degree with a minor in business and certificates in digital communications and cybersecurity fundamentals. He currently works as director of facility operations at Walsh College and also has plans to earn an MBA.
Approachable and supportive staff made a difference for D'Mya Mason from Flint.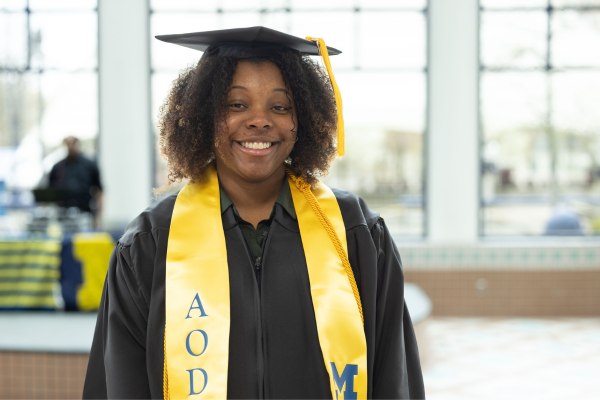 "The AODC team is great," said Mason. "Stephanie and Roy are easy to communicate with and are always looking out for our best interest."
Mason previously attended Saginaw Valley State University and was working toward a degree in nursing when she began experiencing health issues that ultimately led to her withdrawing from her courses. Mason has since earned a BIS with certificates in cybersecurity and data analytics and interpretation. She has plans to attend graduate school at the University of Detroit Mercy for nursing to eventually help women with reproductive diseases.
Barnes said he is humbled by the dedication and the work that Mason, Bernal and Hamilton demonstrated in completing their bachelor's degrees.  
"These students brought such passion to their learning and their years of experience genuinely enriched the learning environment for everyone," said Barnes. "Seeing them graduate reinforces the significance of this program for people's lives and serves as a reminder of the value of this program that the University of Michigan-Flint developed just last year."
For more information about the AODC program, visit its website.
Madeline Campbell
Madeline Campbell is the communications specialist for the College of Arts & Sciences. She can be reached at mciak@umich.edu.