UM-Flint Writing Center events include retreat, D&D summer camp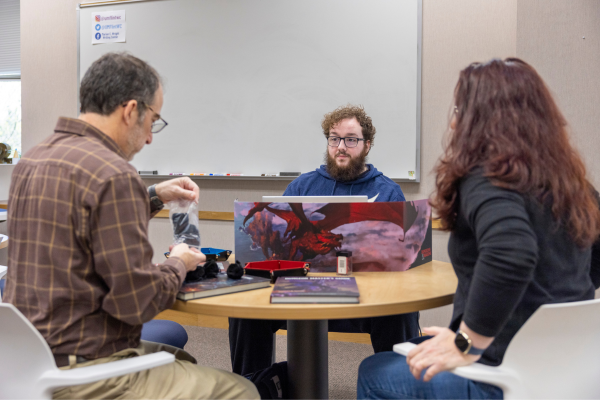 Normally, the University of Michigan-Flint's Marian E. Wright Writing Center acts as a haven for students, faculty and staff when it comes to formatting, writing and revising a paper or speech. But recently, the center's staff found themselves encouraging writers – both on campus and off – to pick up their pens or power up their laptops in order to participate in some newly scheduled events.
First on the agenda was a May 6 retreat, 9:30 a.m. to 4:30 p.m., that offered members of a creative writing group, The Writer's Circle, as well as members of the campus community, the opportunity to spend the day networking and writing amongst a community of like-minded creatives. The Writers Circle, which is open to all UM-Flint faculty, staff, students and community members, was formed in 2019 following a six-week workshop that focused on teaching budding writers how to write a short story.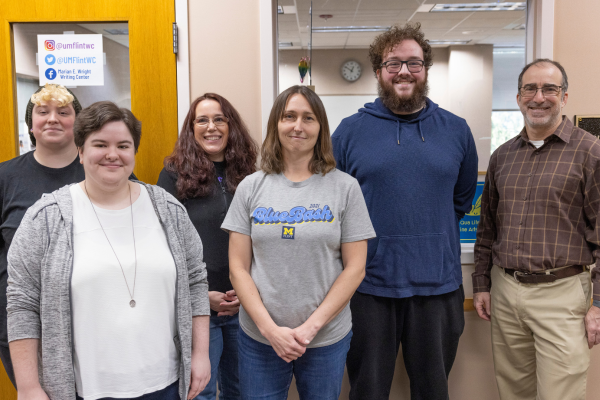 "We got such a tremendous turnout that it naturally transitioned into a weekly writer's group," said Vicky Dawson, Writing Center coordinator.
Members of the group have been working on a wide range of projects that vary from memoirs to flash fiction, poetry and even personal essays. Dawson said that since the Writing Center has a long-standing tradition of helping develop academic, professional and creative writing pieces, she and other staff members strive to create a welcoming space where the UM-Flint community can get support with their writing. Hosting the retreat is an extension of those efforts.
The retreat featured a writing panel consisting of three authors who shared their experiences with participants in order to guide them through the publishing process. Participating panelists included Melodie Bolt, a 2012 UM-Flint graduate with a master's degree in English composition and rhetoric who specializes in writing dark fantasy and poetry; Kaye Sims, a Flint resident and self-published author; and Connor Coyne, editor at Gothic Funk Press.
"Members were really interested in learning more about publishing and the opportunity meet with authors who have had successful experiences," said Dawson.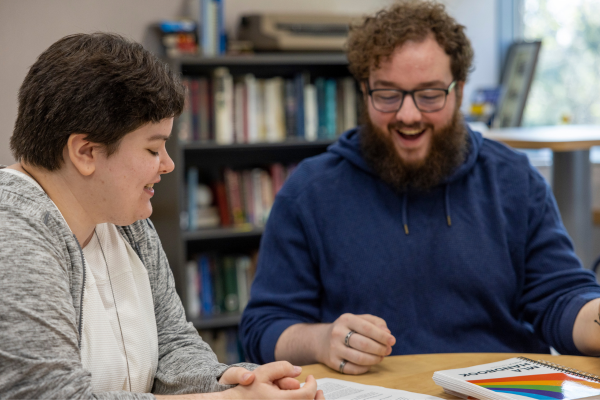 While the panel also offered writers the chance to seek advice from the authors, Bolt and Sims shared some tips ahead of time. Bolt, whose latest novel, "Fix: Book 1 in the Flint Chronicles," was published in December of last year, suggests that writers research their publisher and read as much as they can if they're starting a new project.
"Get inspired by contemporary writers and see what connects with you," Bolt said. "Is it a description? Dialogue? A setting? Use what you learn in your own writing." Sims, who self-published her 2021 memoir, "Journey of a Decade," advises writers to consider building a team of advanced readers, review writers and people willing to promote through their platforms.
The center will also be hosting a summer camp, June 26-29, that blends Dungeons & Dragons with creative writing activities. Three writing center tutors will guide students in grades nine through 12 through world-building activities and character development, which are heavily dependent on writing. The tutors will run a small campaign on the last day.
Dawson said the D&D summer camp offers multiple benefits, with the first being introducing high school students to the UM-Flint campus.
"We thought giving them a fun, interactive experience in our writing center would be a great way to envision themselves here," said Dawson.
Dawson said that she and her staff wanted to highlight the available resources that the Writing Center has to offer while teaching them how to find the joy of writing.
"We believe the D&D summer camp sounded like a fun idea and we really wanted an engaging activity that kids would enjoy while helping them write," Dawson said.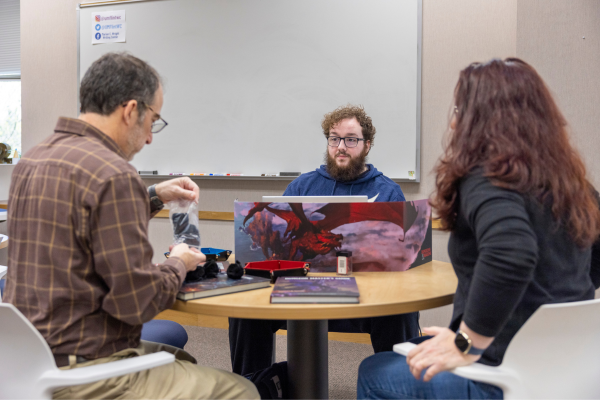 For more information about the D&D summer camp, visit its webpage.
Madeline Campbell
Madeline Campbell is the communications specialist for the College of Arts & Sciences. She can be reached at mciak@umich.edu.