UM-Flint's Center for Global Engagement director offers a vision for comprehensive internationalization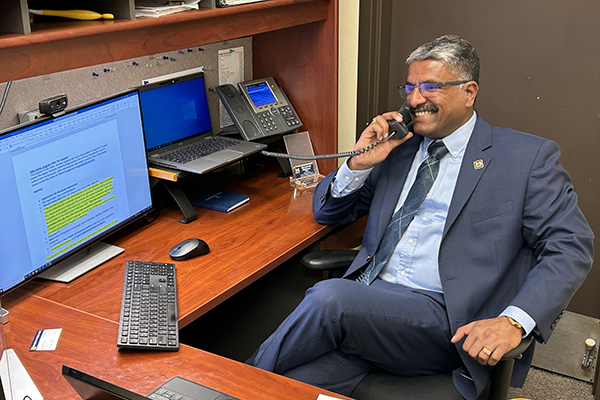 At first glance, The International School in Bangalore, India, may seem like a work of fiction. Students in tidy uniforms are sorted into four houses, awarded points for their accomplishments, and the winning house is awarded the House Cup at the end of the year. No, it's not a school for witchcraft and wizardry, but rather one for talented Indian students and high achieving ex-pats.
Even if your high school experience didn't take place in such a fantastical setting, rest assured that students the world over are united in one polarizing sentiment: Their love – or equal hate – of gym class. If you were a student at the International School a few decades ago, you might have had Zachariah Mathew as your physical education instructor. For Mathew, working at an international school and a passion for travel was his first introduction to globalization and importance of global and cultural competence. This led him on a journey to the U.S., earning a PhD and becoming the University of Michigan-Flint's director of the Center for Global Engagement and senior international officer along the way.
From Bangalore to Terre Haute
A curiosity regarding international learning, paired with physical education's nascent status as a field of study in India, led Mathew to Indiana State University to continue his studies in the early 2000s. While earning a master's degree in sports management, Mathew could see firsthand the power, and struggles, of being an international student – as well as the cultural vibrancy international students offer campus and community.
Mathew refined his observations of student success as an instructor and administrator at Sullivan County Community College in New York. Regardless of the teaching techniques he implemented, Mathew consistently saw some students performing well, with other students doing poorly.
"I started thinking closely about what really fosters learning. I realized that learning often does not happen organically. There has to be a recognition of challenges students face and a very well articulated intervention, some intentionality from an external source. I needed to learn more," Mathew said.
So Mathew quit his job and returned to Indiana State, this time to earn a PhD in higher education administration and leadership. Focused on comprehensive internationalization, his research helped him take a holistic approach to comprehensive internationalization on college campuses – and prepared him to lead at UM-Flint.
Global competencies for student success
Just five months into his role as CGE director, Mathew has a meaningful vision for the future of international initiatives at UM-Flint.
"My ultimate goal is to provide equitable opportunities to make global citizenship and competencies attainable for all members of the University of Michigan-Flint community through curricular and cocurricular engagement at home and abroad. Career preparedness and cultural competency are vital outcomes for students. Everything I do is a means to those ends."
Those "means to an end" of global understanding might include study abroad, facilitating international student success on campus, and engaging international and domestic students so that they can learn from each other and gain multiple frames of reference and build a sense of belonging and community. But Mathew emphasizes that to truly make an impact, his office must look beyond individual initiatives to transform the University of Michigan-Flint into a leader in global engagement.
"We seek to build a collective belief among our students and stakeholders that gaining a global perspective is a vital part of a UM-Flint education," he said. "I emphasize the term 'belief,' as we want our students to be critical thinkers and problem solvers at a global stage and for this we provide them the opportunities to gain global perspective through experiences embedded in nearly every aspect of their education at UM-Flint."
In addition to becoming more effective, responsible citizens, this global perspective is vital for students when considering their next steps after graduation, according to Mathew.
"How do our students stand out in a competitive job market? Many employers state that the biggest challenge with new college graduates is soft skills," Mathew said. "In an increasingly global job market, this is where competencies and skills gained through study abroad and campus engagement add to student's success."
Supporting faculty in international curriculum
As Mathew and the CGE serve students in exploring international issues, they also support faculty development and engagement with the internationalization of curriculum and mentoring of students for effective global citizenship. For example, CGE is sponsoring a group of faculty to attend the Institute for Curriculum and Campus Internationalization, May 21-24, at Indiana University. CGE is also collaborating with the Thompson Center for Learning and Teaching to develop a curriculum internationalization teaching circle. At the same time, initiatives are underway to collaborate with UM-Ann Arbor, especially faculty resources and the Title VI Areas Studies program.
"Faculty have their own research priorities, of course, but we can help them find resources to incorporate these global perspectives into their existing work," Mathew said.
As part of his "Go Blue Global Initiatives" framework, Mathew also outlines several priorities for curricular and cocurricular experiences for students. One priority is the continued investment in the Global Learning Community, comprised of students living in First Street and Riverfront residence halls. Along with special events and connections for those interested in global engagement, residents of the GLC are also guaranteed a $1,500 scholarship to put toward a study abroad experience.
Learning more about international opportunities
Whether you are a prospective international student interested in learning more about UM-Flint, a current international student looking for support and resources, a domestic student eager to study abroad, or simply looking to learn more about global learning opportunities on campus, CGE is available to help. More information can be found on the center's webpage.
Logan McGrady
Logan McGrady is the marketing & digital communication manager for the Office of Marketing and Communication.