UM-Flint's Spring 2023 Commencement emphasizes embracing challenges, building community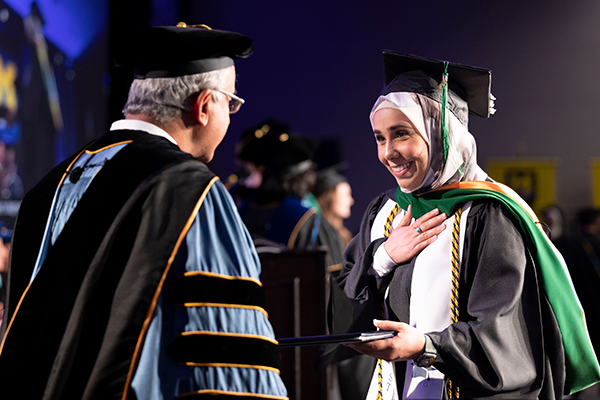 "Part ceremony, part celebration, commencements attest to your achievements and our optimism about your – and our collective – future. And knowing more than a few of you personally, I know that optimism is well placed."
Those words from University of Michigan-Flint Chancellor Deba Dutta set the tone for the university's Spring 2023 Commencement. Taking place April 29-30 at the Riverfront Conference Center, the event was split into four ceremonies that recognized graduates from each of the university's six schools and colleges. More than 1,000 students graduating in both the winter and spring semesters were eligible to participate.
A full slate of speakers – ranging from students to Fortune 500 executives to transformative health care leaders – shared their experiences and words for the future to the crowds of graduates, families and friends. In his remarks, Dutta related the sentiments of NBA star Giannis Antetokounmpo, who believes that failure is just a step toward success. He urged the Class of 2023 to adopt this mindset in their future endeavors.
"When you have a setback, or make a mistake – maybe even with serious consequences – it is your response to it that really matters," said Dutta. "Don't get angry, don't get frustrated. Don't blame others for the mistakes you have made. Own it, learn from it."
Keynote Speakers
Both at the top of their respective fields, two keynote speakers shared lessons drawn from years of experience and dedication with the newest generation of Leaders and Best.
Ray Scott: Nothing is ever achieved alone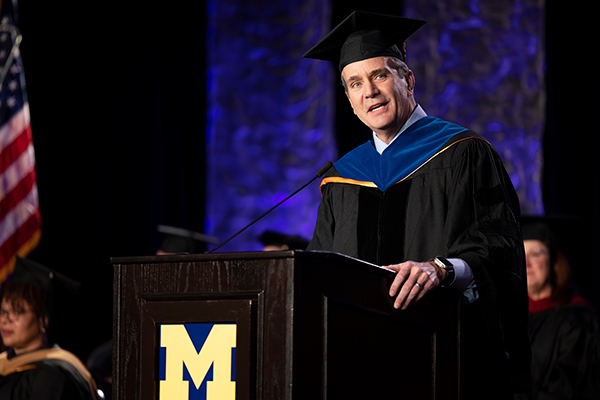 Ray Scott, CEO of Lear Corporation, recalled the path that took him from a student worker at the UM-Flint Recreation Center to his present role as the leader of a Fortune 500 company. Scott said that he has observed many great leaders throughout his career, and has seen many of the same qualities in each of them.
"They are passionate, empathetic, and committed to excellence and integrity," Scott said. "They take on challenges others won't and they get results. But they don't just get results; they do it the right way, while taking care of themselves so they can best take care of others."
Scott "thought he had it made" when he took over as Lear CEO in 2018, but as global supply chain issues mounted during the pandemic, he was reminded of the challenges he faced as a college student, working and struggling to make ends meet while studying.
"I didn't think those circumstances would benefit me in the future, but they did. I was forced to grow, to stretch my capabilities and work outside of my comfort zone, like each of you had to do these past several years."
He concluded with a reminder to graduates that true success is found in the connections we make with one another.
"There has never been a greater opportunity to make a difference than there is now," he said. "We all need a support network that we can lean on to be successful. Because nothing we accomplish is achieved alone. Family and friends make life's journeys truly rewarding."
Chris Palazzolo: Words for future health care leaders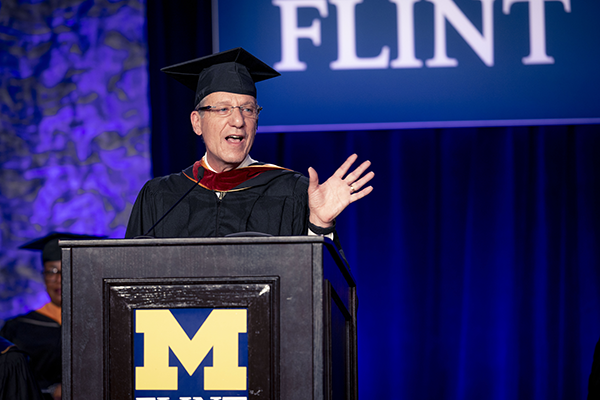 Chris Palazzolo, the former president and CEO of Ascension and Genesys Health System, addressed the graduates of the School of Nursing, sharing with them some of the key takeaways from his more than 45 years in the health care field. Those years included 20 years with Ascension and throughout Michigan with stops in Saginaw, Standish, Detroit and Flint.
"My intent today is to offer you a few observations gathered from my many years of service in a health care setting that hopefully may support your assimilation into the role of a provider and vital caregiver," said Palazzolo.
"Having chosen to become health care professionals, each of you has also chosen to make an immediate difference in the lives of others, as well as optimize the health of a given community. And your entry into the world of health care could not have come at a more dynamic time. We have arrived at the crossroads of technological proliferations within the field that allows for the advancement and expansion of precision medicine. These are all exciting things to look forward to.
"As you look at this moment, remember that it's your turn and your time to shine. To use a sports metaphor, you are moving from the on-deck circle to the batter's box. Each of you has the honor and responsibility to be stewards of the community regardless of where you will call home, now or in the future.
"Be persistent and resilient at the same time. Don't overcomplicate matters and always trust your instincts, because believe it or not, you will get it right as long as you keep working at it. At this juncture, in many ways, you are now responsible for advancing the health of the community by healing the body, mind, and spirit of all those with whom you interact.
"But you are not alone in this journey. Trust your colleagues and approach your daily challenges with a coordinated team effort that recognizes the needs of your patients and each other and you, and those whose lives you touch, will be richer for it."
Phil Hagerman awarded honorary doctorate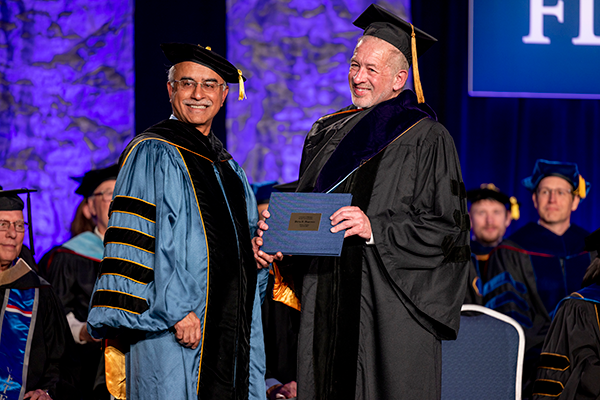 Phil Hagerman, CEO of Skypoint Ventures, Forum Health and co-founder of Diplomat Pharmacy, received an honorary Doctor of Laws degree in recognition of his service to both the Flint community and the university. In 2015, a $2 million gift from Hagerman allowed UM-Flint to establish the Hagerman Center for Entrepreneurship and Innovation, which organizes events like the annual Zillion Solutions competition, which invites students of all majors to submit pitches for a product or service that solves a real-world problem. Winners are then awarded prize money to turn their ideas into reality.
U-M Regent Sarah Hubbard reflected on Hagerman's impact in her remarks.
"Philip Hagerman, you exemplify the virtues of the American entrepreneur," said Hubbard. "You have built a publicly traded pharmaceutical company and a national network of medical clinics, all to help fight illness and improve the health of your fellow citizens."
Student speakers share their diverse experiences
UM-Flint students come from all life circumstances – a fact that was made clear when speakers from the Class of 2023 took the stage. Some started a new life at UM-Flint, thousands of miles away from their home, while others found the strength to excel academically while confronting daunting odds as a parent. Each of them, no matter their background, found the opportunities at UM-Flint to grow and pursue their dreams.
Noor Shihabi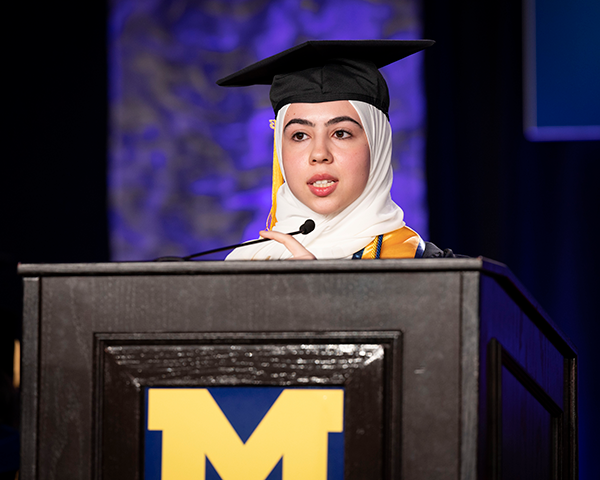 Noor Shihabi, who earned a Bachelor of Science in Biology, said that the values instilled in her by her faith, combined with opportunities she found at UM-Flint, like undergraduate research and close partnership with her professors, have shaped not only who she is today but also her future path.
She emphasized the importance of active, responsible citizenship.
"My faith has taught me the importance of discipline, hard work, and having a community … In our time at UM-Flint, we've gained knowledge, skills and experiences that will not only serve us well in the future, but our communities as well," Shihabi said. "As we continue moving forward, I encourage us all to continue holding the concept of community in high regard. We can't forget how teamwork and support got us to where we are now and that it is our duty to help create a more equitable and just society."
Yuliia Lane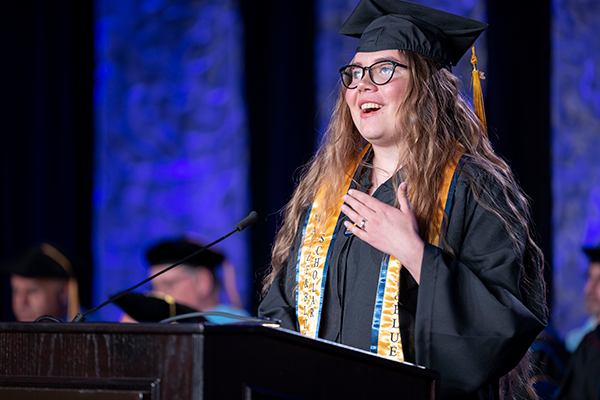 Yuliia Lane immigrated to Michigan from Ukraine in 2017 and admits to experiencing a fair bit of culture shock when she began college. The new environment, paired with learning a new language, created more than a few moments of "tears and self-doubt."
But getting involved as a UM-Flint student helped her gain meaningful connections in her new life.
"My most memorable experiences include becoming involved with the Entrepreneurs Society and Hagerman Center for Entrepreneurship and Innovation. These organizations provided me with a supportive community of inspiring individuals who motivated me and encouraged me to reach for the stars," said Lane, who earned a Bachelor of Business Administration in International Business.
And while Lane recognized the amazing progress she has made in just a few short years, she is also mindful that graduation is not the end of her education, but rather an opportunity to continue progressing.
"Education is undoubtedly the key to success, but the learning process does not end with graduation. Life is an ongoing journey of growth and learning. And with the right mindset, opportunities, and support, one can continue to learn and grow throughout their life."
Alyssa Golden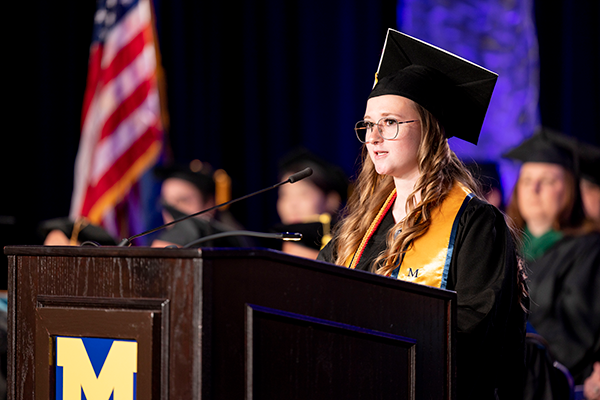 Alyssa Golden earned a Bachelor of Science in Elementary Education and emphasized the importance of "saying yes" to fellow graduates.
"I don't mean blindly agreeing to anything and everything that comes our way," said Golden. "We also need to set healthy boundaries for ourselves, something I am learning to do every day. What I mean is being open to opportunities, taking risks and stepping outside of our comfort zones.
"Saying 'yes' means embracing the unknown. It means taking risks and being willing to fail. Saying 'yes' means not letting fear hold us back from pursuing our dreams and aspirations."
Elizabeth Rice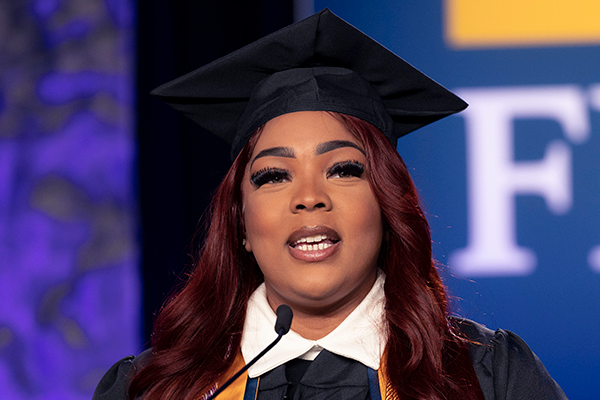 Each student has their own particular motivations that push them through the difficulties of earning a college degree. For Rice, who earned an online RN to BSN degree, her personal motivator was her daughter. Born 23 weeks premature, Rice's daughter has experienced numerous health complications and was airlifted to C.S. Mott Childrens Hospital at six months of age to receive lifesaving treatment.
"Her journey to health was not without challenges and tested my faith in unimaginable ways," Rice said. "Through my experience with this institution, I was able to find my purpose, which was to help other families who were suffering from the same hardships that I overcame."
Video links
Each ceremony was livestreamed and is available on the UM-Flint YouTube channel.
Logan McGrady
Logan McGrady is the marketing & digital communication manager for the Office of Marketing and Communication.