UM-Flint professor teaches self-defense to LGBTQIA+ community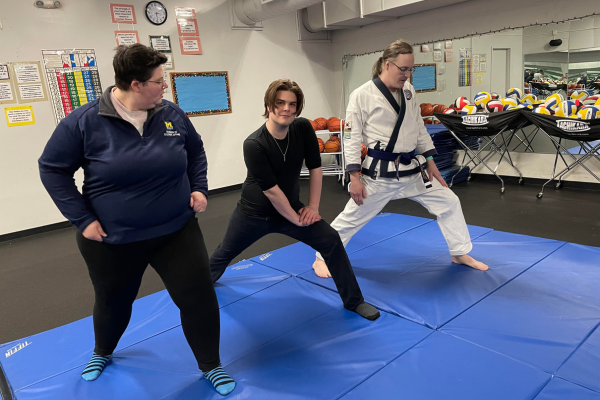 Like any campus across the country, professors at the University of Michigan-Flint teach students about a plethora of different subjects. But unlike most, one UM-Flint facult member is making sure his course really packs a punch – literally – as he works to teach LGBTQIA+ community members how to defend themselves from armed and unarmed assailants. 
Thanks to a partnership between UM-Flint Center for Gender and Sexuality and UM-Flint Pride, William McKibbin, associate professor of psychology, will conduct hour-long classes twice a week through the end of April that focus on teaching individuals about self-defense techniques derived from the traditional Korean martial art, Tang Soo Do. 
McKibbin, an authorized Tang Soo Do instructor, said the techniques taught in the course include punching, blocking and kicking effectively, as well as how to mix those into simple but effective combinations. He'll also walk participants through what to do in multiple types of scenarios like being grabbed by the throat or wrist, or defense while lying prone. In later sessions, he'll teach individuals about defense against a knife or handgun as well as going over basic takedown techniques. McKibbin said that the classes can also be tailored to an individual's comfort level as well.
"Every technique we review was chosen because they are simple and easy to remember," said McKibbin.
McKibbin will also place emphasis on situational awareness, judgment and confidence in potentially dangerous situations.
"My guiding principle is that I hope students will never use these techniques, even in a threatening scenario. If a dangerous situation does occur, we'll talk about defusing a situation versus escalating it. Participants should only rely on these techniques as a last resort," he said.
McKibbin said he's wanted to offer a self-defense class for a while now, especially since anyone can benefit from it, but that the LGBTQIA+ community faces an increased risk of violence.
"I wanted to offer the community some basic tips for defense, but also demonstrate that anyone can be successful at something like a martial art," he said. "I'm hoping I can offer this course regularly in the future or even help advise a martial arts club on campus."
McKibbin enjoys Tang Soo Do for several different reasons.
"First, it is a traditional martial art form and its history stretches back at least 1,500 years," he said. "I appreciate knowing that I'm learning something so ancient yet still practiced around the world."
Second, he said he values its non-aggressive nature. "Tang Soo Do translates to 'way of the open hand to defend and strike', with 'defend' intentionally stated first. As I'll teach in my self-defense class, we never strike first but are well trained to defend ourselves when necessary."
Finally, Tang Soo Do provides McKibbin with the opportunity to bond with his son since they both began practicing the art in 2018.
"The owner of the school was very persistent about getting parents to join in," said McKibbin. "I gave in after a month or two of watching. I thought I would just be spending a little time with my son that summer, and now here I am."
McKibbin, who has since earned a black belt, said that he's also gained a lot of confidence through learning Tang Soo Do techniques.
"Trust me when I say if I can do this, anyone can," he said with a laugh.
Anyone interested in attending one of McKibbin's classes can find class dates, times, and locations at the Campus Connections website. Registration is encouraged but not required. 
Madeline Campbell
Madeline Campbell is the communications specialist for the College of Arts & Sciences. She can be reached at mciak@umich.edu.