UM-Flint to offer revamped MS in Mechanical Engineering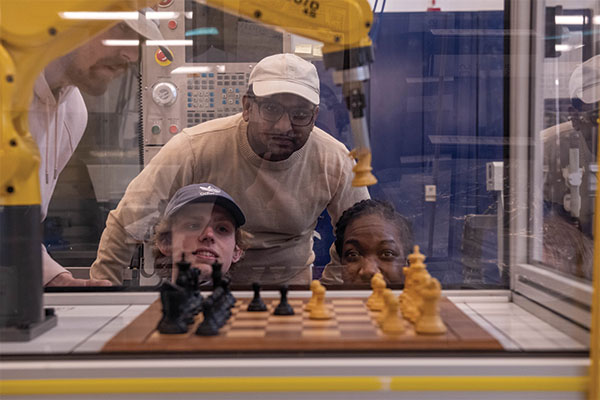 The University of Michigan-Flint will reintroduce its Master of Science in Mechanical Engineering program beginning fall 2023. With options for both full- and part-time study, the graduate program will offer a diverse student population the opportunity to earn a world-renowned master's degree and advance their careers in a competitive industry.
The program, intended for those who already have a bachelor's degree in mechanical engineering, will consist of 30 credits and take approximately two years to complete with full-time enrollment. Hyperflex classes, which meet in-person but offer real-time video streaming for those unable to visit campus, will allow students to earn their master's degree while maintaining their careers. In addition, students from other science and engineering disciplines are eligible to apply once they complete a number of prerequisite courses.
Quamrul Mazumder, professor of engineering, looks forward to the program returning, noting the encouraging job market for mechanical engineering.
"The automotive industry is seeking high-ability engineers with advanced degrees for the development of next-generation battery, electric, hybrid, and autonomous vehicles," he said. "Students with MSE degrees will be able to meet the demand for automotive and other industries in the region and beyond."
According to Michigan News article, the job market in Michigan seems particularly well-suited for new mechanical engineers, with the increasing level of interest in electric vehicles and automation creating a pressing need for experts in the field.
The MS in Mechanical Engineering's curriculum consists of four required core courses in advanced mechanics, thermodynamics, dynamics and control, and fluid mechanics. In addition to these, students will take 12 credits of related electives, culminating in the option to pursue a thesis. Students not taking a thesis will be required to complete two additional graduate level courses and take an exit examination.
Applications for the program are open now. Requirements for admission include a bachelor's degree in mechanical engineering from a regionally accredited college or university, and a minimum undergraduate GPA of 3.0 on a 4.0 scale. Submission of GRE scores for the 2023-24 application cycle is not required. Students from a separate engineering discipline may be required to complete undergraduate mechanical engineering courses before being admitted to the program.
More information about the MS in Mechanical Engineering can be found on the program's webpage.
Rowan Borninski
Rowan Borninski is the recruiting and marketing specialist for the Office of Graduate Programs. She can be reached at rosubo@umich.edu.