UM-Flint to host COVID-era teaching/learning educators' conference, May 19-20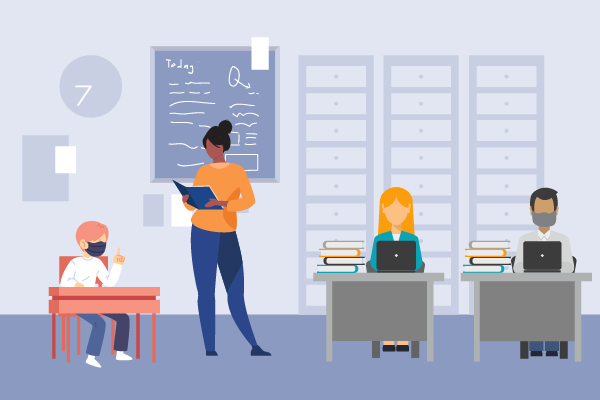 The COVID-19 pandemic continues to affect teaching and learning in the P-20 system. But it also allows educators to learn from each other as they navigate those challenges. Considering that, the University of Michigan-Flint will host the "Critical Issues in Education: Teaching and Learning in the Era of COVID" conference. The two-day event will begin May 19 with a dinner, keynote address and panel discussion before continuing May 20 with various presentations and panels.
"This conference is designed to bring P-12 and higher education professionals together to explore similarities and differences across contexts, examine shared experiences, and develop deeper understandings of overlapping concerns," said Sonja Feist-Price, UM-Flint provost and vice chancellor for academic affairs.
"The impact that COVID-19 has, and continues to have, on education cannot be overstated. The aim is for presenters and participants alike to leave feeling heard and valued and to begin to develop a learning community across educational settings. While building a growing sense of community is vital, an additional goal is for conferencegoers to take away ideas they might begin incorporating into their professional practices.
"As we know, students at all levels have endured a disruption in their educational experiences as the pandemic exacerbated already-existing opportunity gaps."
The conference will begin at 6 p.m., May 19, with a welcome from Feist-Price before giving way to that evening's keynote address from Alycia Meriweather, deputy superintendent of external partnerships, enrollment & specialty programming, Detroit Public Schools Community District.
Prior to her current role, Meriweather provided leadership to DPS as the executive director for the Office of Curriculum and executive director for the Office of Science Education. Currently, her duties include managing the Detroit Children's Museum and Camp Burt Shurly, both owned and operated by DPS. Originally a middle school science teacher, Meriweather has also served DPS as a lead teacher, curriculum writer, professional development facilitator, and supervisor for Middle School Science. She graduated from DPS, the University of Michigan and Wayne State University.
The evening will conclude with a panel discussion featuring Kevelin Jones, superintendent, Flint Community Schools; Charlotte O'Connor, owner, Charlotte O'Connor Academic Coaching, LLC; Jason Wilson, vice president of student academic success, Mott Community College; and Delsa Chapman, deputy superintendent, Michigan Department of Education.
"Having such dynamic thought leaders across the P-20 education spectrum is phenomenal," said Feist-Price. "Representing every academic sector, these experts will inform the audience about issues impacting today's students and strategies to ensure their success. Everyone will leave better informed."
The May 20 schedule will begin with a breakfast at 8:30 a.m., followed by a panel featuring local high school and university students and recent UM-Flint graduates. Various breakout sessions will occur from 10:15 a.m. to noon and again from 1:45-2:30 p.m. Lunch with a keynote address from O'Connor happens 12-1:30 p.m., with Feist-Price providing closing remarks to end the day.
For additional information about the conference, including registration, contact Joyce Mudel at jmudel@umich.edu or visit the event webpage.
Robb King
Robb King is the director of marketing and communications at UM-Flint. He can be reached at rwking@umich.edu.