UM-Flint offering new graduate certificates in health care supply chain management and public health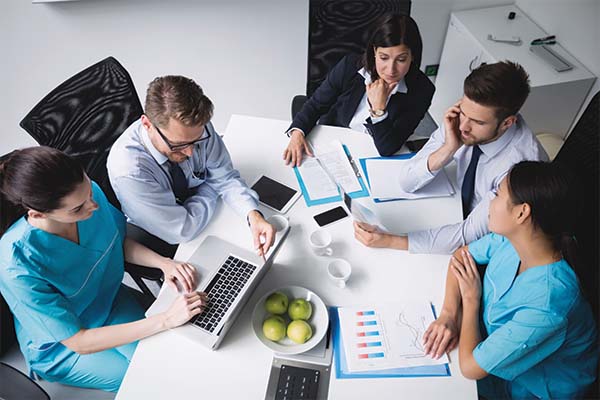 The University of Michigan-Flint will begin offering new graduate certificates in the health care field for fall 2023. The Health Care Supply Chain Management Certificate and Public Health Certificate will prepare students for in-demand careers and allow current health care professionals to expand their job opportunities and prepare to take on leadership roles.
Both certificates can be completed entirely online and could stack with two different master's degrees, including the new Master of Science in Health Services Administration.
The 18-credit Health Care Supply Chain Management Certificate offers an interdisciplinary curriculum with classes taught by faculty from UM-Flint's School of Management, School of Nursing and College of Health Sciences. Students will learn to efficiently and effectively manage and allocate resources in health care settings to improve patient outcomes. The curriculum focuses on practical demonstrations of classroom principles. Students will use systems, components and processes in real-world scenarios to better understand the practical realities of the supply chain.
"We are excited to partner with the School of Management to add additional certificate options for students who want to build a resume that meets workforce demands in health care," said Shan Parker, director of public health and health sciences in the College of Health Sciences. "The certificates and the stackable master's degree provide multiple options for students to diversify their knowledge and skills and stand out to employers."
Megan Keiser, associate professor of nursing, added that there is a growing need for specialization in the health care field.
"Having an efficient, reliable healthcare supply chain is essential to provide high quality, safe patient care both within and outside of the hospital setting.  If the COVID-19 pandemic taught us anything, it is that we must anticipate and meet the supply chain needs in all health care settings," Kaiser said.
The 10-credit Public Health Certificate will give graduate students the skills to develop broad-based, collaborative strategies for solving public health challenges with an evidence-based approach. Classes include epidemiology, social determinants of health, and public health administration and policy. 
Credits earned in either certificate can be utilized in the stackable MS in Health Services Administration. This innovative program allows students to choose from several graduate certificates to build a highly customized degree with the in-demand skills that interest them most. Students will choose two to three certificates and take one additional elective or capstone course for a minimum of 30 credits. Additional certificate options include Health Care Administration, Health Data Analytics and Long Term Care Administration.
The HSA program will prepare students to be well-rounded, highly effective health care leaders with in-demand skills. Depending on the certificates chosen, learners will be prepared for a number of high-paying and sought-after jobs such as health care administrator, long-term care administrator, clinical care manager, health information manager and insurance underwriter.
Jobs for health services managers have an estimated 28% job growth rate through 2031 and a median salary of $101,340, according to the Bureau of Labor Statistics. 
Students interested in a master's degree have several options. Some classes in the Health Care Supply Chain Management Certificate can also be counted toward UM-Flint's Master of Business Administration, while select courses in the Public Health Certificate can be incorporated in the university's Master of Public Health.
Applications for both certificates are now being accepted for fall 2023. For more information on the Health Care Management Certificate, visit its webpage. More information on the Public Health Certificate can also be found online.
Rowan Borninski
Rowan Borninski is the recruiting and marketing specialist for the Office of Graduate Programs. She can be reached at rosubo@umich.edu.