UM-Flint now featuring 14 gender-inclusive restrooms throughout campus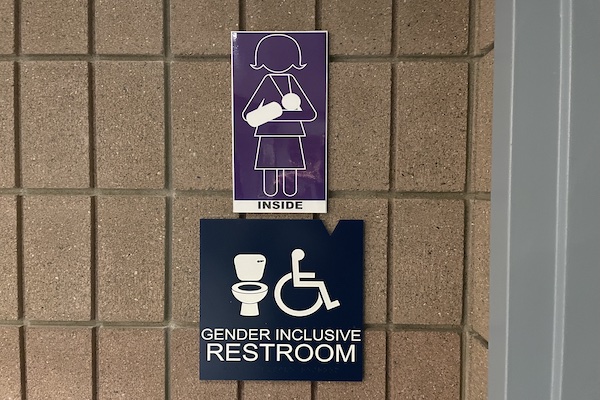 In a continuing effort to extend its commitment to diversity, equality and inclusion, the University of Michigan-Flint has unveiled more than a dozen gender-inclusive restrooms and an inclusive locker room thanks to advocacy by its students, faculty and staff.
"We know from research that school settings can be one of the more hostile environments for LGBTQIA+ students in that they face higher rates of harassment compared to cisgender, heterosexual individuals," said Samara Hough, director of UM-Flint's Center for Gender and Sexuality. "Having restrooms that are inclusive and offer menstrual products in those restrooms are concrete ways we can show our campus is inclusive in practice and that we take the concerns of our students seriously."  
In 2021, students asked why the university had a limited number of gender-inclusive restrooms, which prompted the CGS staff, including David Luke, chief diversity officer; Lisa Sancrant, senior director of student health & wellness; and staff members from the offices of Equity, Civil Rights and Title IX Office, and Facilities & Operations to make additional inclusive restrooms available as well as providing accompanying signage to make the locations easy to locate.
The locations of the restrooms are as follows:
French Hall, Room 300
UM-Flint Theatre, Rooms 230 and 234
Murchie Science Building, Rooms 256, 258 and 397
Northbank Center, Rooms 229, 705 and 808
Recreation Center, Room 13 (with gender-inclusive locker room)
Riverfront Conference Center, Rooms 101 C and D
University Center, second floor
"We want to ensure that all students on our campus are able to study and live authentically without judgment regardless of their gender identity," Hough said. "We want to create an environment of home and belonging at UM-Flint."
Gender-inclusive restrooms are just one of many ways UM-Flint is providing a supportive environment for students.
Free menstrual products are available in all restrooms at UM-Flint in an effort to ensure everyone on campus has access to affordable and safe menstrual products. Menstrual products are also available for free at Wolverine Essentials, located in 386 University Center. The center offers products including menstrual cups, organic pads, and menstrual discs in partnership with CGS.
The Gender and Sexuality Themed Community in Housing and Residence Life will expand this fall. The community offers gender-inclusive housing for members of the LGBTQIA+ community and its supporters to live, learn and grow together through education and peer-led programming, community outreach, and transformative dialogue. CGS is also in the process of developing a sexuality study abroad course with the College of Arts and Sciences and the Center for Global Engagement.
CGS amplifies the voices of women, survivors, and the LGBTQIA+ communities and the intersecting identities within them. Through outreach, education, and advocacy, the center provides skill and competency building that is grounded in activism and social justice.
To learn more about CGS, visit its webpage.
Lindsay Knake
Lindsay Knake is the Communications Coordinator for the UM-Flint Division of Student Affairs. Contact her with any questions, comments, or ideas about the DSA newsletter, social media, events, and communications.