Free menstrual products available in all UM-Flint restrooms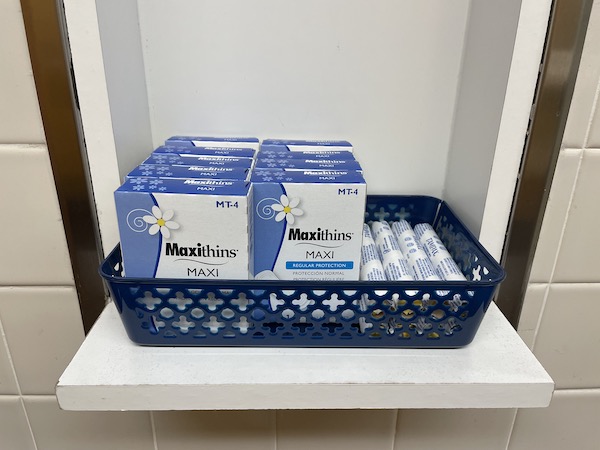 Free menstrual products are now available in all restrooms at the University of Michigan-Flint as the university continues its work in equity and inclusivity.
"Providing menstrual products in all restrooms gives access to all bodies that menstruate," said Samara Hough, director for the Center for Gender and Sexuality (CGS). "It is important to recognize that not only those who identify as women need products for their menstrual health, but also transgender men, nonbinary folks, and others who may use the men's restrooms."
Additionally, full boxes of menstrual products are available for free at the Wolverine Food Den, located in 386 University Center. This fall, the food pantry will offer more products such as menstrual cups, organic pads, and menstrual discs in partnership with CGS.
This project helps UM-Flint work toward menstrual equity, which means access to affordable and safe menstrual products for all people. Across the United States, there are residents who do not have access or cannot afford to purchase menstrual supplies.
More resources for menstrual health education:
UM-Flint is also creating more inclusive, all-gender restroom spaces on campus in collaboration with David Luke, chief diversity officer, and the Office of Diversity, Equity, and Inclusion.
Students can find out more about menstrual equity, reproductive health resources, and advocacy services by contacting the Center for Gender and Sexuality.
Lindsay Knake
Lindsay Knake is the Communications Coordinator for the UM-Flint Division of Student Affairs. Contact her with any questions, comments, or ideas about the DSA newsletter, social media, events, and communications.