Fares Siddig: From Sudan, to UM-Flint, to the National Institutes of Health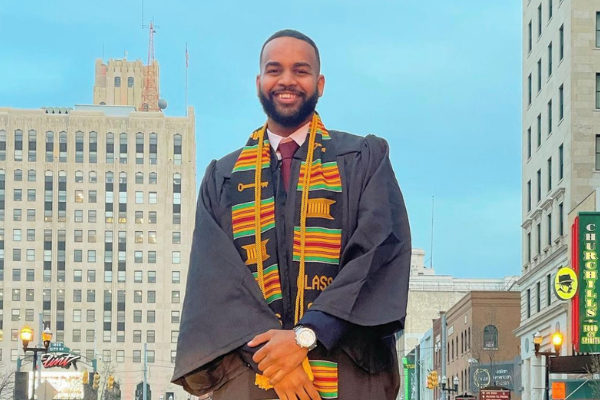 Fares Siddig entered college knowing he wanted to pursue a career in medicine, he just wasn't quite sure how to get there. Through the mentorship of professors and fellow students at the University of Michigan's Flint and Ann Arbor campuses, the 2022 UM-Flint health sciences graduate found both a path forward and a passion for helping other pre-med students succeed.
As a result, he is currently celebrating two national accomplishments while also applying to medical schools to pursue Master of Public Health and Doctor of Medicine degrees.
In September, Siddig will begin a one-year fellowship conducting biomedical research at the National Institutes of Health (NIH) and National Eye Institute in Bethesda, Maryland, through the NIH Intramural Research Training Award program.
Siddig was also recently selected as one of just 10 pre-medical students in the country to serve as a National Future Leadership Project Fellow with the Student National Medical Association. He plans to use the opportunity to expand leadership options for UM-Flint students through the chapter of the Minority Association of Pre-Medical Students (MAPS) that he founded at the Flint campus earlier this year.
Both achievements get him one step closer to his dream of being a physician-researcher working in underserved communities and improving access to health care in his home country of Sudan.
"It is an honor to be working at the world's leading research institute," Siddig said of receiving the fellowship. "I will attain a sound foundation in research methodology and better understand how research translates to patient care. It will also provide me with access to world-class mentorship alongside the world's leading scientists."
Fares emigrated with his family from Sudan to Grand Blanc at the beginning of his high school career and struggled to adapt to life in the U.S. That struggle continued as he entered college. However, he soon found clarity and his career path at UM-Flint.
"Science classes reinforced my love for the field," said Siddig. "And a global health service trip to Tanzania really sparked my passion for public health and opened my eyes to health disparities across the globe."
Siddig credits Nicole Yambrick, a UM-Flint lecturer II in biology, and Jill Slater, lecturer IV in biology, for pushing him to realize his potential and Suzanne Selig, professor emerita of public health and health sciences, for inspiring him to become a better leader both on and off campus.
"I was grateful to be able to turn my grades and life around once I found the right blueprint," Siddig said. "However, achieving success was not solely my work; it truly took a village (standing) behind me. I would not be where I am today without the support of my family, friends, mentors and professors."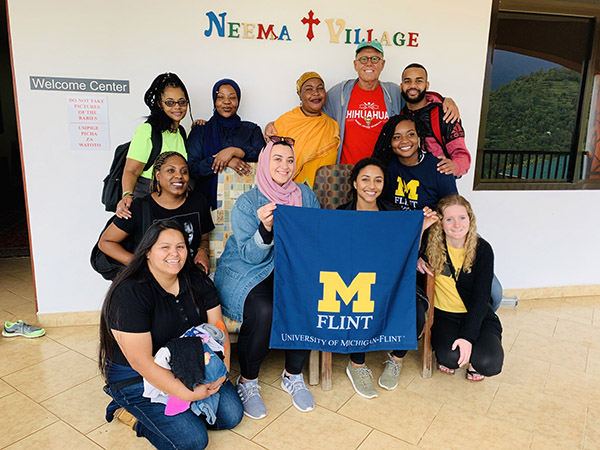 His experience with medical research with the Michigan Health Sciences Undergraduate Research Academy, a 10-week residential program in Ann Arbor, also helped put him on the path to medical school. He was given guidance on how to improve his application and encouraged to start both a MAPS chapter on campus and a research project through Hurley Medical Center.
The MAPS chapter that Fares started on campus in January began with only five students but has already grown to more than 50 members. The chapter provides leadership opportunities for pre-med students and also facilitates mentor-mentee relationships between UM-Flint students and medical students at UM-Ann Arbor.
"Balancing the workload of excelling in your classes, finding research and clinical opportunities, volunteering, and being a leader so that you can showcase your qualifications to medical school admissions, all while trying to have a social life, is a heavy load," Siddig said. "I recognize that not everyone has the same support system. For that reason, I made it my duty to mentor others pursuing a career in medicine and pay it forward. I lose nothing from sharing the knowledge I have and gain everything from helping steer others away from making the same mistakes I did."
While at UM-Flint, Siddig was also a member of the Pre-Medical Club, African American Student Association, Muslim Student Association, and captain of the UM-Flint club soccer team, all of which he credits with providing him with community at those times when he felt out of place.
Additionally, Siddig took advantage of many volunteer opportunities, including mentoring freshmen through UM-Flint's Success Mentorship program and assisting with COVID-19 vaccination clinics hosted by the Genesee County Health Department. He also recently started tutoring inmates at the Flint County Jail through the IGNITE Program.
"I am passionate about being at the forefront of innovation and science while also improving the health of underserved communities," said Siddig. "My upbringing and experiences have ignited a fire in me to improve care for all patients using research to inform best practices and ultimately be an agent of change."
Martha Pennington
Martha Pennington is the communications specialist for the College of Health Sciences. She can be reached at mkpennin@umich.edu.