UM-Flint names 15 students Maize & Blue Scholars for Winter 2023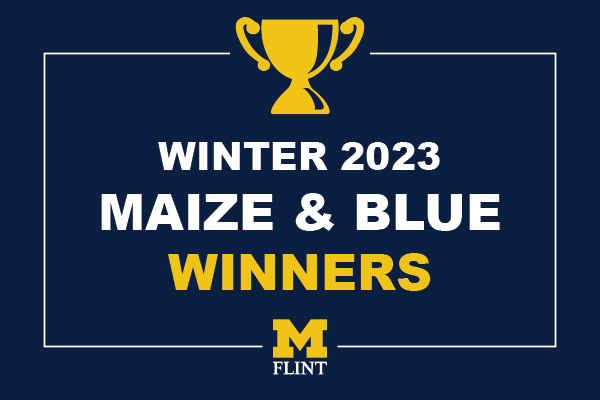 The University of Michigan-Flint is proud to announce the Winter 2023 Maize and Blue Distinguished Scholar Award recipients.
The Maize & Blue Award is the highest academic recognition given to undergraduate students during the commencement season. The award is presented to no more than 26 students per year who excel academically and exemplify intellectual maturity and depth, character, talent, and service to the university and the community. The recipients are selected by a faculty committee, with both faculty and staff writing letters of recommendation for students who apply for the award.
Commencement speakers are chosen from among the group of Maize & Blue Award honorees. For the April 2023 commencement ceremonies, Alyssa Golden, Yuliia Lane, Elizabeth Rice and Noor Shihabi have been selected to speak.
Winter 2023 Maize & Blue Distinguished Scholars
Jenna Bemis
Wildlife Biology
Megan Duncan
Business Administration Finance
Khalil Ghoseyni
Computer Science
Alyssa Golden
Elementary Education
Mariann Hayek
Biology
Yuliia Lane
Business Administration
Elizabeth Rice
BSN Completion
Nursing Leadership & Management
Teresa Rogers
BSN Completion
Stephanie Rumery
BSN Completion
Paul Shaw
Human Biology
Noor Shihabi
Biology
Jonathon Stearn
Biology
Shelby Tracy
Psychology
Chelsea Wagner
Business Administration Finance
Business Administration Organizational Behavior & Human Resouces Management
Cecilia Warchol
Communication Studies
Commencement ceremonies will occur April 29-30 at the Riverfront Conference Center and livestreamed for those unable to attend. More information can be found on the UM-Flint commencement webpage.
Logan McGrady
Logan McGrady is the marketing & digital communication manager for the Office of Marketing and Communication.