UM-Flint student associations team up for medical training event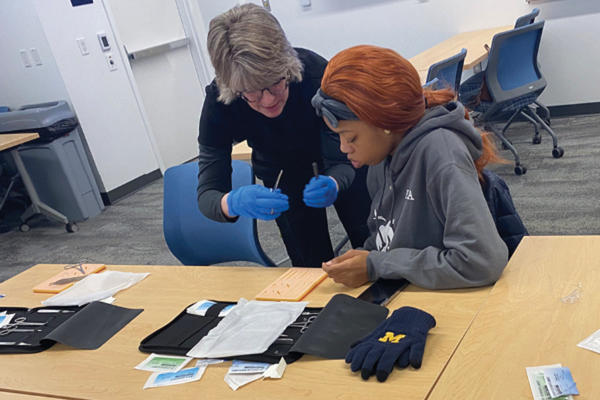 Two student organizations at the University of Michigan-Flint have formed a partnership based on steady hands and a desire to care for others.
It's all part of a combined effort between UM-Flint's Pre-Veterinary Medical Association and Minority Association of Pre-Medical Students for an event titled "Start the Actual Training," that focuses on teaching students how to perform a basic suture and other techniques.
Performing a suture is a skill that will come in handy for Ebonee Walker, a biology major from Flint and president of the PVMA, who hopes to become a veterinarian after she graduates in 2024. She is specifically interested in animal general practice, shelter medicine and large animal practice.
Walker's love for animals started at a young age with pet sitting for her family and friends before she began tending to sick or injured animals in her neighborhood.
"By the time I got to high school, I knew that becoming a veterinarian was the right career for me," said Walker.
The STAT event provided students with multiple benefits, the first being an early introduction to basic suturing techniques. "Both human and animal doctors perform a variety of daily procedures involving suturing," she said. "It's an important part of medicine."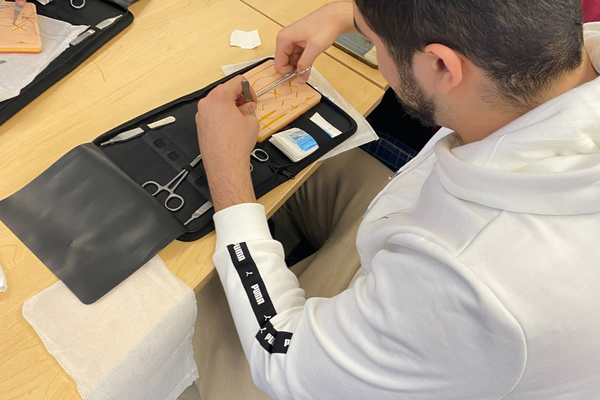 Walker believes that teaching students how to perform a suture can also prepare them to respond in case of an emergency.
"Emergencies can strike anywhere and at any time, and if someone had a life-threatening wound, performing a suture can provide temporary relief until they can receive professional help."
The STAT event allowed students from different majors and with varying career goals to interact with one another. Omar Daassa, a senior biochemistry major from Grand Blanc and MAPS president, said that being part of his student organization, and participating in events like STAT, have helped him build his professional network, and he wants to ensure that other students are able to have that same opportunity.
"MAPS has worked hard to help students get connected with professionals in the medical field to answer any questions they may have," Daassa said. "Being part of the pre-med concentration is not an easy journey to go through alone, so we've built a means for younger students to connect with one another."
Daassa said that similar collaborative events could assist students in deciding on a future career goal. "I believe that teaching students how to perform a suture could possibly inspire pre-med students to pursue a specialty in surgery or emergency medicine."
Daassa, who graduates this spring, plans on becoming a physician with a specialty in radiology.
Mariann Hayek, a senior biology major from Flushing and MAPS co-president, said that gaining the skills to care for patients creates a unique sense of fulfillment."I work with a lot of breast cancer patients at my current job, and it is always very rewarding to be able to assist in their care and watch them progress in their journey," she said. "You really build a bond with the patients and do whatever you can to help give them the best care possible."
Hayek will graduate this spring and plans on becoming a medical doctor.
Additional information on UM-Flint's pre-professional programs is available on the university website.
Madeline Campbell
Madeline Campbell is the communications specialist for the College of Arts & Sciences. She can be reached at mciak@umich.edu.