UM-Flint theatre, health care students take the stage to improve patient outcomes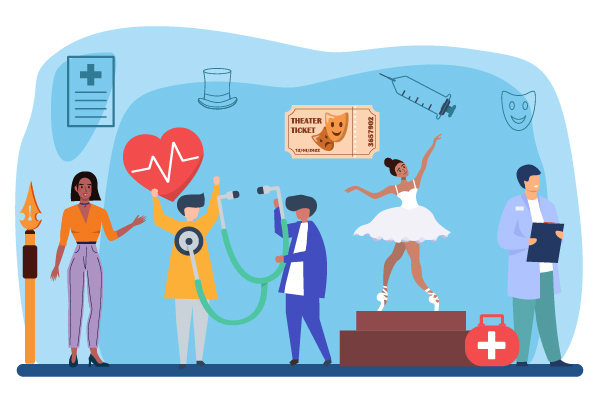 While "all the world's a stage," not every performance can prepare future health leaders to provide exceptional care to patients. However, the University of Michigan-Flint is leading a collaborative effort between the theatre, occupational therapy, nursing, physician assistant and social work programs in order to improve health care outcomes.
The collaboration began in early 2020 when the theatre program began helping other academic units on campus examine diversity, equity and inclusion issues in health care through the lens of theatre.
The most recent partnership was supported by a $15,000 grant from the UM-Flint DEI Initiative Grant Committee with the goal of developing realistic health care simulations that infuse principles of diversity, equity and inclusion, social determinants of health, and health care equity into the health care professions.  
Theatre students and alumni acted out scenes that included a health care provider misgendering a patient and the provider's apathy towards the situation; providers discussing a patient and making insensitive remarks about their health; and a therapist working with a provider who is insensitive to patient's physical limitations.
While these scenes were written by health care and theatre faculty members, they are examples of issues that commonly arise for patients. However, the joint effort gave students the chance to discuss what went wrong and to develop strategies to resolve each specific conflict.
William Irwin, associate professor of theatre, said the event was modeled after forum theatre, which was invented by Augusto Boal in the early 1970s. The aim of forum theatre is to help an audience identify conflicts and ask them to rehearse ways to resolve conflicts.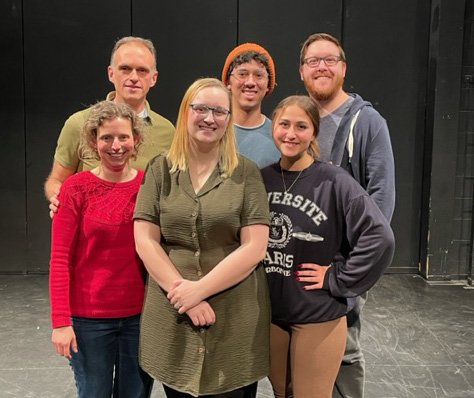 "Exposing students to different health care scenarios helps them in a couple of different ways," said Irwin. "First, it enables them to practice clinical reasoning, and how to perform evaluations and interventions in realistic situations. Second, it prepares them for their careers because they learn how to act in their role as a health care provider and gain a better working knowledge of body language, vocal energy, interpersonal skills and relationship dynamics."
Dominique Eisengruber, a 2017 theater performance graduate from Flint, who played the parts of a health care provider and therapist, said she tapped into past health care experiences in order to teach students about conflicts and how to resolve them.
"I've personally struggled with doctors and providers who are insensitive and care more about quick service and moving on to the next patient than making a connection with me," said Eisengruber.
"Other benefits of this event include teaching health care students to prioritize listening to patients, establishing trust with them, and finding tools to use when working with people from various walks of life.
"It provided a good opportunity for actors to share their talents while working on their improvisation skills."
First-year student Ava Ward of Grand Blanc played multiple roles during the exercise, including a patient, nurse and a health care provider. Her characters touched on potential barriers including LGBTQ biases, religious bias and gossiping about other patients. "It was important to include those scenarios because it gave my fellow students a consequence-free opportunity to play out real-life scenarios and be better prepared for the workplace," said Ward.
Madeline Campbell
Madeline Campbell is the communications specialist for the College of Arts & Sciences. She can be reached at mciak@umich.edu.