UM-Flint faculty, alumni, volunteers sum up fun of Math Field Day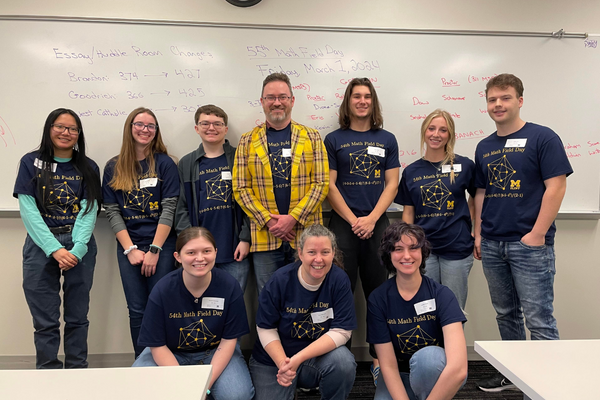 Equations plus competitions multiplied by fun summed up Math Field Day at the University of Michigan-Flint.
Fifteen schools from across the state converged on campus during spring break, March 3, to participate in the 54th annual event. The event drew a wide range of participants including alumni, retired faculty members and high school students from as far away as Traverse City.
Being on campus and participating in Math Field Day brought back memories for Allen Murphy, a 2014 UM-Flint graduate with a master's degree in mathematics and current UM-Flint math lecturer, who was a participant in 1987. Murphy also teaches high school math at Swartz Creek Community Schools and was on campus acting as a proctor during the event. Murphy said that the event helps expose students not only to a new environment that they've never seen before, but also a more enjoyable type of math that typically isn't introduced at a high school level.
"Math Field Day focuses more on discrete math, or math that focuses on puzzles and counting, whereas high school math really highlights the pipeline from algebra to calculus," he said.
Murphy added that Math Field Day gets students excited about problem solving as well. "This event offers students the opportunity to do math without pressure and making them feel like they're taking a test."
Math Field Day was a new experience for Daniela Hopkins, a 2018 UM-Flint graduate with a bachelor's degree in mathematics, who represented the team from Grand Blanc Community Schools. While this was her first year serving as a proctor, she said she's excited about next year's event.
Matthew Wyneken, associate professor of education at UM-Flint, said the event included a good mix of team and individual problems to solve, which is important to a student's growth.
"It gives math-minded people a chance to feel like a champion," said Wyneken.
Student volunteers also participated in Math Field Day and helped create a sense of belonging among the high school students as well.
"We wanted to show them that math could be fun," said first-year student Eliza Hogan of Grand Blanc.
Isabelle Khouri, a student volunteer and junior physics major from Holly, said that she wanted to participate so she could share her experiences with the visiting high school students. "I got involved in Math Field Day when I attended Goodrich High School and had a blast. It's great that it's still going on," she said.
Keeping the tradition of Math Field Day alive is especially important to Cam McLeman, chair of the UM-Flint Department of Mathematics and Applied Sciences, who wore the event's now infamous yellow checkered blazer during Math Field Day.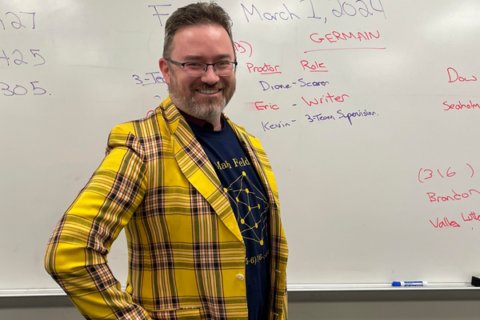 The tradition of wearing the jacket, a tradition for the event's awards presenter, began with Larry Kugler, UM-Flint professor of mathematics, in the 1970s. McLeman has also worked to keep the tradition of Math Field Day alive by collaborating with his faculty members to write problems for the event. "Coming up with tough math problems is something that I think about all year," said McLeman. "I'll begin compiling a file for next year almost as soon as the current year's event is completed."
Madeline Campbell
Madeline Campbell is the communications specialist for the College of Arts & Sciences. She can be reached at mciak@umich.edu.