UM-Flint to partner with community businesses during Giving Blueday 2023
For Shbeib Debaja, the importance of the University of Michigan-Flint club baseball team is measured in more than batting averages and stolen bases. He sees his experience with the UM-Flint club as something that will stick with him for a lifetime. 
"We came up with a phrase that holds true in life even more so than baseball, and that is 'go 1-0 every day.' Win every day, every opportunity," Dabaja said. "Everyone on this team has formed real friendships and created something that will last far beyond our involvement in club baseball."
Indeed. The 2022 UM-Flint graduate with a bachelor's degree in economics is now a player development intern with the MLB's Chicago White Sox.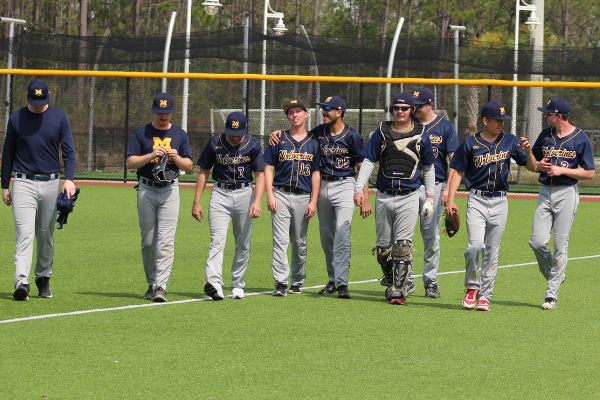 Thanks to the generosity of the UM-Flint community, that legacy of excellence on and off the field will continue. During Giving Blueday 2022, club baseball received gifts from more than 35 donors, funding that went toward equipment, field rentals and an expanded schedule of games.
With the continued involvement of the university community, the support for many UM-Flint organizations and initiatives can carry on, March 15, during Giving Blueday 2023.
What is Giving Blueday?
Giving Blueday is the University of Michigan's 24-hour day of giving. Throughout the day, members and supporters of all three U-M campuses have the opportunity to give to the programs and causes that are most most important to them. Now in its ninth year, Giving Blueday largely takes place online, allowing the U-M community to join in its support no matter where in the world donors may be.
UM-Flint placed second among all U-M units in funds raised during Giving Blueday 2022, showcasing its stakeholders' deep commitment to philanthropy and student success. The university looks to build on this success and engage an even larger number of donors in 2023.
The theme of Giving Blueday 2023 is 'Connection'
The tagline of "Giving is everything. Giving brings us together." sets the tone for this year's event. UM-Flint's Giving Blueday 2023 goal is to bring 500 donors together in their shared passion for the university.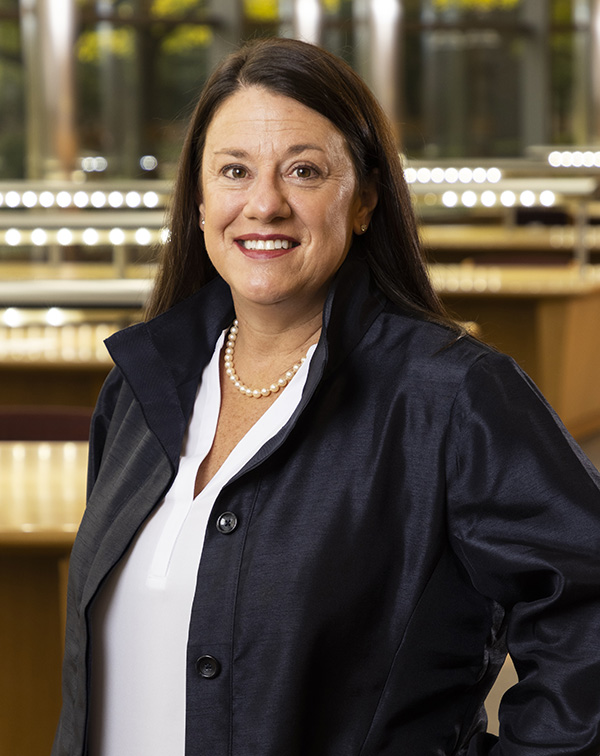 Shari Schrader, vice chancellor for advancement at UM-Flint, said that the university's donors are unique in their priorities but united in their vision. 
"Giving Blueday is special because it allows our community to make a highly personalized commitment to the university. Donors interested in the performing arts, STEM access, student life and more can all find their niche on Giving Blueday," Schrader said. "Wherever a donor chooses to make their gift, they are supporting student outcomes and joining in UM-Flint's mission to prepare the next generation of 'Leaders and Best.'"
Funds for every donor
Donors can choose from 28 unique funds and projects when making gifts on March 15. Each of these funds reflects the transformative work happening at UM-Flint and the breadth of opportunities campus offers. Just a few of these giving areas include:
The Student Veterans Resource Center. The tireless efforts of SVRC staff and volunteers have earned UM-Flint a "Gold-level veteran-friendly school" designation by the Michigan Veterans Affairs Agency for an eighth consecutive year. Gifts to the SVRC will allow it to expand and strengthen the Peer Advisors for Veteran Education program on campus, which connects student veterans with peers who can help them navigate college life.
The Ken Heiser Memorial Fund. Ken Heiser, former associate director of information systems at UM-Flint, enjoyed seeing student employees succeed in their education and after graduation. After his passing in 2021, donors honored Heiser by creating an award that supports student employees and keeps his legacy alive. 
Wolverine Essentials. Started by students in 2019 as the Wolverine Food Den, this campus resource responds to a study conducted by social work students in which 38% of learners reported a deficiency in their basic food needs. In 2022, the food den was renamed Wolverine Essentials and expanded to offer other basics like laundry detergent, menstrual products and toilet paper. Gifts to Wolverine Essentials help students focus on their academic success, not life necessities.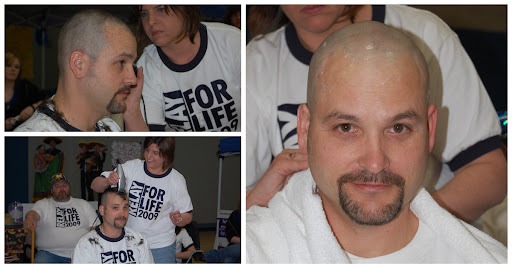 UM-Flint to partner with local coffee shops
Your morning caffeine fix could also strengthen your gift to UM-Flint this year, thanks to partnerships between the university and downtown Flint coffee shops. Special coffee sleeves will include a QR code that adds an additional $5 to your donation when made through that link.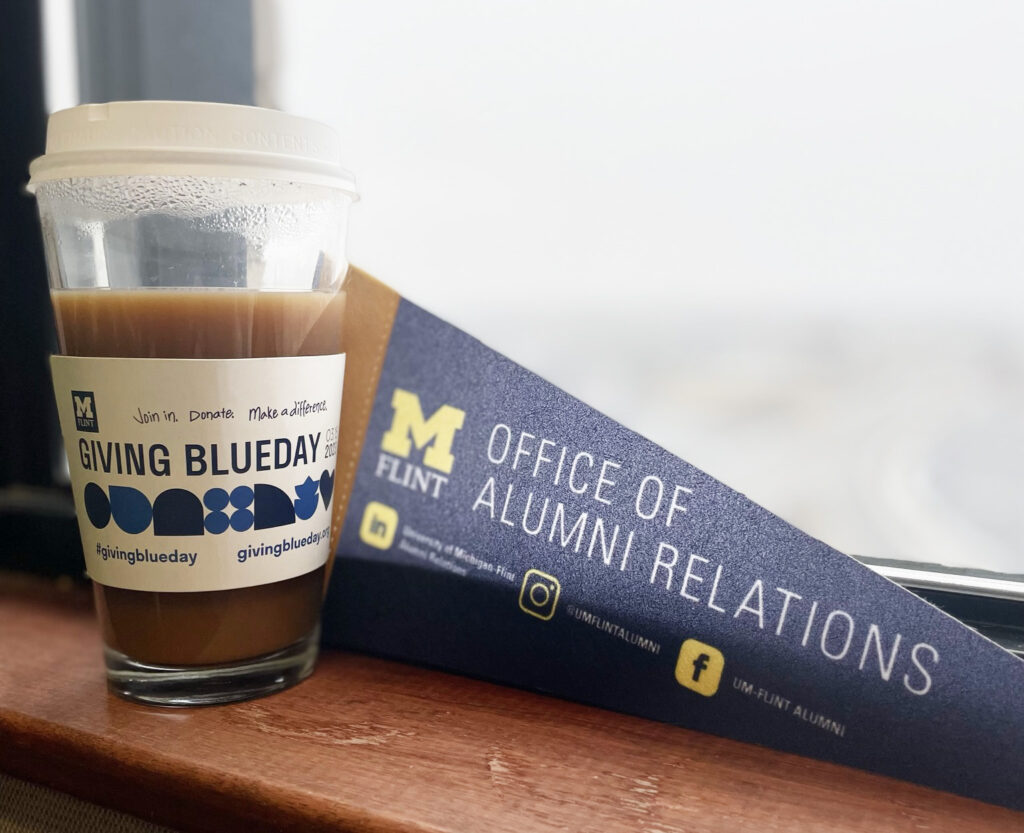 "Giving Blueday is not an event only for campus or for alumni," said Schrader. "We are deeply committed to working alongside our larger community and this initiative showcases the possibilities that exist when we are inventive with our collaboration."
Participating locations include Hoffman's Deli, the Flint Crepe Company, Steady Eddy's, Penny's Cafe, Michigan Coffee Co., The Good Beans Cafe, Cafe Rhema, Totem Books, coffee locations in the University Center and University Pavilion, and the UM-Flint Bookstore.
GiveBlue+2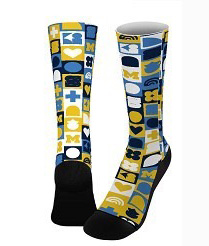 Looking to step up your involvement with Giving Blueday? The GiveBlue+2 program is your chance to bring others along in your commitment to UM-Flint while earning some exclusive swag.
Everyone who receives gifts from at least three different donors through their personal giving link will receive a limited edition pair of branded U-M socks as a "thank you" for their volunteer efforts and will have their name entered into a drawing for the chance to designate $1,000 to the cause of their choice. Three donor champions will be selected in the drawing.
How to participate
Visit UM-Flint's Giving Blueday page to see all the funds available this year and to make your gift, March 15. 
To learn more about how you can support UM-Flint through gifts and volunteer opportunities, visit the University Advancement webpage or call (810) 424-5448.
Logan McGrady
Logan McGrady is the marketing & digital communication manager for the Office of Marketing and Communication.