UM-Flint's new coed golf club is teeing up 'fore' spring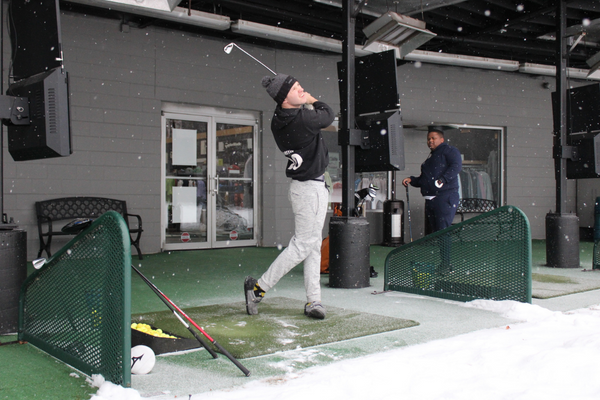 When Jakob Ethington, a first-year health sciences major from Flushing, isn't studying, you can usually find him hitting the links with friends at local driving ranges and area golf courses. He's also been busy this academic year as the new president of the University of Michigan-Flint golf club.
It's been nearly 10 years since golf was last recognized as a club sport at UM-Flint and Ethington hopes the new club will provide students an opportunity to play the sport at a higher level. 
"I'd like to believe that this new club is not only going to provide a team for avid golfers, but make so many more people fall in love with the amazing game of golf," he said.
The club is open to all current UM-Flint students regardless of gender or skill level. Ethington stressed that even those who are new to the sport are encouraged to join. Club sports are student-run, university-sponsored organizations that provide students an opportunity to play a sport they love while also building relationships, making connections on-campus and developing leadership and teamwork skills that will help them professionally, long after their time at the university has concluded.
The club is planning to compete in a variety of tournaments and matches beginning in March, with hopes of competing for a National Collegiate Club Golf Association championship in Las Vegas.
Club members have begun preparing for their inaugural season by meeting at local driving ranges to practice their swings. Sometimes, even in the snow.
"Everyone wants to improve their game and represent UM-Flint with pride. Some of us are going out daily to practice, and we're excited to see it all come together this spring," Ethington said.
For students interested in learning more about the club, email flintgolf@umich.edu. For more information about starting a new club sport or joining an existing one, visit umflint.edu/clubsports.
Cecilia Warchol
Cecilia Warchol is the communications assistant for UM-Flint Recreational Services. She can be reached at cwarchol@umich.edu.