UM-Flint chemistry professor advocates for inclusivity in STEM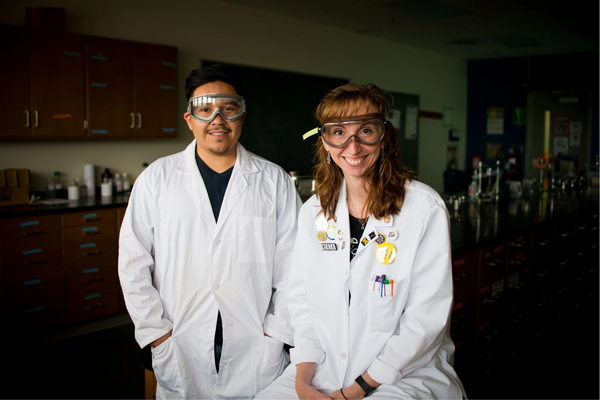 Sarah Goddard Power, a former University of Michigan regent (1974-87), worked diligently during her time with the university to promote inclusivity and to advance the position of women and minorities in faculty and administrative roles. In fact, her dedication to those causes led to then-U.S. President Jimmy Carter naming her deputy assistant secretary of state for human rights and social affairs, U.S. Department of State, from 1980-81.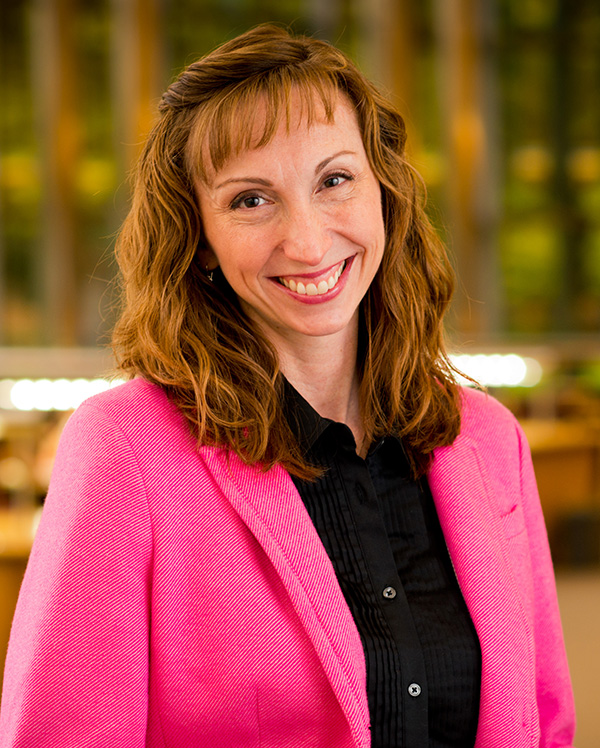 That same dedication to those efforts has now been recognized in one University of Michigan-Flint professor who has been lauded for her work in STEM. With an aim on strengthening and expanding green organic chemistry research and advocacy efforts calling for inclusivity both inside and outside of the lab, Jessica Tischler, associate professor of chemistry and biochemistry at UM-Flint, received the Sarah Goddard Power Award, Feb. 7, at a ceremony at the Michigan League. The award recognizes U-M faculty and administrators who've made significant achievements in contributing to the betterment of current challenges faced by women through leadership, scholarship or other activities related to their professional lives.
Tischler was nominated for the award by Besa Xhabija, assistant professor of biochemistry at UM-Dearborn, who previously taught at UM-Flint.
"I was floored that I was selected to receive the award," said Tischler. "I am grateful to Dr. Xhabija for her unfailing support and to the amazing women who wrote letters of support for my nomination: Dr. Mary Jo Sekelsky, Sandy Alberto, and alumna Catherine Wilhelm.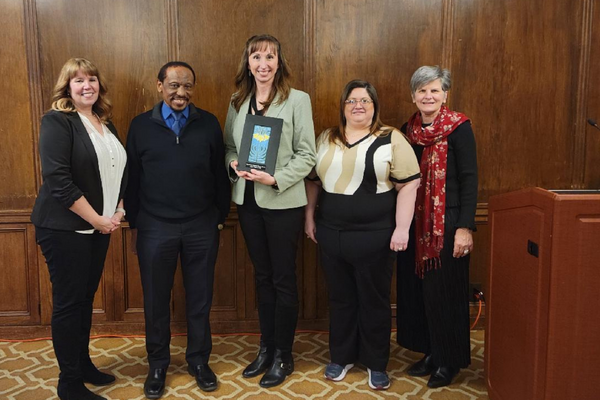 "There have been many other educators and administrators along the way who've put me and others in position to help the next person," said Tischler. "This award is not just mine but reflects the advocacy, persuasion, trailblazing and support from other women along the way."
Like Goddard, Tischler works to promote inclusivity while strengthening and expanding green organic chemistry. For example, Tischler, along with her students, have worked together on a green animation project demonstrating her process of redesigning the Leuckert Reaction. Tischler's innovation focuses on minimizing chemical waste when creating compounds called tertiary amines. The amines are usually found in surfactants and disinfectants. Tischler has also worked with students in trialing new green chemistry experiments and adapting them to fit lab spaces on campus.
Tischler said that inclusivity in science, technology, engineering, math and specifically green organic chemistry, is important to bettering the lives of everyone. She added that having varying perspectives and voices in the lab ensures the solutions that are developed are equitable and sustainable.
"We need scientists of all identities to solve the complex challenges facing the world today."
As a woman in STEM, Tischler said that she's learned many important lessons along the way.
"I had to learn how to persevere and push myself to work hard. Although I was lucky to never have felt like I didn't belong in chemistry, it doesn't mean I didn't have to work for it. The classes can be difficult. The hours in the lab are long. I have had my own health obstacles to overcome, but we all have something that we carry."
Putting challenges and struggles aside, Tischler encourages students to pursue STEM at UM-Flint.
"Our students need STEM," she said. "We need to offer students the same chance to be a scientist that we had. Building a sustainable future requires people who can solve complex problems; problems like pollution, climate change, clean and safe energy and manufacturing processes. Many of these problems are rooted in STEM fields, but so are the solutions. Our students will help change the world."
For more information about the Sarah Goddard Power Award, visit its webpage.
Additional information regarding UM-Flint's green chemistry program is available on the university website.
Madeline Campbell
Madeline Campbell is the communications specialist for the College of Arts & Sciences. She can be reached at mciak@umich.edu.