UM-Flint DNP students awarded for heart disease treatment findings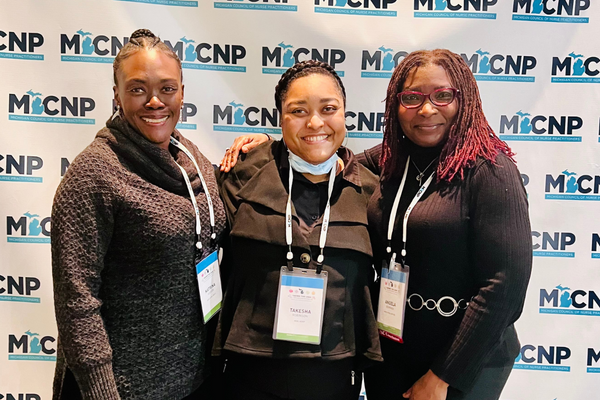 It's been said that "a picture is worth a thousand words," but what about a poster? For three University of Michigan-Flint School of Nursing graduate students, the word used to describe their poster was "winner," as their work won the award for best poster at the Michigan Council of Nurse Practitioners Annual Conference at Traverse City's Grand Traverse Resort earlier this month.
It is high-impact experiences such as poster presentations that the School of Nursing uses to augment the coursework for the Doctor of Nursing Practice degree program. Angela Bowman, Katrina Hobson, and Takesha Thornton had the opportunity to present their quality improvement project findings at the statewide conference. The topic of their work, heart disease, is the leading cause of death for both men and women worldwide.
Developing the poster itself took about a week, but the team drew on a comprehensive project conducted at a skilled nursing rehab center. While working at the center, the trio learned of the importance of educating and reinforcing the need to look for even the smallest signs of congestive heart failure. Through their research they knew that slight changes in vital signs, how a patient feels, or how a patient looks, can signal that their congestive heart failure is getting worse.
"If we pay attention to the small changes, we can prevent a severe episode that will cause a patient to go to the hospital," said Hobson, an adult nurse practitioner from Troy who has been practicing for nearly 30 years.
All three women were changed by their time at the conference. "It means so much to have been recognized and to win this award," said Bowman of Detroit, who has been an RN for 18 years and an NP for 10 years. "It is an honor and it validates all of our hard work."
"Working on our project felt good because we were empowering the rehab nursing staff to make a positive change in their patient's outcomes," said Hobson. "It was wonderful to see that our interventions helped decrease the rate of readmission for CHF patients over the time we were there. Ultimately, we affected those patients' lives so they can have improved quality and or quantity of life."
Just getting to the conference was a bit of an ordeal due to several winter storm advisories and lots of snow. "Many cars were in a ditch, but I cautiously pressed on," Hobson said. "This was a great opportunity for me. Just to be at the conference, learning, networking, and presenting our poster was fun for me."
Bowman has some advice for future DNP students. "Follow your passions, remain open and receptive to attaining knowledge," she said. "Align yourselves with people of like-mindedness who will mentor you and help you attain your goals. As nurses, we are charged with the responsibility of 'each one, teach one' and we should always strive to elevate and represent the nursing profession honorably."
Each of the three women plans on becoming part-time faculty at a university, educating other nurses and nurse practitioners.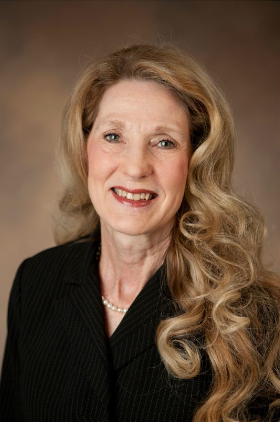 "The participation of nurses in quality improvement processes is essential to ensure patient safety and the effectiveness of the entire healthcare system," said Cynthia McCurren, dean of the School of Nursing. "I am proud of the graduates from the UM-Flint DNP degree program that are well-prepared to impact quality improvement and share their excellence in practice through scholarly dissemination."
To learn more about UM-Flint's Doctor of Nursing Practice, visit the School of Nursing's webpage.
Brad Brokaw
Brad Brokaw is the communications specialist for the School of Nursing. He can be reached at brokawbr@umich.edu.