UM-Flint celebrates graduates at fall 2022 commencement
Commencement is the most rewarding experience in university life – for graduating students certainly – but also for families, friends, faculty and staff. The event is the culmination of years of hard work and determination, when those efforts are acknowledged and graduates are encouraged to enter the next chapter of their lives equipped with the knowledge and skills gained from time of dedicated study.
The University of Michigan-Flint community had multiple opportunities to celebrate the accomplishments of its graduates, Dec. 18, as the university hosted four commencement ceremonies in the Riverfront Conference Center. With more than 950 graduating students from both the summer and fall semesters eligible to participate in the day's proceedings, each ceremony was filled with friends and family and livestreamed for those unable to attend in person.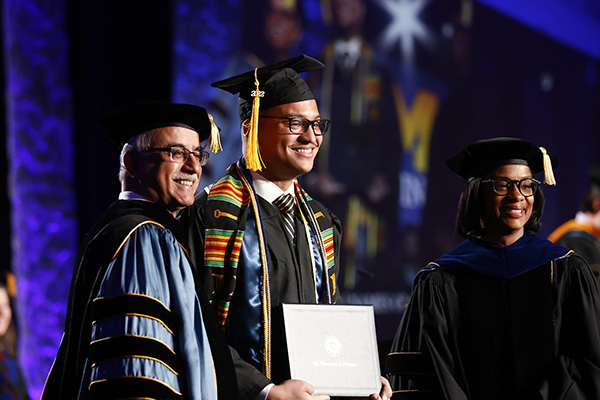 UM-Flint Chancellor Deba Dutta encouraged graduates to embrace change as they strive for their own personal definition of success.
"Don't look at someone else's idea of success and assume that's what you want. Success is different for everyone, and in my experience, it has nothing to do with the amount of money you have in the bank or whether there is a shiny new car in the driveway. If you focus daily on evolving and improving as a person, success is a moving target. And that's a good thing," Dutta said.
Student speakers
Perhaps the most impactful aspects of each ceremony were the remarks from student speakers, each reflecting on the unique challenges they've overcome and looking forward to a lifetime of opportunity and continued growth. Highlights from each student's speech are included below.
Jazlynne Cathey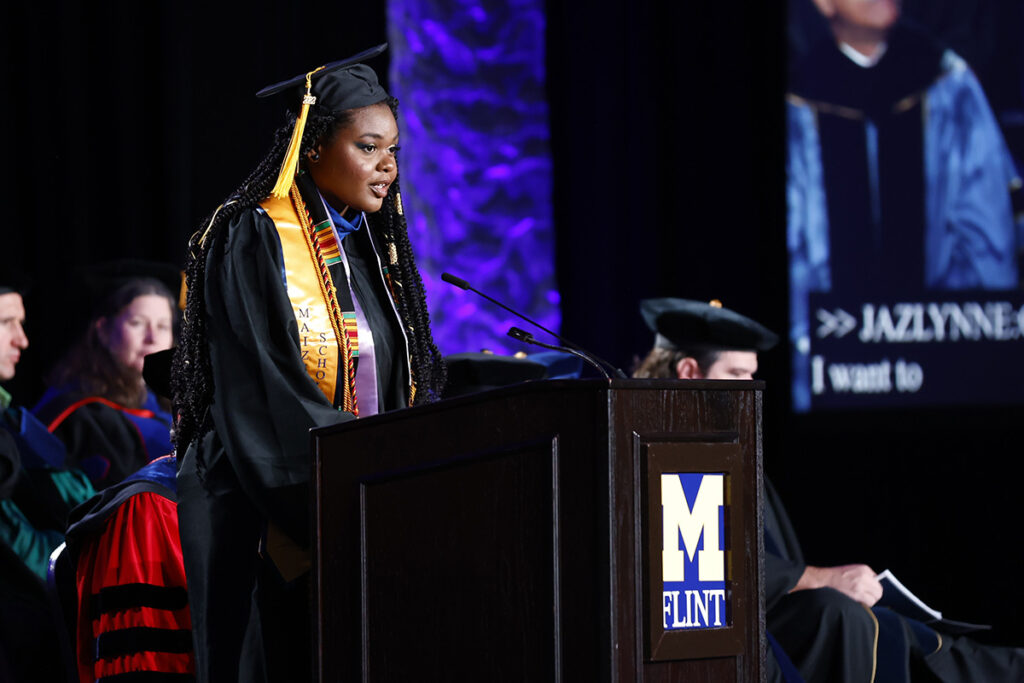 Like many college students, Jazlynne Cathey felt unsure of herself at the outset of her university studies. But gaining new experiences in the Intercultural Center as a programming intern and conducting research with the Urban Institute for Racial, Economic, and Environmental Justice helped Cathey find a new sense of confidence.
"When I first came here, I felt so out of depth, hoping to meet every expectation, to have a voice that was firm and clear. No matter how well I did as a student, I sabotaged myself with doubt. Stuck in the past, unwilling to exist in the present and unable to touch a tangible future. I felt so much imposter syndrome my first semester here and now I have so much confidence," Cathey said. "I feel so much comfort in the spaces I allow myself to occupy, with the people who have helped me along the way."
Marco Colonna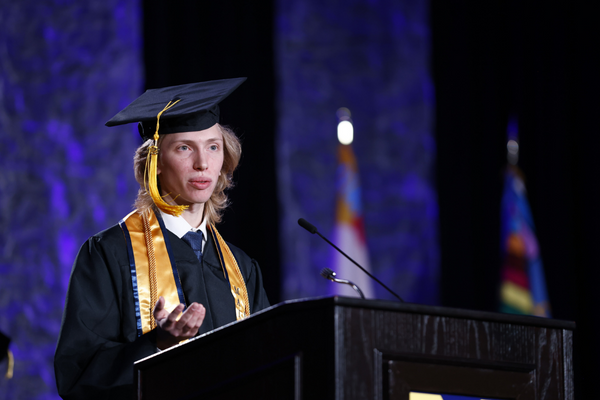 Marco Colonna supplemented his studies in computer science by performing in the university's Wind Symphony, making like-minded friends in the Game Development Club and gaining new skills by taking part in Student Involvement & Leadership's Emerging Leaders Program.
"I know that I can get through anything," said Colonna. "If anyone can figure out our lives and solve the problems of the world we live in, it is us, the graduating class of 2022."
Paige Goulette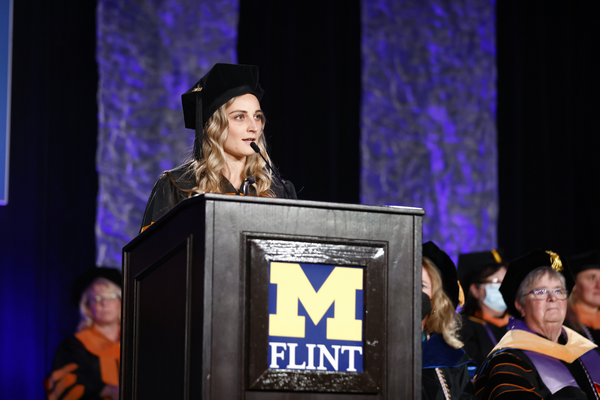 "Do not abstain from something because it is a challenge. Because it is a challenge, there is that much more of a reason to reach for it," Goulette said, going on to emphasize the importance of "neuroplasticity" in achievement for the audience of newly minted nurses.
"Continue things in a repetitive manner until you are rewired to master the skill you once didn't have. Continue growing, both personally and professionally, by introducing yourself to new hobbies, new professional opportunities, new people and new situations."
Manny Belal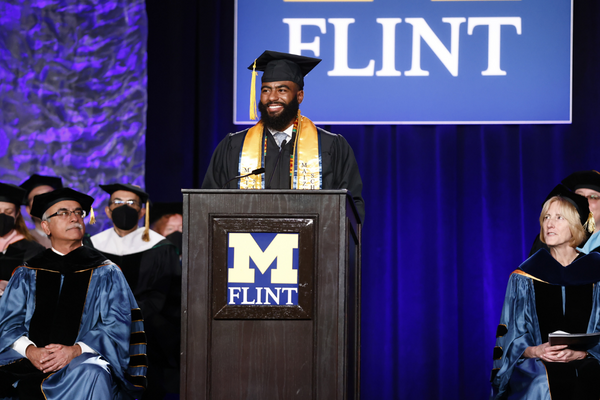 Manny Belal found the supportive environment he needed to thrive at UM-Flint, after previously struggling at larger universities. The culture of UM-Flint allowed him to found the UM-Flint chapter of the Minority Association of Pre-Medical Students, and he facilitated mentorship between UM-Flint students and U-M medical students.
"I was amazed at the time and attention our professors give to us at this university. We felt heard and accepted and felt our professors had a genuine, sincere desire to see us succeed. Being at a smaller school like UM-Flint has been extremely advantageous," Belal said.
Regents' message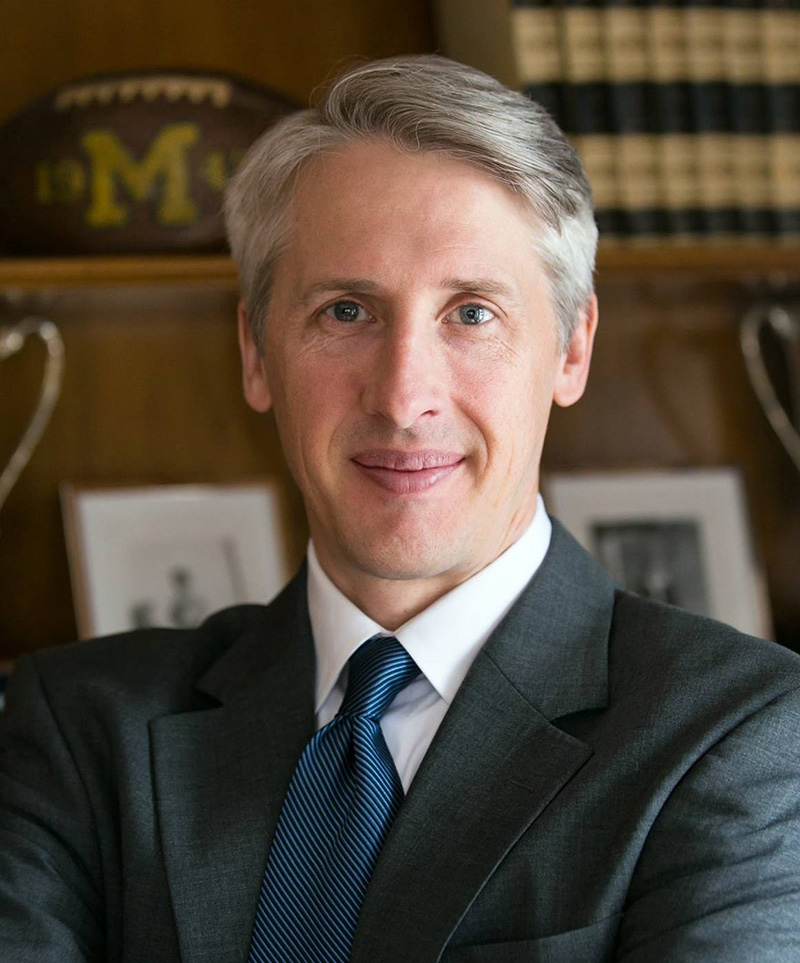 Regent Paul W. Brown provided a message to graduates on behalf of the University of Michigan Board of Regents.
"Today, you leave UM-Flint as the leaders and best, equipped to contribute to, and yes, even transform your respective fields, communities, and society," Brown said.
"I hope, as you go out into the world, you remember the lessons the University of Michigan has instilled in you, including searching for the potential in every opportunity and working to overcome roadblocks that you may encounter along the way."
Graduate profiles
Prior to the weekend's events, the 2022 graduates were invited to submit profiles on graduates.umflint.edu. The submissions offered graduates a chance to reflect on their favorite UM-Flint memories, share their plans to celebrate, and shout out any student clubs in which they participated. We've included a few of the submissions here, see the full listing on the webpage.
Amena Shukairy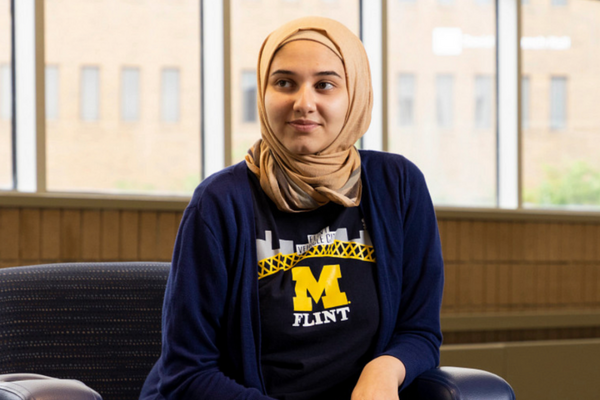 "I decided to become a teacher because I believe every student deserves to feel supported and included, regardless of their identity or marginalization. I knew that UM-Flint was the place for me when I noticed that our faculty and staff have the same vision."
Tia Evans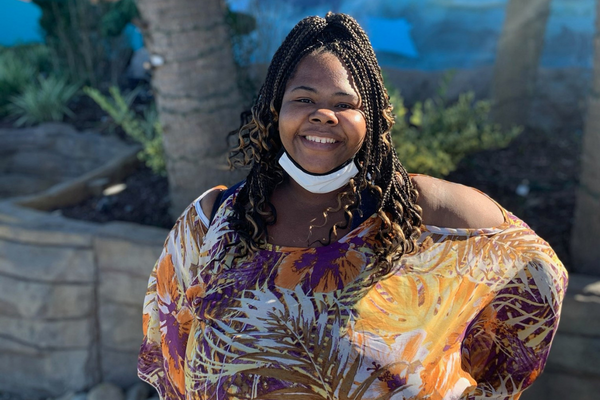 "I will cherish my learning and experience and I'm grateful for professors, advisors and support services that helped guide me along the way."
Toby Igo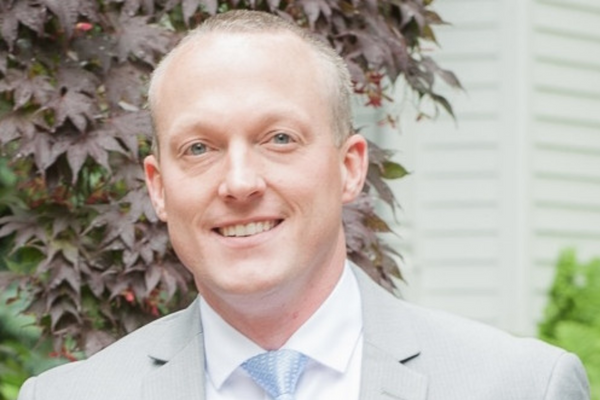 "After serving 20 years in the United States Air Force, I decided it was time to finish my degree and it has always been a lifelong dream of mine to graduate from the University of Michigan. I found a program through UM-Flint that allowed me to complete my degree online and started my journey in 2020," Igo said. "While working full time at the Department of Homeland Security, supporting two kids in college, and being a full-time father to a 4-year-old, I finished my degree in applied science concentrating in computer information systems and communications with high honors."
Video links
Each ceremony was livestreamed and is available on the UM-Flint YouTube channel.
Congratulations to the Class of 2022 – we can't wait to see what you'll accomplish next!
Logan McGrady
Logan McGrady is the marketing & digital communication manager for the Office of Marketing and Communication.