UM-Flint OT, MBA grad working to improve outcomes for Parkinson's patients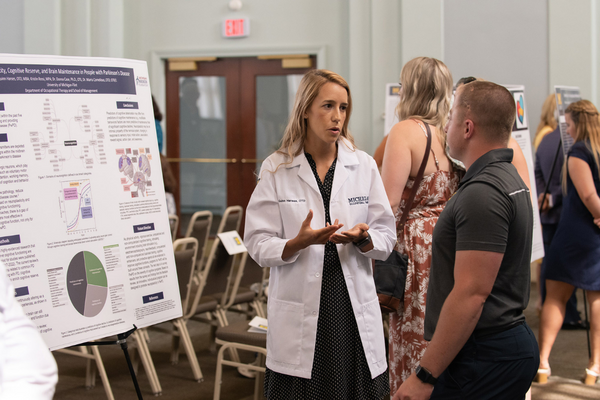 Parkinson's disease is the second-most common neurodegenerative disease in the U.S, according to the Parkinson's Foundation. With more than 10 million people worldwide living with the disease, the focus on additional understanding and treatment of Parkinson's is easy to understand. And one of the newest medical professionals involved in finding those answers is a University of Michigan-Flint alum.
Quinn Hanses is the first graduate of UM-Flint's Doctorate of Occupational Therapy and Master of Business Administration dual degree program. After earning her degrees in August 2022, Hanses began working with the Michigan Parkinson Foundation, continuing the work she began as a UM-Flint student. Hanses said that she chose to pursue a doctorate to be a more competitive candidate, to broaden her research skills and improve her analytical experience. This will not only help her, but also help her patients.
"Occupational therapy is about helping people become independent again and help them get back to their occupations, which are most important to them," Hanses said, explaining that her goal as a therapist is always to try her hardest to help her patients remain independent and active.
Hanses' path to occupational therapy began as an undergraduate. The Dewitt native earned a bachelor's degree at Michigan State University, where her initial interest in assisting adults with neurological disorders improve their daily lives was sparked. That passion brought her to UM-Flint where she was able to take part in hands-on experiences through the HEART clinic, which offers pro-bono services to Flint residents. There, she developed her focus on Parkinson's, as a good deal of the patients she interacted with at the clinic were patients with the disease. All of her patients wanted to remain independent for as long as possible, and Hanses knew that she wanted to help them maintain their lifestyles.
Hanses delved deeper into Parkinson's research through her work on a mobile application that helps patients track their symptoms remotely. She continues with her work at the Michigan Parkinson's Foundation, working as both a business developer and an occupational therapist, assisting patients with mental acuity building exercises. On the business end, she assists the clinic managing finances and tax information. While she works as a business developer at the foundation, she makes certain to keep up with her patient services, running exercise programs designed to help patients rebuild mental elasticity, thereby allowing them to function independently for longer periods of time.
She also helps assess client needs in her administrative role.
Hanses was curious about studying the business of health care management due to her interest in helping patients negotiate with insurance when necessary.
"There's a huge need for patient advocacy in occupational therapy – patients need this help, and their therapist should be the biggest advocate on their behalf," she said.
As someone with training in both the medical and business aspects of occupational therapy, Hanses hopes to utilize both fields of training to be a better advocate for patient care, circumventing instances where health insurance companies deny a patient's need for things like durable medical equipment.
UM-Flint also afforded Hanses the opportunity to explore research outside of Parkinson's disease. Collaborating with Yasser Aboelkassem, assistant professor of digital manufacturing technology in the College of Innovation and Technology, Hanses assisted with investigating the use of artificial intelligence in cardiovascular imaging. She has a specific interest in neurovascular coupling, stemming from her experiences with neuro-rehab and Parkinson's, as well as other neurodegenerative diseases. Hanses worked as Aboelkassem's graduate student assistant during her studies and the pair have continued to collaborate post-graduation. She recently presented this research, which has been tentatively accepted into Frontier's "Medical Technology Journal."
Hanses chose to also get an MBA in order to open more doors in her professional practice.
"As an occupational therapist with an MBA, I realize innovative and new creative ideas need to be flowing for solving problems," she said. "For example, medical facilities manage limited financial resources, and it is imperative to find solutions that can aid more efficiently. I want to make a positive impact on patient care by having more responsibility as both a therapist and a managerial role."
Hanses said that her experiences with graduate school were challenging, but ultimately rewarding. Managing two different graduate programs at the same time was a balancing act that required a lot of her attention, but she found a lot of support from her community. She added an MBA class to her schedule each semester, and took summer classes to maintain her steady progress toward earning both degrees. One thing she did appreciate was how both of her graduate programs' staff offered frequent check-ins, making certain that she was able to handle her heavy class load, and that she was staying healthy.
"It wasn't just my dedication, but the support from my community, family, friends and school that helped me realize all of what I have accomplished so far," said Hanses. "I believe strongly in patient advocacy and wish to be a part of the puzzle that will eventually lead to reform in the health care system."
To learn more about the OTD/MBA dual degree program, visit the Graduate Programs webpage.
Rowan Borninski
Rowan Borninski is the recruiting and marketing specialist for the Office of Graduate Programs. She can be reached at rosubo@umich.edu.