UM-Flint professor appointed to Michigan Veterans' Memorial Park Commission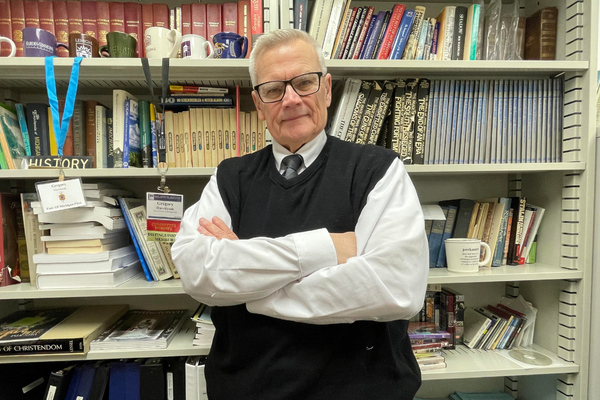 Gov. Gretchen Whitmer has tasked one University of Michigan-Flint faculty member with working to preserve an important monument in Lansing.
Gregory Havrilcsak, a UM-Flint history lecturer, was recently appointed by the second-term governor to join the Michigan Veterans' Memorial Park Commission for a two-year term beginning this month.
The commission advises on the development, management and maintenance of the Vietnam Veterans' Memorial Park in Lansing, operation of programs exclusive to the park, security services and enforcement of rules for the care and preservation of the park. He was also named to a subcommittee to discuss the feasibility of a new monument dedicated to our earlier veterans.
"I was surprised and honored to have been selected to become part of the commission," Havrilcsak said. "I look forward to offering insight into my time in the service and comparing my experiences with the other members who are veterans."
Havrilcsak, a U.S. Navy veteran who served during the Vietnam War from 1969-71, said the opportunity to serve on the commission is invaluable, adding that he's glad to be a part of a group that is actively working to preserve such meaningful monuments.
"The commission's preservation work is important because it reminds the public that the Vietnam War was a tragic and divisive time in U.S. history and that the veterans who served at that time were not given due recognition," said Havrilcsak.
Stationed with the U.S. Sixth Fleet in the Mediterranean Sea, his tour of duty as a signalman aboard the USS Independence CVA 62 included being part of contingency operations following the death of Egyptian President Gamal Nasser in 1970, for which he and his fellow crewmates were awarded the Meritorious Unit Commendation.
After his discharge, the G.I. Bill provided him the opportunity to attend UM-Flint and earn his bachelor's degree in history. He then went on to earn a master's degree in history from Oakland University.
Now, Havrilcsak's story has come full circle as he is now a lecturer on campus who is dedicated to teaching students about the significance of the Vietnam War and its monuments during his U.S. History and World Civilization courses.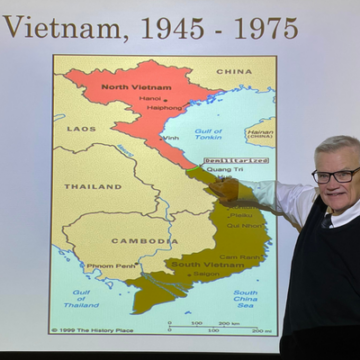 "Being able to add a personal touch to my courses, along with interacting with students when giving lectures about history is easily one of the best parts of my job," said Havrilcsak.
He also works diligently to engage students by having meaningful discussions in each of his courses.
"History is a work in progress and there are precedents for everything that is happening," Havrilcsak said. "I draw a chrono-thematic approach to my lectures, taking an event from the past and giving it relevance to a similar event in the present."
In addition, he makes sure to welcome and recognize any student veterans enrolled in his courses.
"At the beginning of each semester, I ask the veterans to identify themselves so that I thank them for their service."
Madeline Campbell
Madeline Campbell is the communications specialist for the College of Arts & Sciences. She can be reached at mciak@umich.edu.